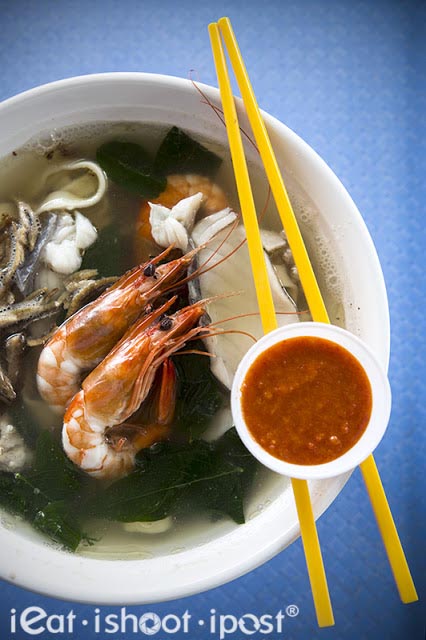 If you ask Ban Mian fans where they get their Ban Mian fix, they will undoubtedly start listing out the stalls with the fingers of one hand and I would bet that China Whampoa will be among the five stalls listed. This very popular stall in Whampoa market is famous for their dry version with a their punchy homemade chilli padi sauce.
Now, a few (very few) people have accused me for featuring unhealthy foods like Char Kway Teow and Orh Luak on my blog, citing that doctors should know better than to eat such unhealthy fried foods. But that is based on several assumptions. Firstly that I eat these foods all the time and secondly, that I actually finish the whole plate! My friends, the truth of the matter is that everything is fine in moderation. I seldom finish a whole plate of Orh Luak by myself and I certainly don't eat this type of foods every day at every meal!
But, today, I don't need to defend myself since I am introducing a dish that is fresh, soupy and almost devoid of any fat. What is more, the freshly made noodles are also devoid of any chemical preservatives since they are made fresh everyday! This would probably make it to the list of Health Promotion Boards "Healthier Foods"!
There are several things about the Ban Mian soup that sets them apart from other stalls. Firstly, the soup base is made only from Ikan Bilis and soy beans. They don't use any pork bones, so the soup is not as heavy. They also don't add the egg that a lot of places do. They also use a very interesting vegetable for the soup called mani chye (马尼菜) which has nothing to do with the money plant but instead got its name from the Malay changkok manis. These leaves which taste a little like spinach with the texture of sweet potato leaves give the dish a distinct character.
The seafood and the noodles are excellent, however, I did find the clear soup a little to light for my taste. When I eat Ban Mian, I like a hearty, meaty broth! But its great if you are looking for something light, fresh and yet filling. 4/5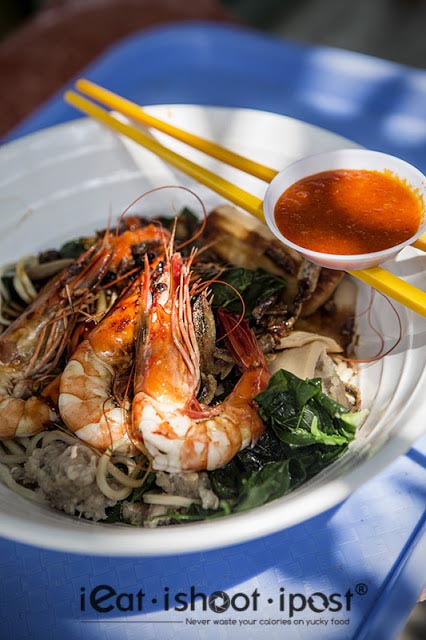 The dish that did get me really excited was the dry version. This was were the wonderfully toothy texture of the noodles really got the limelight they deserve. Again, they don't add any oil in the noodles, but the special dark sauce more than makes up for it in terms of flavour. The owner refuses to tell me the brand of the dark sauce. All he said was that he simply adds it to the noodles and it makes its own magic!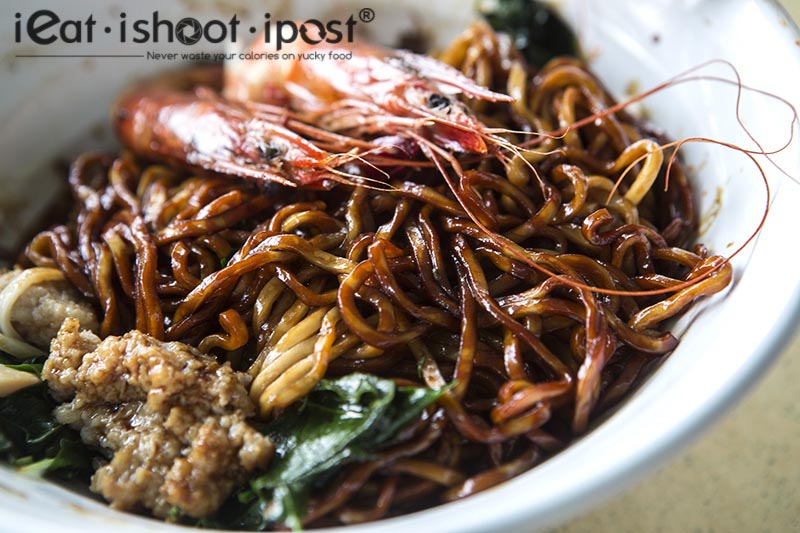 The combination of the noodles, dark sauce and chilli makes this a formidable bowl of noodles which I highly recommend to any noodle lover! Now I know why so many people recommended this stall specifically for their dry noodles and chilli! 4.5/5
Conclusion
An excellent bowl of noodles to end another year of food blogging! The dry noodles here with the power chilli is sure to please anyone looking for a good feed! Plus, its healthy some more!
May you eat well and prosper in the coming New Year!
Video added on 5 Sep 2016