Reviewed by Damien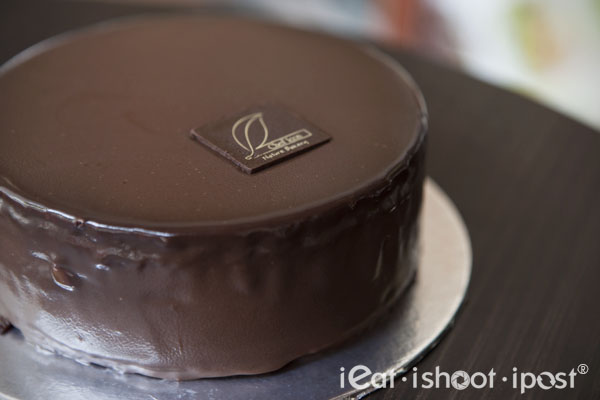 The Chocolate Travona Cakes ($28.80/500gm and $56.80/1kg)
First established in the far eastern enclave of Changi Village, the proprietors of Chef Icon heeded the calls of their regulars to centralize their operations and moved closer to the CBD.
I'm extremely glad they did.
Now nestled in a quaint conservation shophouse along Kampong Bahru, Chef Icon's 3 iconic repertoires include the Chocolate Travona Cakes, Hokkaido Swiss Rolls and New York Cheesecakes which are baked with only all natural ingredients.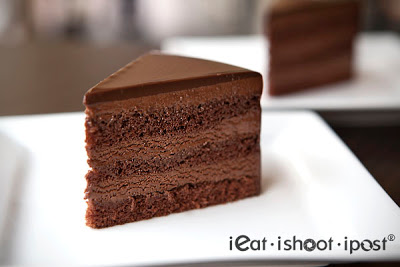 My impartiality to all chocolaty things irks my otherwise docile, chocoholic-obsessed partner but all it took was a slice of the Chocolate Travona to cajole me into submission. A 6 hours labor of love, each cake; a buoyant mount of dark, velvety smooth indulgent is the end product of a fusion of high- quality cocoa beans.
I admit that my juvenile palate deterred me from distinguishing the various blends but I trust its innate ability to differentiate a gonna-be from has-beens – detecting a hint of bitter aftertaste; a quintessential hallmark of all fine chocolate cakes.Each bite of brutally decadent, rich morsel belies a moist, yet delicate core without being overtly cloying. 4.25/5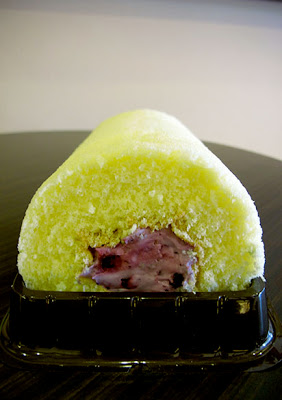 Hokkaido Swiss Rolls (blueberry, chocolate and green tea flavor $10)
Photo by Damien
Do not let the pale demeanor of the Blueberry Hokkaido Swiss Roll lull you into insouciance.Encased within the spongy, moist roll packs a luscious spread of cream infused with fresh blueberries. With a subtle texture akin to ice cream, the filling was impeccably well- balanced with just an intricate measure of blueberry jus to cut the tangy tartness. 4/5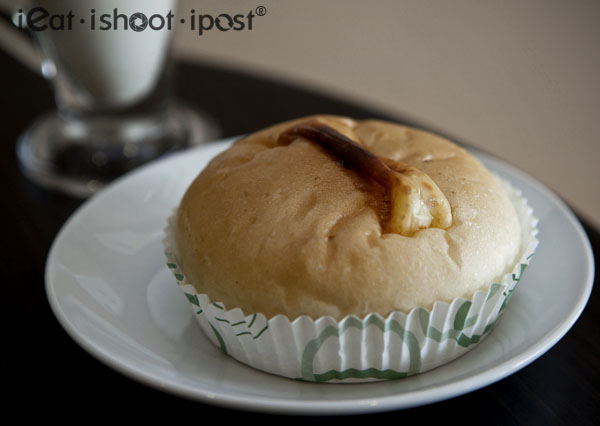 Cream Cheese and Raisin wholewheat soft bun $1.50
My assumption towards all wholemeal labelled foodstuff, especially breads, run somewhere along the lines of insipid, unpalatable blandness. The moment my taste buds detect the faintest hint of wholemeal grains, my jejune alarm sets off. Soft, fluffy with an ethereally light airy centre, dollops of mascarpone-like cream cheese and juicy American raisins fill the pockets of the Cheese and Raisins Hokkaido Snow Bun – debunking my misconception of this beneficial grain. It really is good to know that wholemeal breads can taste this good! 4/5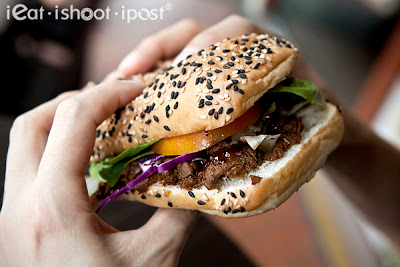 Black Pepper Mushroom Sandwich $5.50
Responding to feedback by an ardent following to cater to the hungry office crowd, sandwiches were recently introduced. The Black Pepper Mushroom Sandwich was a clear shoo-in after having my consciousness raised by the concept of healthy eating.
Nestled between crusty clouds of freshly baked Clubman bread, a spread of coarsely chopped Shiitake mushrooms lined the loaf. Heaped with fresh-garden salad, the peppery-sweet accompaniment meld together and provided delicious support without obscuring the earthy fragrance of the fungi.
4.25/5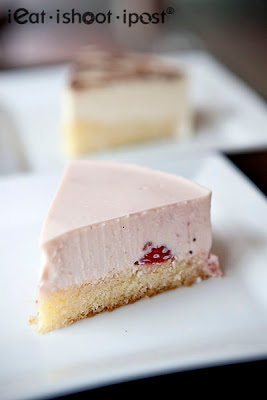 New York Strawberry Cheesecakes ($52/1kg)
A favorite childhood memory one mine was going to a certain hotel, whose namesake today is more widely synonymous with its highly controversial heiress, for arguably the best cheesecakes in town. These asserted feelings of nostalgic pride was humbly overshadowed when I was offered a slice of Chef Icon's New York Strawberry Cheesecake. Fresh strawberries are blended into a tender smooth creamy confection accented with the perfect savory sweet complement. 4.5/5
Conclusion
The bakery's signature shines through with its natural, high quality ingredients, resulting in a perfect balance of flavors – a phenomenally light, custardy moist cheesecake with plenty of body, yet just the right amount of richness. Dietitians who are fond of reciting the age-old adage "All foods can fit into a healthy diet," you have found a new ally, for this nature bakery seems to encompass the best health mantra today.
NB: Items are produced in a limited quantity each day and reservation for these items are highly recommended.
Postscript from ieat
These are the softest whole wheat breads that I have come across. The cakes might seem a little more expensive, but they use all natural and quality ingredients here which I think is great for those who are more health conscious. This unassuming quaint little shop along Kampung Bahru can easily be missed. They have a cosy little basement inside with a few chairs where you can enjoy a quiet afternoon cup of coffee or tea with your cakes!