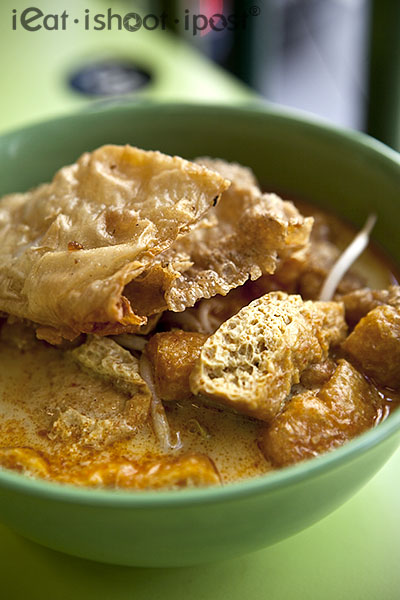 Laksa is just the kind of thing you yearn for when you have been umami deprived. It's the kind of thing that you would need to eat when you have just been on a raw vegetable diet for a week for whatever inconceivable reason. Yep, nothing quite hits the spot as a bowl of fragrant, well balanced laksa. When I say well balanced, I mean that some places tend to be too heavy on the coconut cream and the chilli, resulting in too much of a good thing. A nice bowl of laksa should be something you can finish a whole bowl of and still feel that you can have another.
Now, you all know that the classic laksa is served with coarse bee hoon (rice vermicelli), some prawns, fish cakes and tau pok right? Well, some genius somewhere in Singapore's history must have been selling laksa and decided to serve it without the bee hoon and give more tau pok instead. Then since he was using more tau pok, he must have decided that me might as well add in the rest of the familiar Yong Tau Foo ingredients too. Maybe it was the other way round and started with a Yong Tau Foo seller. Whatever it is, that person is a genius because the beauty of Yong Tau Foo and especially the fried bean curd skin is its wonderful ability to soak up the laksa gravy giving it that wonderful spongy texture when you bite into it.
I have already written about Cantonese Delight's curry chicken noodles in a previous post and have been back a couple of times for this particular dish, but it is only in my last visit that I discovered their Laksa Yong Tau Foo. This ex-SQ crew couple really do know how to cook a great curry. The Laksa gravy is as good as their curry gravy and frankly I feel that it should just occupy a stall by itself instead of playing second fiddle to the rest of their noodle dishes. Just a note about the chilli though, it can be quite salty, don't add too much before tasting it first. 4.5/5


Conclusion
Now I have the dilemma of choosing to eat the Curry Chicken Noodle or the Laksa when I am in Hong Lim Food Centre! This Laksa Yong Tau Foo is surely worth a few calories!