Braised Pork takes Centre Stage
Braised pork belly is one of those dishes which has traditionally been relegated to playing a supporting role in the local hawker scene. You find it as one of the dishes at the Hainanese Curry Rice, Kway Chap, Teochew porridge, and Economic Rice stalls but it is only of late that it has emerged as a dish worthy of a starring role.
Braise would make an excellent case study for any aspiring hawker or business student writing a business plan. Its owner, Lim Min Jie 36, certainly knows how to cook good braised pork but it takes more than just knowing how to cook to be a successful hawker. The presentation, pricing, and understanding of who your potential consumers are and what they want are also crucial. Aside from all that, you still need some basic knowledge of the workings of a hawker stall in order to be able to run it efficiently.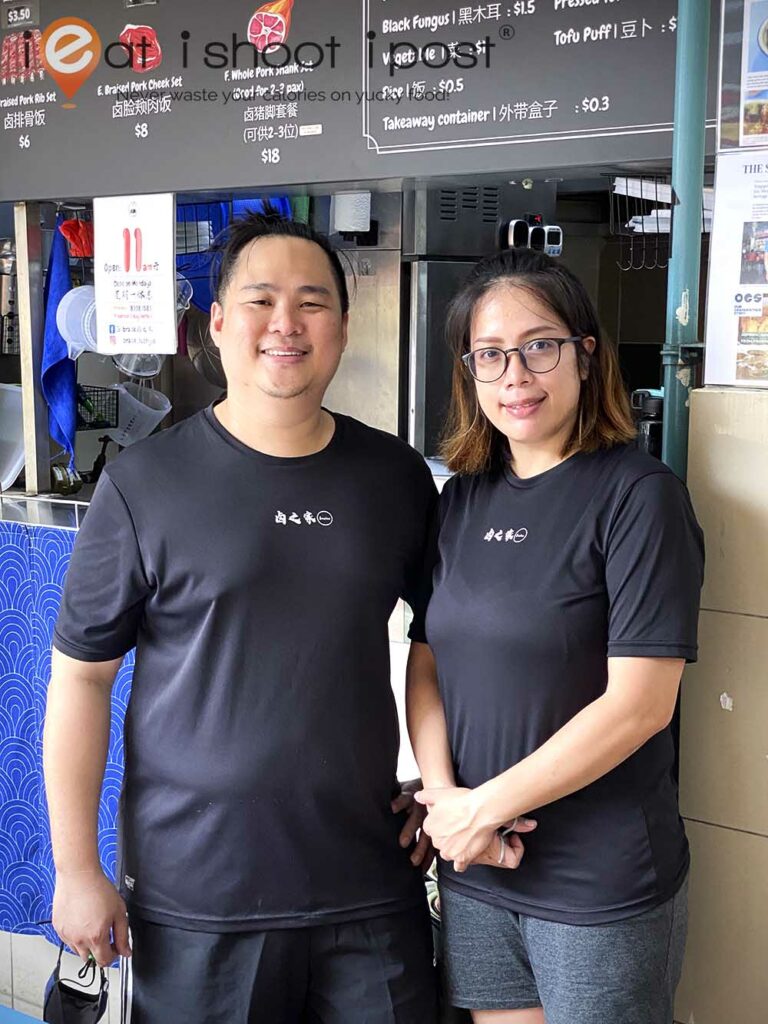 Beneficiary of the Hawkers' Development Program
Min Jie had previously worked in the events industry but the pandemic forced him to make a career switch. Having grown up with parents who own a hawker stall and being passionate about cooking, he decided to join the Hawkers' Development program when a friend alerted him to it. He apprenticed under a hawker mentor who taught him the practical aspects of running a hawker stall, after which he was allocated a stall at Golden Mile Hawker Centre at a subsidized rate. The program provided an allowance through his apprenticeship which helped to ease the transition and subsequently allocated him a hawker stall at a subsidized rate. More details about the program can be found here.
A Different Style of Braised Pork
The braised pork belly rice dish that Min Jie serves is quite different from what is usually found at hawker centres. The dish is influenced by the current Japanese donburi trend and features generous portions of pork belly, tofu, and marinated lava eggs on rice. Unlike kway chap style pork belly, Min Jie braises his meats overnight until the meat fibers, as well as the layers of fat and skin, are barely clinging together. Traditionalists might balk at it, claiming that it has been overcooked, but this style of braised pork is hugely appealing to the younger crowd.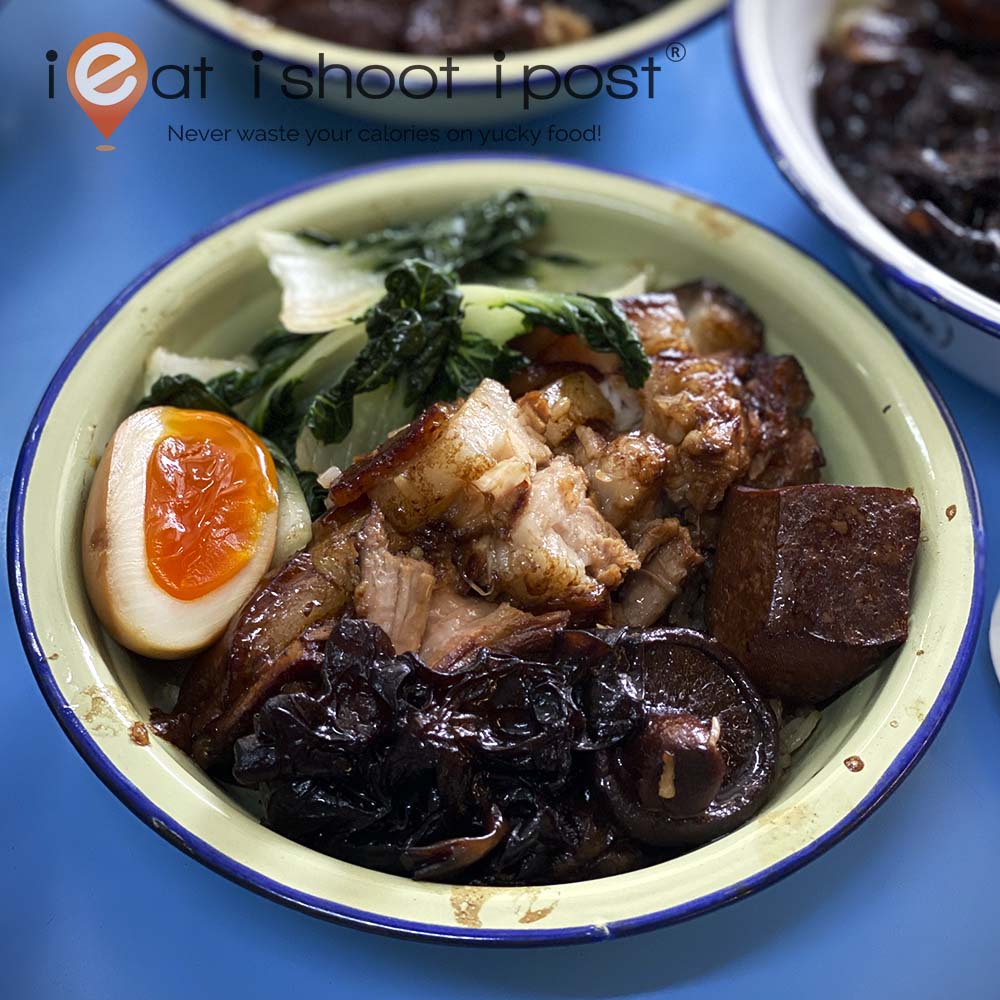 The braising sauce is dark, thick, sweet, and sticky and goes well with the rice. What I felt was missing was some pickles which would have helped cut through the richness of the fat. Otherwise, each mouthful of pork and rice is the ultimate home-cooked comfort food which is perfect for assuaging a ravaging hunger! 4.25/5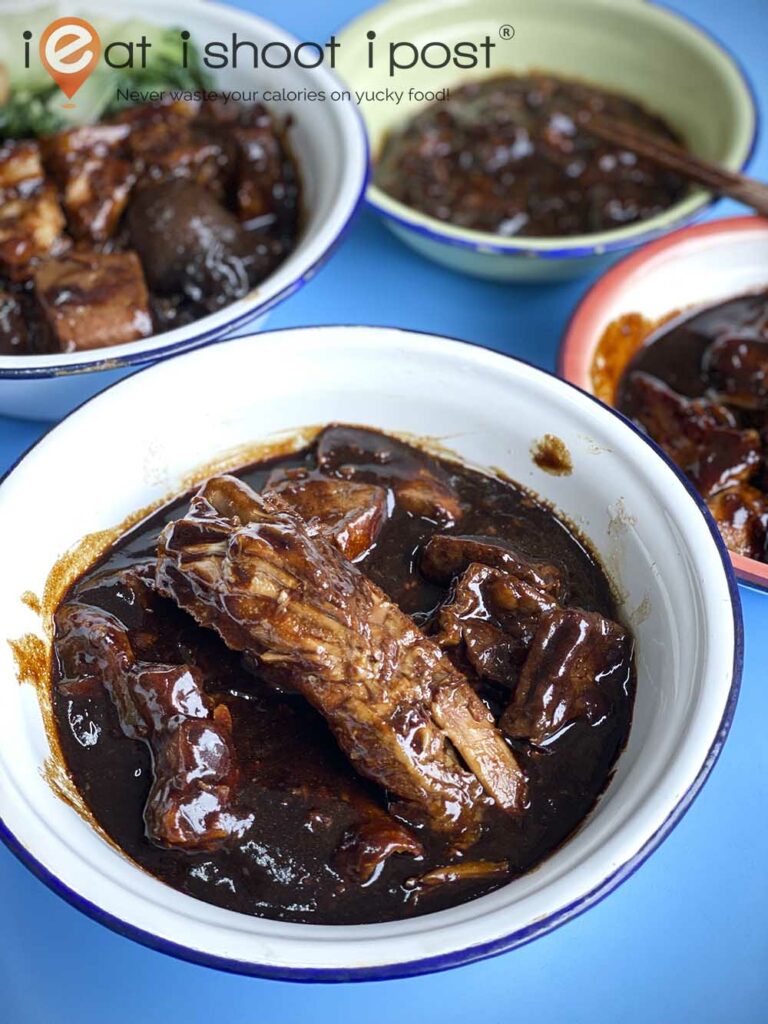 Aside from pork belly, Braise also has other cuts of pork like prime ribs and trotter which you can opt for. Their trotters are delicious the long braising time resulted in lots of gooey, lip-smacking goodness. The ribs, though are a tad dry as all the fats have been rendered out. Special mention must be made of their braised eggs with a molten center. They are very well-marinated and are a joy to eat!
Presentation is Important!
The way the food is presented also makes a big difference to the perceived value of the food. The use of enameled plates, metal spoons, and wooden chopsticks just adds to the whole enjoyment of the dish. I have spoken about the importance for hawkers to be able to use their own cutlery instead of adopting a standard set as some food centers have done. Sure, it makes it more practical for cleaning purposes, but the character of the hawker dish is lost. I hope the operators of the food centers who have standard cutlery would rethink this policy!
Conclusion
Worth a visit if you are looking for a hearty meal of braised pork on rice. This next-generation stall is paving the way for the future of hawker food in Singapore. The quality is good and the portions are generous which justifies their above-average prices.