With iwatch_ueat, damien, smartgoh and The HolyC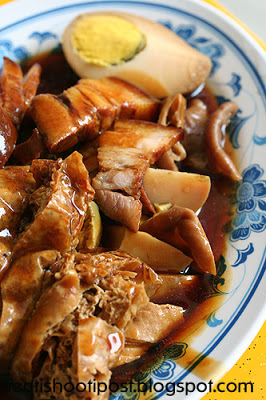 You know, I am beginning to realize that just as wines are divided into New and Old World wines, each with a distinctive taste, Singapore Hawker Fare can also be divided into Old World and New World tastes. Food that comes from a 40 year old wok and fried by 60 year old arms will somehow have that rustic taste about it compared to food coming from a brand new wok. New World food just seems to have more of a upbeat, clinical taste a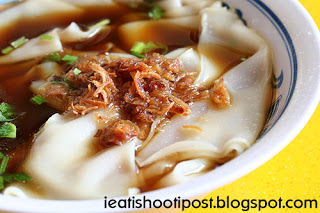 bout it. I was joking with a 70 year old Char Kway Teow man today that it must be his sweat that gives his Char Kway Teow that unique special flavour. And perhaps that is true since a person's body odour does change as one ages. I am sure you realize that grandparents have a unique smell which my mother likes to call the "Kana Bee". When I was a houseman in Australia, I remember that as I approached the Geriatrics Ward, I could recognize this distinctive smell immediately. We used to call it (with all due respect to our older readers) "Eau De Geriatric".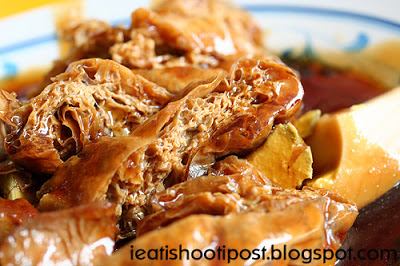 Now after that lengthy preamble, let me just say that New World does not mean it is bad. It is just different. This Braised Duck has got a New World taste. It is tasty yet has a clinical (clean, orderly, sterile) quality to it. Just 3 years old and run by a young lady, this stall had derived its recipe from the internet, books and experimentation. However, it has already earned many accolades and visits from the usual mediacorp artistes during this short period of time. The braising sauce is thick and tasty and the meats and bean curd were well executed. However, that modern – dare I say, Air-Con Food Court – taste is inescapable. 4/5
Conclusion
Definitely a New World taste, but a good recipe and done very well. It may well be that the new generation of Singaporeans will prefer this version of Lor Bak, just as they would think of Pierce Brosnan as the iconic James Bond. People like myself would always consider Roger Moore to be the real Bond. If you fall into the category that thinks that the only real Bond is Sean Connery, then maybe you will not find this Lor Bak any good at all!