This stall is a branch of the one at Adam Road which I visited previously. The dry version over there was much better then the soup version as I felt the soup there really lacked the ooomph. I mentioned this to the stallowner. He smiled and assured me that the soup here is guaranteed to knock my socks off. Man he was right. The soup here really does beat the one over at Adam Road! Those looking for a umami rush would be very pleased. 4.5/5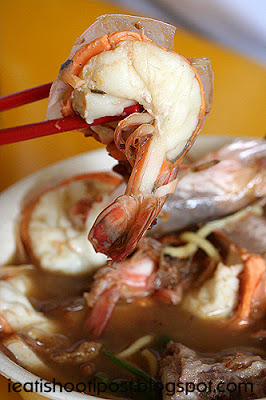 I must admit that after blogging so many different prawn mee stalls, my taste for prawn mee has become more upmarket. After eating the XL Sea Prawns, it is very hard to go back to the scrawny little ones. A freshly blanched Sea Prawn has got that special sweetness and texture about it that is hard to beat!
Conclusion
Another great place for Prawn Mee! As always, it depends on your luck whether the soup is going to be super shiok that day. If you catch it just before they fill the vat with a fresh batch of soup, you will be in for a rush!