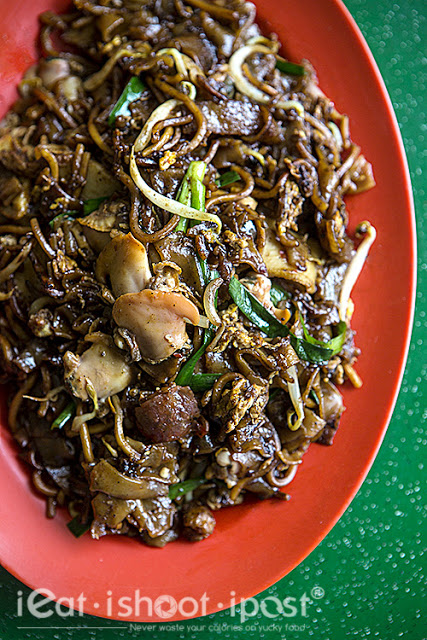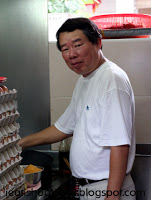 Talking about New and Old World Hawker Foods, if you want to taste something with a bit of vintage, then you will have to check out this stall. This guy has been around since the days when John Travolta had a really cool hairstyle and a prominent chin. He still looks good but getting a bit thick round the neck, know what I mean?
I prefer Char Kway Teow (CKT) with lots of bean sprouts and Gu Chai (Chinese Chives) as it gives it that special crunchy sweetness and balances out the rich savoury flavours of the Lup Cheong, lard and noodles. So when this plate of CKT came, I was pretty excited. It was one darn good looking, dare I say, sexy plate of CKT.
The Kway Teow was slippery and lively and it has that "This wok has been around before you were born taste". However, my seasoned makankakis, the HolyC and smart both insist that it was even better once upon a time. So even though it was a good plate of Char Kway Teow, I was given room to imagine that it could be even better. For me a dash more dark sauce might have pushed it up a quarter of a point. 4.25/5
Conclusion
Good plate of Char Kway Teow. Next time I order, I will specifically tell him that I want more wok flavour and more dark sauce. I think that should do the trick.