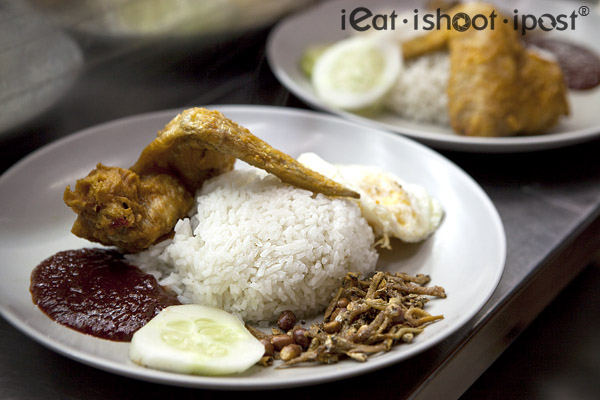 If you live all the way in the West and are looking for a plate of Nasi Lemak late at night, then you would probably head for Boon Lay Power Nasi Lemak. At least that would explain why there seems to be a perpetual queue of 20 people lining up for the Nasi Lemak. We were there from 10pm till 12 am and the queue never seem to wane!
Actually Nasi Lemak is very simple don't you think? The key to success is freshness. The best Nasi Lemaks in Singapore usually have long queues and as a result, the rice and Chicken wings are often served fresh and piping hot. When the rice is hot, the fragrance of the coconut cream wafts through the air and the combination of the warm coconut flavoured rice and the Sambal Tumis is so darn shiok.
So it seems to me that it is a self propagating spiral. If your Nasi Lemak is good, there will be lots of people lining up for it, the turnover will be fast and your Nasi Lemak stays fresh and the chicken wings crispy. The question is, how does one start the ball rolling in the right direction?
Anyway, there is no doubt the rice and chilli here is a powerful combination. The freshly cooked rice has the wonderful coconut fragrance coupled with the soft moist texture of fragrant Thai rice is almost perfect. One thing to note is that this is NOT traditional Nasi Lemak. The traditional version uses broken local rice which is dry and very light with little bite. You probably have had this at some Nasi Lemak stalls in Singapore. When I was in KL last year, a friend of mine brought me to the most famous Nasi Lemak there and they were using the broken rice. I think that cooking the Nasi Lemak with Jasmine rice is much better as it retains the moisture much better. The chicken wings are fresh but not particularly spectacular. 4.25/5
Conclusion
This is one very satisfying plate of Nasi Lemak. However, if you live in the East, like myself, there is no compelling reason to make a journey to the West as we have equally good Nasi Lemak at Changi Village. Plus, the chicken wings at Changi Village are better.