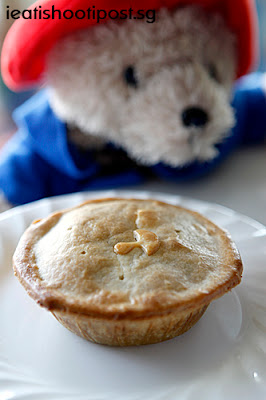 I went down to Big Ben's Pies last month with my son only to find that there were a whole lot of contractors at the shop who told me that the shop had changed owners! My son was devastated because Big Ben's pies were his favourite. So, I updated on the blog that the shop had closed.
However, a few weeks later, someone wrote in to say that Big Ben's was still alive and well! So, I quickly brought my son down to investigate and lo and behold, not only was Big Ben's alive and well, it had undergone a makeover and was now a cosy little place that looked very much like a pie shop you would find in Britain!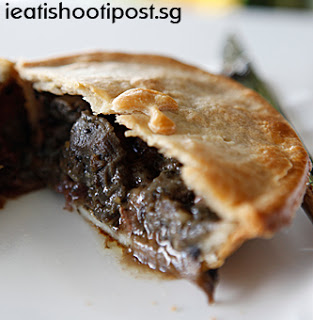 The owners told me that not only was the place renovated, but they have added improvements to their pies. Instead of the normal beef, they have started using Wagyu beef shank. However, they are still charging $4 a pie and unless you ask them, there was nothing on their menu that even mention that this was a Wagyu beef pie.
Now, most places would use the word "Wagyu" as an excuse to increase their prices, so I was amazed that these guys were using Wagyu but not calling their pies Wagyu beef pies.
I can tell you that the pies now taste better than what they were before. The crust is now more buttery and the steak filling is flavourful and cooked till it is meltingly tender. But you know, Wagyu is best enjoyed in shabu shabu or as a steak, but when you stew it, it is not easy to appreciate that the cut of meat comes from a cow that has been given the good life. Oh, it is tasty, but I don't think you would pay $8 for a Wagyu pie because the difference isn't that stark unless you had the Wagyu and the normal beef pie side by side to compare. 4.5/5
Conclusion
I like Big Ben's because they are the closest I can get to a good old Aussie Pie which was a staple for me when I lived in Australia. Using Wagyu is great as the flavour is very good. But they really should just learn from Intel and label their pies "Wagyu inside" but just stick to the $4 price tag. Then it would be compelling enough for people to want to drive to an Ulu part of Siglap to partake of the pie.