Carpaccio Beef I have been pestering Xander to do a 10 course degustation type menu since the first time I ate there and was very glad he finally decided to do one for Christmas. The principle is the same: Take something which would otherwise cost an arm and a leg and do it for the cost of a hand and a foot. So here you are!! Presenting the 10 course Christmas Extravaganza Set Dinner Menu, which I feel should not be called "Degustation" anymore as the portions are really quite substantial! First up is the Carpaccio Beef which is marinated beef served rare with a few strokes of mayonnaise. Lovers of raw meats would appreciate this! I still like my beef cooked though! 3/5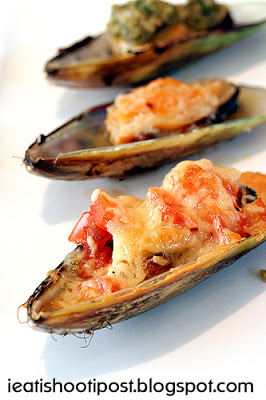 Trio Mitili
You get 3 mussels done in 3 different styles. Cheese and tomato, pesto and white wine sauce. I liked the cheese and tomato and the pesto but ambivalent towards the white wine sauce. 3.5/5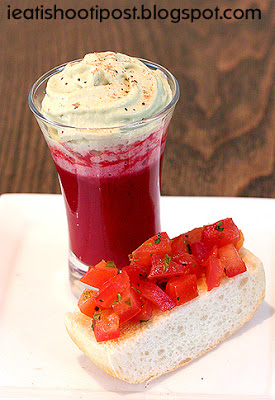 Beet Borsht with Asparagus Cappucino
OK, after a shaky start we start to get to the good bits! The Beet Borscht with Asparagus Cappucino is reminiscent of the pea soup made famous by Ferran Adria. The Borscht is a warm Russian Soup topped with a Cold Asparagus flavoured froth. Drink it all in one go to appreciate the contrast of the warm with the cold as well as the tang of the beetroot with the savoury flavour of the Asparagus. As I said, it's getting interesting! 4.25/5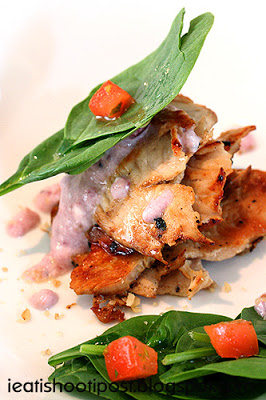 Tacchino Lampone
Turkey Breast is first roasted then Pan Fried and eaten with a dressing made from Cranberries, Walnuts and Yoghurt. Pan Frying the Turkey breast was a great twist to the otherwise dry turkey breast and the sweetness and tangy flavour of Cranberries always complement turkey so well. The addition of yoghurt gave it that extra creaminess which was good, although I would have liked more cranberry and less yoghurt. 4/5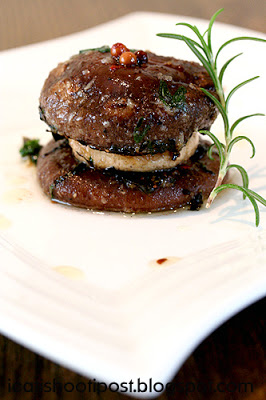 Mescolanza Funghi
The description on the Menu reads "Assortment of Mushrooms" but when you get down to it, it was a button mushroom sandwiched between a pair of Shitake Mushrooms. Ay, Xander, two types of mushrooms don't constitute an "assortment" hor! The mushrooms were sauteed in a pink peppercorn sauce which worked very well. 4/5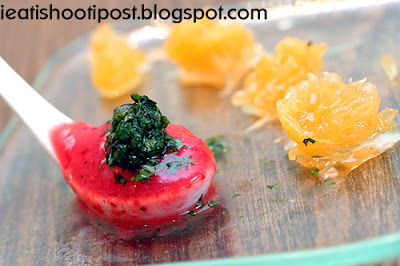 Strawberry Sorbetto
Ok, so after 5 very interesting starters we finally get to cleanse our palates with this strawberry sorbet which was topped with some homegrown mint pesto. Xander grows a lot of the herbs himself because some of these European herbs may not always be available in the Supermarkets!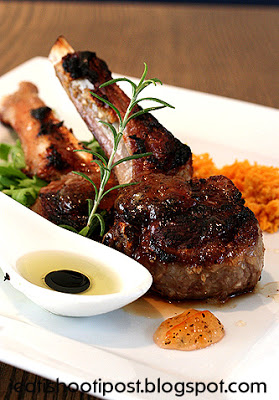 Marmellata Lamb
Palate cleansed, now to the mains! These toasted lamb cutlets are really very good and the orange and cherry marmalade was a interesting departure from the tradtional mint sauce. The quality of the lamb this time round was very good and had enough fats to give the meat a strong but not overpowering lamb flavour. It was served with a salad and a small serving of mashed Sweet Potato which I really enjoyed. 4.5/5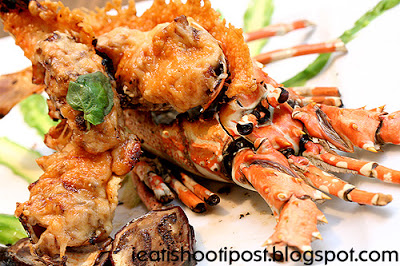 Lobster Thermidor
This was the one item that I really wanted Xander to do and he delivered it with a delightful stretch of the imagination. The baby lobster was first baked and covered with a cream sauce then topped with parmesan cheese and grilled. It was served with a shot of flamin' Kahlua, Grand Marnier and Baileys. Dipping a cheesy bit of lobster tail into coffee liquer was paradise for the palate! Its the kind of gourmet moment which would be permenantly etched into your temporal lobes! 4.75/5 (Probably not for everyone, but for a guy with a penchant for the combination of the sweet and savoury, this was heavenly!)
This is what Xander calls a "deconstructed" mango cheese cake. "Deconstructed" just means, "I have put all the ingredients together but have not baked it yet". Slices of mangoes are enveloped in creamy mascapone cheese and topped with Baileys and blueberries. 4.25/5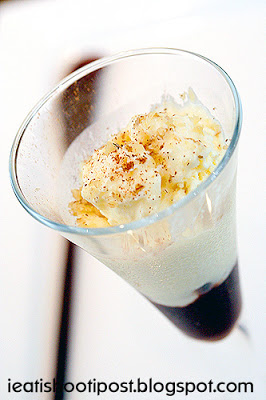 Panna Cotta
Sticky chocolate fudge topped with a pineapple and coconut flavoured cream. I have decided I don't really like Panna Cotta. Don't like Ang Moh desserts with grated coconut. 3.5/5
Conclusion You are not going to get a 10 course (11 if you include coffee and tea) meal like this anywhere else for $65. The courses are pretty substantial with only one item in 10 which was a palate cleanser. For those who think they can't finish 10 courses, there is a 6 course menu which includes the first 4 starter with a choice of either lamb or duck for $32 and a 7 course menu which includes the first 5 items with either Cod or Lobster for $48. The menu is only valid from 20-24 Dec and is by reservations only. Hopefully if this concept works, Xander might offer this type of menu on a more permanent basis. I certainly hope he would!