With smart and bashful hunter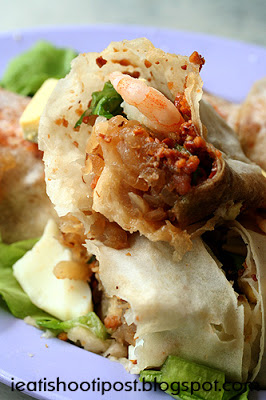 Poh Piah is just great. It's healthy (relatively) and tasty and it is a really good side dish with whatever you are ordering. If you think about it, it is just the Chinese version of the Donar Kebab or the Burrito and the way I see it, it should originally be eaten whole rather then cut into bite sized pieces. Why I say this is because the nature of the "wrap" is such that it is designed as food on the go, meaning that you can grab the Poh Piah in one hand while the other hand is being used to hold onto the reins of your horse. It is supposed to be Chinese fast food, if you know what I mean.
However, nowadays, it is the custom to cut it into bite sized pieces and eat with your chopstick which really doesn't make sense as quite often, some of the filling will drop out during the transit from the plate to your mouth.
Smart (more precisely, his wife) recommends this particular Poh Piah stall in Toa Payoh. So far, very few of the Poh Piah's in this blog has hit the threshold for me except for the Qi Ji which at one stage really did it for me. But I found recently that the standard of the filling had fallen a little. For me the ultimate Poh Piah has got a nice, soft, chewy skin which leaves that sweet carbo aftertaste, packed full of the savoury turnip filling and most importantly, packed with lots of the crunchy stuff.
I must say this particular Poh Piah tastes rather good. The balance of flavours of the ingredients is just right. The only problem is that it is a little limp and the skin (handmade but procured from elsewhere) just lacks that chewiness of which the Qi Ji one is still currently the gold standard. Perhaps the next time I could ask the Uncle to make a specially turgid one for me! 4.25/5
Conclusion
Try to see if the Uncle will sell you a Poh Piah with extra ingredients (you'll have to offer to pay more of course). That might well turn this from a very good to great Poh Piah.