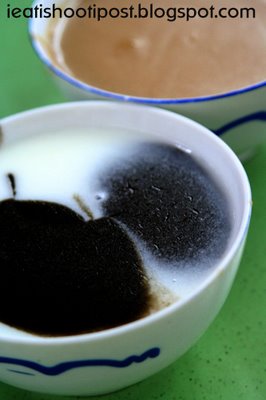 This stall is where you can still find Cantonese style desserts like peanut paste, sesame paste, walnut paste and the starchy, gooey type red bean soup with orange peel all prepared the same way they were 40 years ago.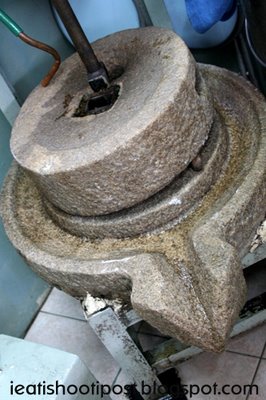 You don't get stuff out of a packet here. Everything is still ground with this mill that has been in existence longer than I have (since 1966). They tell me that you can't buy things like this anymore in Singapore.
I thought the taste of the desserts should have been much better given all their writeups and the antique mill. The sesame/almond paste and the peanut paste tasted a bit watered down that day. I had expected a buttery, rich peanut paste, but it just did not quite cut it for me that day. The red bean soup was still pretty good though and I liked the taste of the orange peel and the thick soup which you can't find in most dessert stalls.
Another stall with a strong tradition of doing things the good old way. Bit dissppointed about the sesame/almond and peanut soup, but seeing the accolades and the mill, I am willing to give them another go the next time to see if it is just a one off thing. 3.5/5
Updated on 25 June 2008
They have moved back to their permanent location