Fishhead steamboat. Is this another uniquely Singaporean dish or did it come from China?
Doris, the lao ban niang (lady boss) at Whampoa Keng, tells me that she remembers eating this style of steamboat when she was still a kid living in the Char Jung Tao area (lit Wooden Ship Port ie Clarke Quay). Back then, the most famous stall selling Fishhead Steamboat was Nam Hua Chang. They started selling Fishhead Steamboat way back in 1927. They were probably the originators of this quintessentially Teochew dish which has its roots in Swatow, China. But is the way it is served in a steamboat with the fried yam, sour plums, fried solefish, tang orh and peh chye (Chinese Cabbage), something that is found in Swatow? Would those readers familiar with Swatow cuisine please let us know?
Whenever you order Fishhead Steamboat, you are faced with a choice. Will you order the Grouper or the Pomfret? Will you order fish head or sliced fish meat? Well, I have visited Whampoa Keng twice and ordered both versions and my preference is for the Pomfret. As you know, Teochews love Pomfret, but I am not being biased just because I happen to be a Teochew Ah Hia (Teochew brother). Whampoa Keng uses Dao Chior (Chinese Pomfret) for the soup which is more expensive than Peh Chior (Silver Pomfret). The Dao Chior is a larger fish, so the flesh is more substantial and better for soups.
Whampoa Keng doesn't make a distinction between fish head and sliced fish, so you don't have to worry about having to make that decision. But in general, soup made from fish head is sweeter and if you enjoy sucking on soft jellylike bits, then go for the head. However, when it comes to Pomfret, the head is so small that no one really offers pomfret head soup, unless you are serving the Emperor of China.
Ah, here is another decision you have to make. What do you do with the fried yam? Eat it just like that or mash it up and drink it with the soup? Lao Ban Niang's personal preference is the mash it up and drink it with the soup. Having tried it, I am very much in agreement with the Teochew Ah Nia (Teochew lady). The ingredients might seem like a random mix of fish and other stuff. But according to Doris, each ingredient plays an important role in the overall taste of the soup.
It is the attention to the little details which produces a soup that is well balanced. Take the sour plums for instance, there may only be one or two per pot, but if omitted, the soup will lack that little tang that helps get your salivary glands going. Needless to say, the fish has to be really fresh and the yam has to come from Thailand where it is "sang sang" (powdery). All of our kakis agree that the soup was excellent. 4.5/5
Why are there so many Whampoa Fishhead Steamboats?
Now, you might be a little confused with the number of steamboat places named Whampoa and I don't blame you. So to clear up the confusion, here is the story.
Before Whampoa market and food centre was renovated, there were three stalls there selling Fishhead steamboat. Our Lao Ban Niang (lady boss) started by selling Kway Chap before changing to Fish Head Steamboat and she was the latest of the three stalls there. Of the three stalls, two were more popular. The original Fishhead Steamboat stall which occupied the fresh food market side and hers. When they closed the market for renovations, they moved to their own premises at Balestier and renamed it Whampoa Keng. Keng is the name of the golden haired anime looking Lao Ban (Boss) who not only has to look after two restaurants, but two wives as well. More about him later.
Cze Char Dishes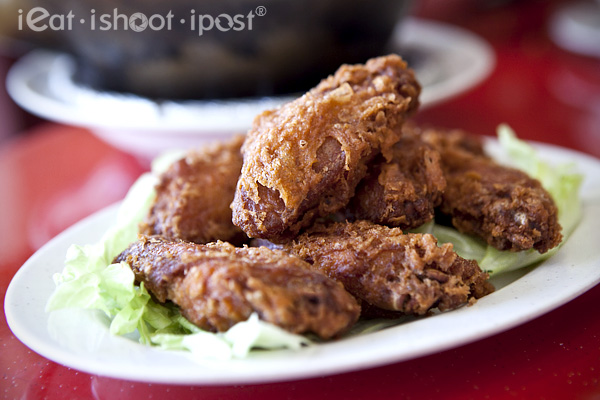 Now, you wouldn't want to just come here to drink soup right? You also want to order a few dishes which are preferably deep fried (since fish soup is so healthy, you need some deep fried stuff to balance your diet). They have a few signature dishes here which we tried. One was the ever popular Har Cheong Gai (prawn paste chicken) which was well marinated, hot and juicy. The marinade is very balance and it would have been perfect if the coating of batter were just a bit more even. 4.25/5
Most of our kakis also liked their handmade Ngor Hiang which was made with fresh sea prawns that they de-shell themselves. The meat and prawn filling was plump and juicy and even though the prawns were minced a bit too fine for my liking, the crunchiness of the water chestnut more than made up for it. 4.5/5
We were recommended to try the Indonesian chicken which is deep fried nuggets of chicken coated with a sweet, sour and spicy prawn paste sauce. This is good as the chicken pieces were fried fresh so that they were still plump and juicy. Aside from the Indonesian style sauce, the marmite sauce is also great and you can choose pork ribs or chicken. You can mix and match any of these combination and they will satisfy your craving for deep fried meat in sweet, sour, savory and spicy sauce. Personally I preferred the marmite sauce over the Indonesian sauce. 4/5
Doris tells me that she would go around Singapore to eat at other Cze Char places and when she finds something she likes, she will experiment and come up with a dish for her restaurant. One of these is the homemade tofu in seafood sauce which seems to appear on many a Cze Char menu nowadays. Most Cze Char places will tell you that they make their own tofu. What that means is that they will mix eggs into soybean milk, add seasoning and other ingredients and steam it before deep frying. Doris does it a little different here. She uses silken tofu which she mashes and then steams it after mixing it with egg. Their Seafood Tofu is good and worth ordering but doesn't stand out when compared to the other Cze Char Stalls. 4/5
The good thing about the Salted Egg Prawns is that they use really nice medium sized prawns here which are marinated in ice so that the texture is nice and crunchy. However, the salted egg sauce lacked a certain kick that I enjoy when eating salted egg. It would also have been nicer if the batter would remain crispy with the coating of the sauce. 3.5/5
A man and two wives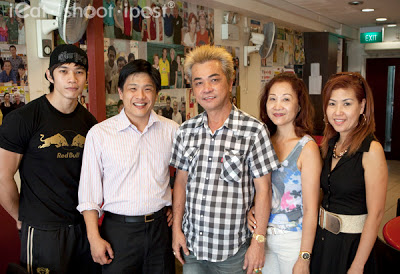 Ah yes, now we come to the story of Keng and his two wives. This is probably a story which the ladies of AWARE would frown upon and I shall state very clearly from the start that I am in no way an advocate of the one man two wives policy. (My ear is hurting as I write this, ouch). Although, the story of a male patriach with a wife and a number of "Siao Lao Puo" (Small wives) is quite common in the good old days, it is not quite so common in the age of women's rights. What amazed me about the whole thing is how everyone got along together so well.
It turned out that Sharon had been visiting the family stall for a while and got to know the kids and the family very well. After a while, Keng asked Doris if it was ok for him to take her as a second wife, to which she was agreeable! Even the son, Siro (pictured left) is ok with the whole idea! So now Doris runs the restaurant at Balestier, Sharon is in charge of the one in Rangoon road. Both wives live in separate homes and Keng shuttles between the two homes spending a fraction more time with wife number one. One big happy family. Good for population growth yeah? (Ouch!)
Conclusion
Great place for a fishhead steamboat meal. The pomfret steamboat is the star of the show and there are a couple of your standard Cze Char dishes which are also quite good. Now that I am officially on the Fishhead Steamboat trail, so expect a few more posts on this dish. Do let me know your recommendations!