Nine Happiness Assorted Appetisers presented on special Wakiya platter
If you have been following the blog, you would know that I am a fan of the Japanese cult classic, Iron Chef. One of the things I have always wanted to do was to try the dishes cooked by some of the brilliant chefs who have been featured in the program. Now thanks to the World Gourmet Summit, I did! Chef Yuji Wakiya appeared as a challenger to pit his skills agains Iron Chef French in an epi battle using Uni as the principle ingredient. Below is the clip where Chairman Kaga introduces Chef Wakiya.


Chef Wakiya appearing in Iron Chef: Battle Uni
Of course, Chef Wakiya was a bit younger then and since his appearance on Iron Chef, he went on to open his own chain of restaurant featuring his own unique blend of haute Chinese fusion cuisine. It's called "haute" because rather than serving his dishes in the usual Chinese style, his plating and presentation are very obviously French. The Japanese influence comes from the use of fresh Japanese produce and a light touch in the use of seasoning so that the dishes are not too heavy which means you can keep looking forward to sampling the next course.
We started with an assortment of nine appetizers that was specially presented in a platter that Chef brought over from his restaurant in Japan. In Singapore we often associate the number 8 with prosperity but in China, the number 9 is regarded as the greatest of the single digit numbers and is historically associated with the Emperor of China. It is said that there are 9 dragons embroidered on his robes! So it is Chef Wakiya's style to serve up 9 different appetizers featuring the seasonal produce. Each appetizer is given a slight fusion twist such that it is still recognizably Chinese but with a foreign accent.
The highlight for me were the Japanese white shrimps (shiroebi) marinated with Red Paprika and Yuzu Pepper. These were very similar in taste to the more familiar amaebi but lacked the crimson red colour. Another interesting one was the candied pumpkin with pine nut and Century egg topped with Karasumi (cured mullet roe). The sweet and sour pork is quite different from the local version. The pork is first sliced into a thin sheet and then rolled into the shape of a sushi roll before being cut into bite sized pieces and deep fried. The key to this dish is the use of two different vinegars, one from Japan and the other, the more familiar Zhejiang vinegar from China. He also uses crushed pineapples and those Hawthorn flakes (yes those Haw flakes you used to eat as a kid) in his sauce. I could actually just order a whole plate of this and eat with rice! 4.25/5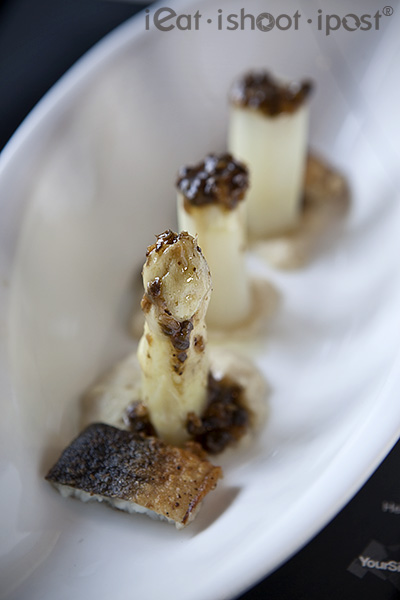 Spiced White Asparagus with Sichuan pepper in freshly made tofu skin sauce
The White Asparagus course looked like it could have been served in a French restaurant. The great thing about Japanese cuisine is that they steer away from the use of heavy creams which is often used with White Asparagus. Instead, Chef substituted heavy cream with a light but creamy tofu skin sauce that is spiked with a piquant Sichuan Pepper sauce. The dish was accompanied by two pieces of grilled Unagi (Fresh water eel) which was specially brought over from Japan. 4/5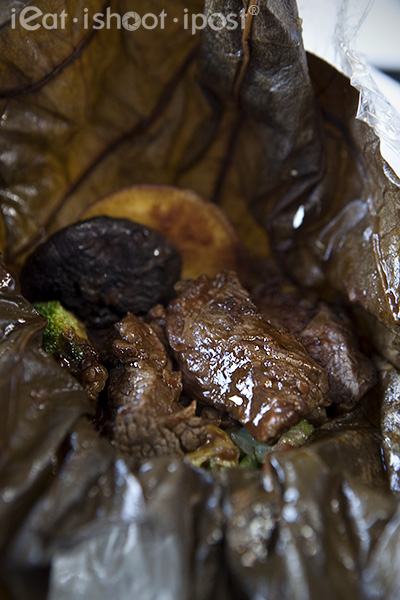 Oven baked Wagyu Beef wrapped in Lotus leaf
We are all familiar with the aroma of lotus leaf emanating from a packet of He Ye Fan (Lotus Leaf glutinous rice) when you open up the leaves to reveal the treasure inside. Here Chef Wakiya uses the Lotus leaf to flavour Wagyu tenderloin. I felt it was a bit of a waste to use tenderloin in this way and would have preferred something like Shin Beef where it is more flavoursome and you can enjoy the texture of the gelatinized tendons. 3.5/5 The beef is best taken with the accompanying XO sauce which is made in Chef's kitchen in Japan. The XO sauce is excellent and contains a treasure trough of umami rich ingredients like Jinhua ham, dried scallops, dried tiny shrimps and dried shrimp eggs! 4.5/5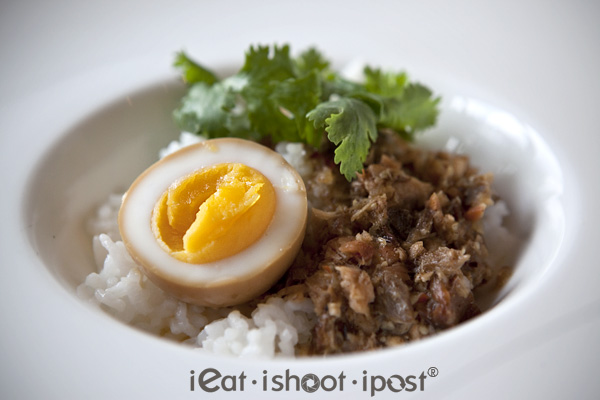 Hokkaido Salmon atop bed of Soy Marinated Egg Rice infuse with Aroma of Iris
I haven't been able to ask Chef Wakiya what an "Iris" is. To me that refers to a part of your eye and I really don't think that that has anything to do with the dish. I guess it must be some kind of flower judging from the fragrance of the rice that was served with the stir fried Hokkaido Salmon. This is the typical Japanese way of enjoying rice where the rice is topped with something packed with umami power. It is quite satisfying although it didn't seem very "haute".4.25/5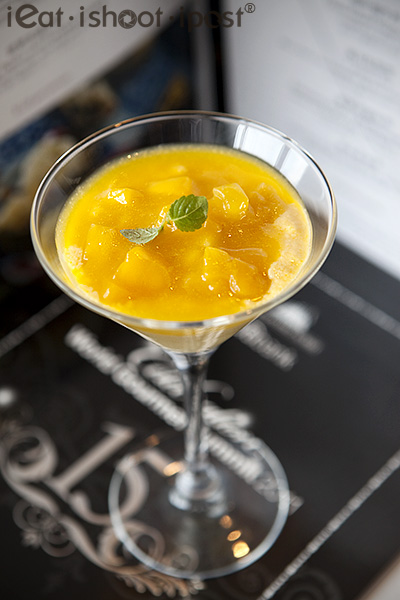 Refreshing Papaya and Pineapple Pudding
Actually I think there must have been a typo with the dessert as it tastes very much like a mango pudding instead of Papaya and Pineapple pudding. It's good, but quite pedestrian when compared to the excellent starter of 9 appetizers. It would have been nice to end with something more unique. 4/5
Conclusion
Chef Wakiya will be serving his cuisine at the Mandarin Court restaurant from 3 to 7 May. I was told that he specially brought some sharks fin from Japan that costs $800 per kg which will be featuring for the dinner menu. Its too bad that he is not serving up the Sharks Fin with Uni sauce which he did during the Iron Chef competition. That would be something to behold!
For the WGS, Chef Wakiya is featuring a Lunch Set Menu at $128++ and a Dinner Set Menu at $188++ per person.