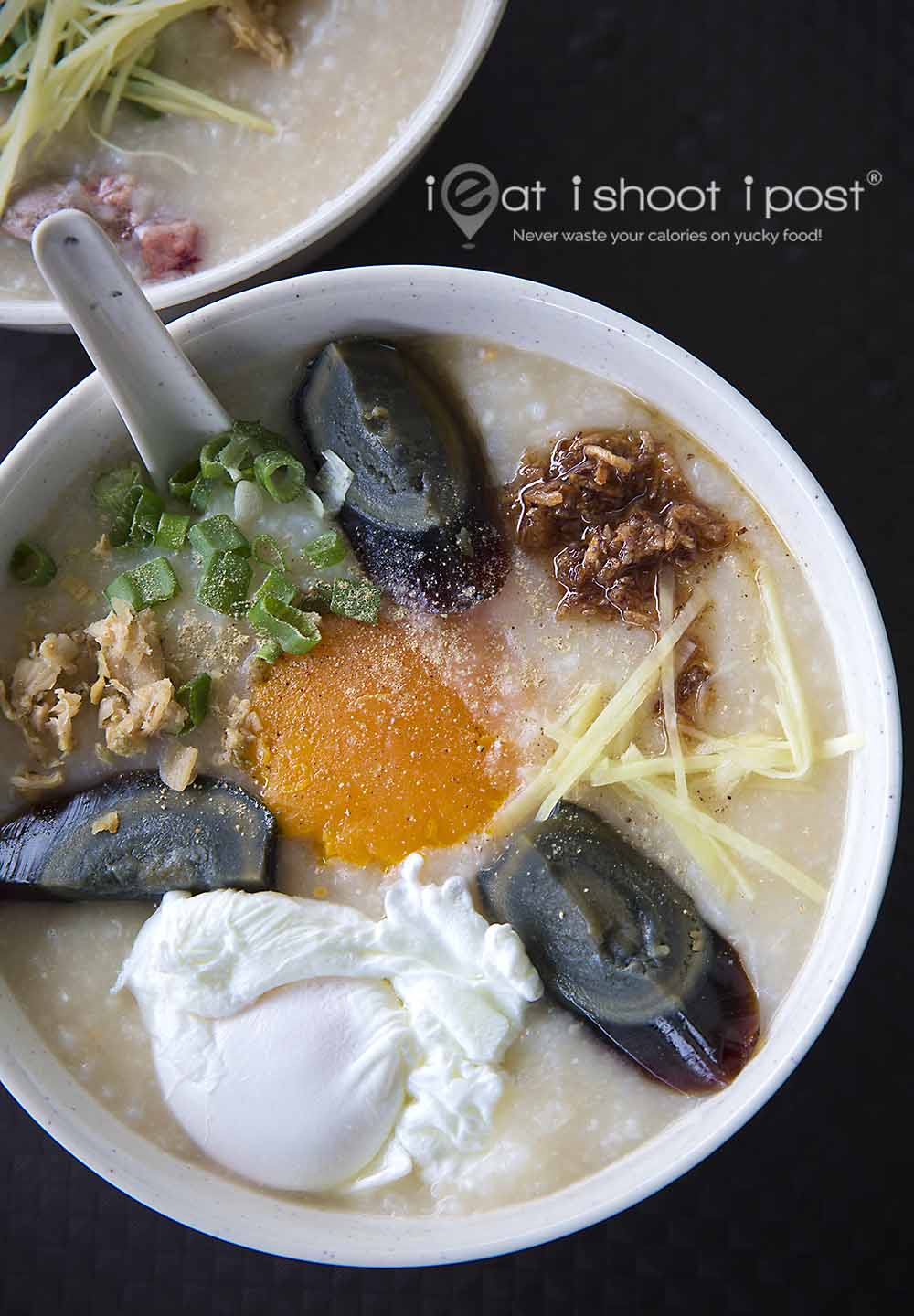 A hot bowl of Hainanese style pork porridge is the quintessential comfort food for a lot of Singaporeans but for some reason, it isn't as hot (pun definitely intended) as some of the other hawker dishes like prawn mee or char siu/sio bak.  As a result, the number of stalls where you can get a really good bowl of traditional Hainanese style porridge can be numbered by a toddler.
For fans of such porridge, it must have been tragic when Joe Pork  Porridge decided to lower its shutters permenently in June 2018 after three decades in the business.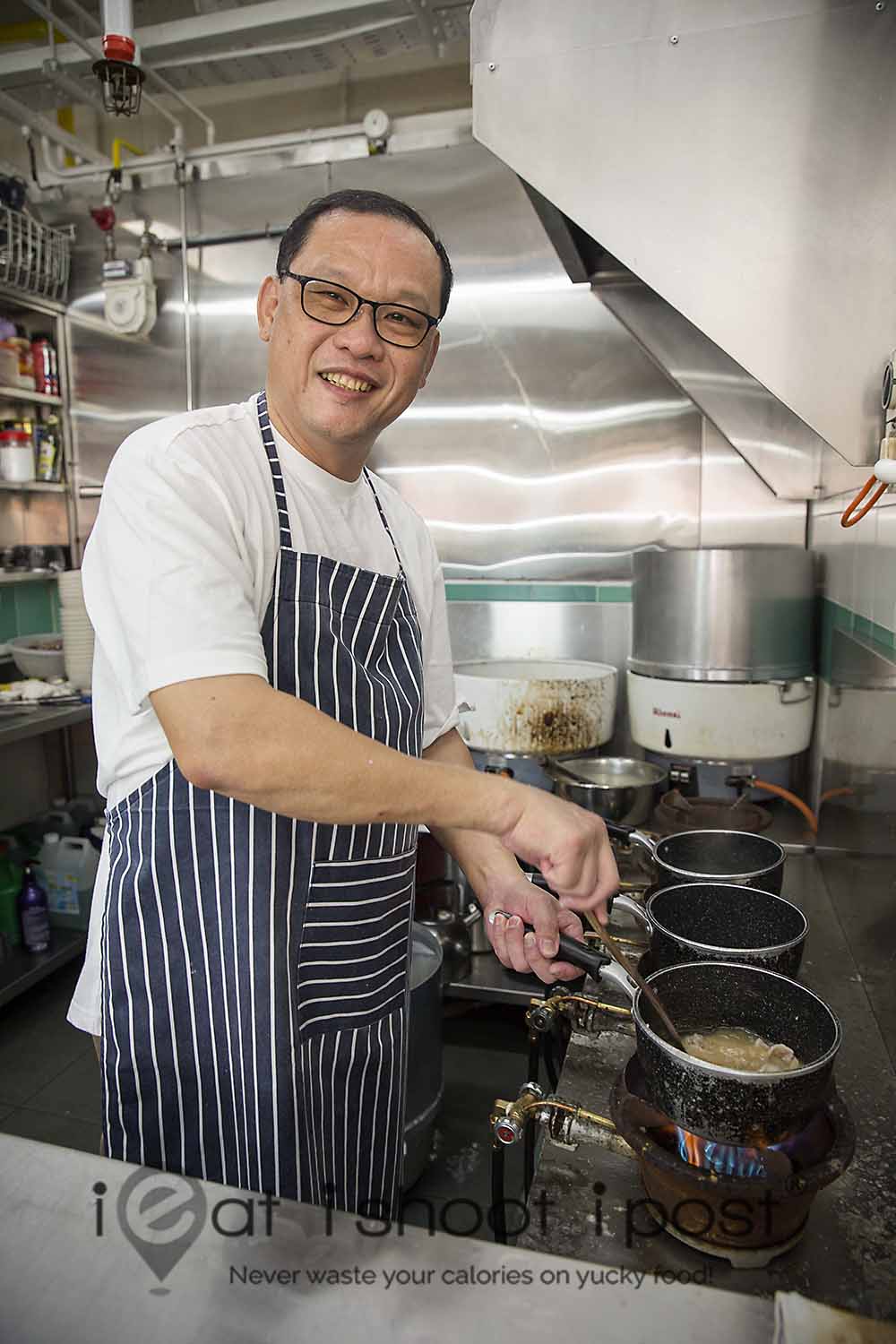 Thankfully, the same stall space has now been taken over by Master Chef Charlie Chang who used to be a big fan of the stall!  Chef Charlie, 58, had at worked at various hotels before his last stint as Executive Chef at Grand Millenium, Beijing.  When he finally returned to Singapore, he decided to eschew the world of luxury hotels and became a business owner and hawker instead.  His partner, Mr Stephen Sim, a supplier of produce and meats, sources the ingredients for the stall. What that means for us consumers is, quality ingredients cooked by a masterchef and sold at competitive prices!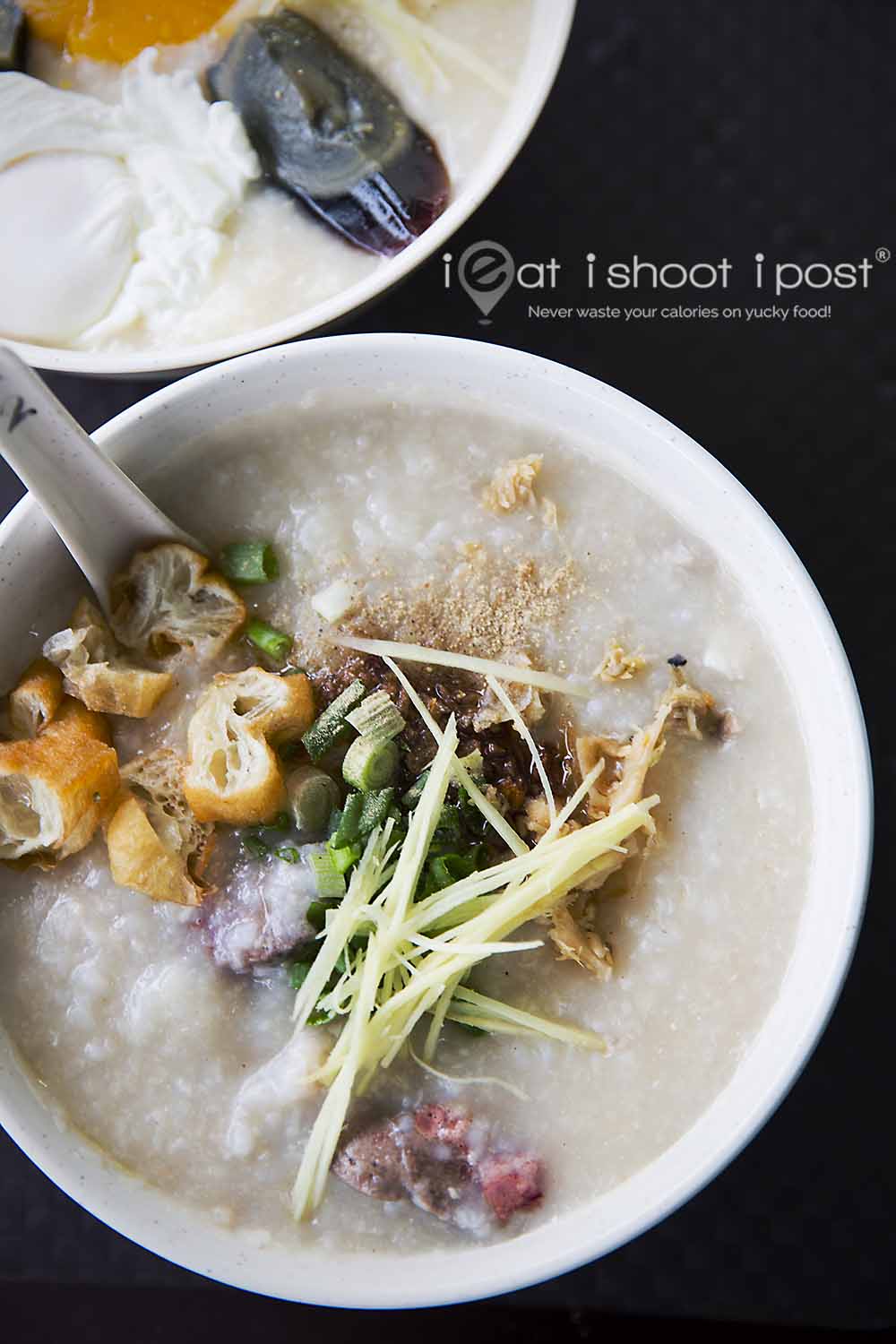 Chef Charlie is trained as a Cantonese chef, but the porridge he makes is more like the traditional Hainanese style "jok" rather than a Cantonese congee where the grains are cooked till they are completely disintegrated.   Chef tells me that that is the porridge that he grew up eating as a kid.  However, he does incorporate Cantonese congee cooking techniques into the porridge, so it still has undeniable Cantonese character.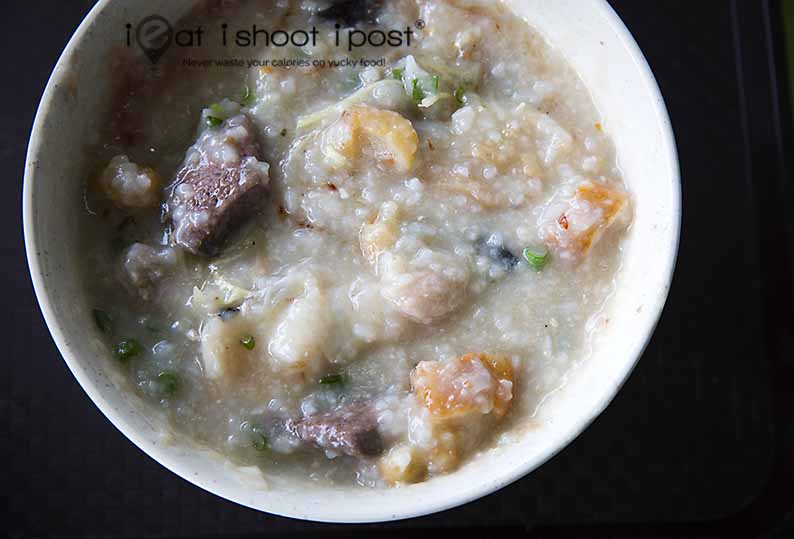 The pork porridge starts at $3.50 and has the usual pork balls, sliced pork and innards.  For $1.50 more you can go for their premium bowl which has more goodies like abalone and cuttlefish.
The porridge is hearty and flavourful.  To get the right texture, Chef Charlie has to cook each bowl individually.  By constantly stirring the porridge, the starch is released from the rice grains which gives it that smooth and silky mouthfeel we all enjoy!
Overall, it is a very good hearty bowl of porridge. I would have liked it a little more seasoned, but was told that they had delibrately pulled back on the salt as some people don't want it too salty.  It is easily remedied by a drizzle of soy sauce.  I felt the pork balls could have been more tasty when I was there.  Since then, they have taken my feedback and added fried ti poh to the pork balls, so it should be better when you taste it.  4.25/5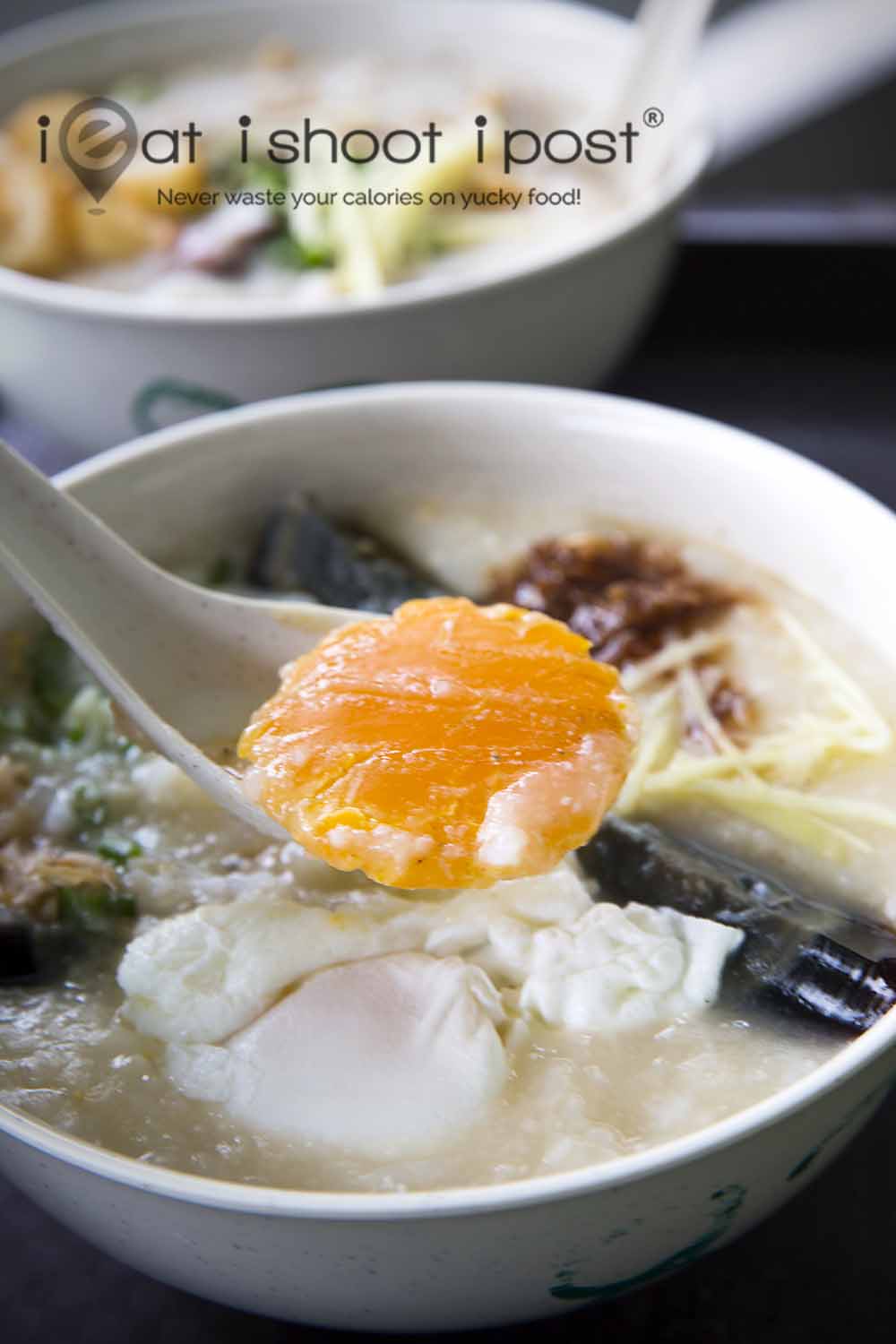 Aside from the usual pork porridge, they have also come up with other interesting options like their three egg porridge which has salted eggs, century eggs and a whole poached egg!  There is chopped salted egg in the porridge but on top of that they also give you a whole salted egg yolk which is flattened into a disc!  It's good, but next time I would order it with the addition of pork balls as well!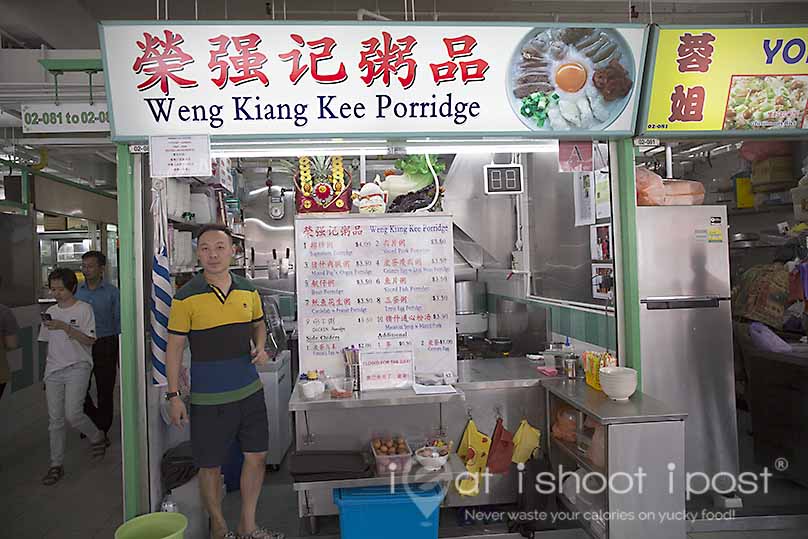 Conclusion
There are only a handful of really outstanding Hainanese style porridge places in Singapore, so porridge lovers would be glad to know that even though Joe Pork Porridge is gone, we have now Weng Kiang Kee to take its place and it is not every day that you get a masterchef  to cook your porridge!