With smart, PK and ColdStorage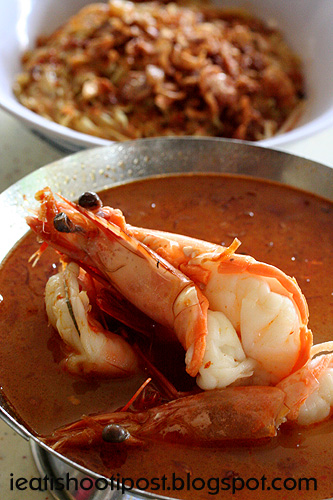 Prawn Mee Soup with XL Prawns $8
I think I have found the preeminent prawn mee at last.
Up till now, I have found that most of the top rated stalls were just as good as each other and have been having difficulty proclaiming one to be my favourite. That is to say, if someone from overseas wanted to taste a prawn mee, I would choose from the few top stalls that I have blogged depending on convenience.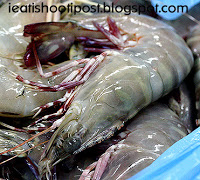 Not anymore. Now if my Japanese friend wanted to try prawn mee, I would bring him to the other stalls ONLY if this one was closed.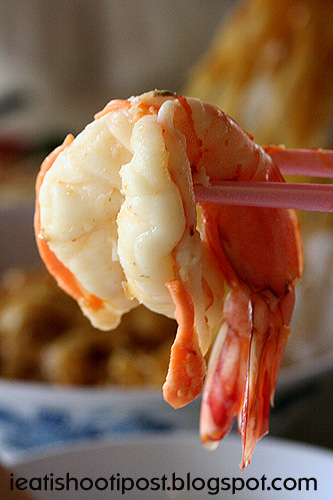 It was only after finishing the bowl of soup that I realised what it was! It was that unique taste you get in Lobster Bisque!! Ooooo, that "extract of crustacean shell and all the stuff in the head" taste! Wow, this old couple really know how to squeeze out the best from a prawn.
The owner was tight lipped about what goes into the soup. But after must pestering, he did reveal that it contained 6 seafood ingredients. I also found out that he fries the prawn head and shell and squeezes out all the yummy stuff!
The prawns here are also some of the biggest XL prawns you can find. So sweet and juicy, phwa say! The noodles were also excellent. We had the dry mee pok and the texture and taste of the noodles were equally spectacular. 4.75/5
Conclusion
We have a winner! This prawn mee soup stands one head above the rest because of that unique taste. I have been thinking about it everyday since I ate it last week and even made a trip back this week.
PS: Its rated high because it is different. If you are looking for that usual bowl of prawn mee you might be dissappointed as it is not as salty as the rest.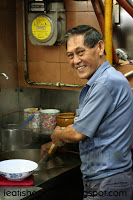 Recommended by eslim and smart