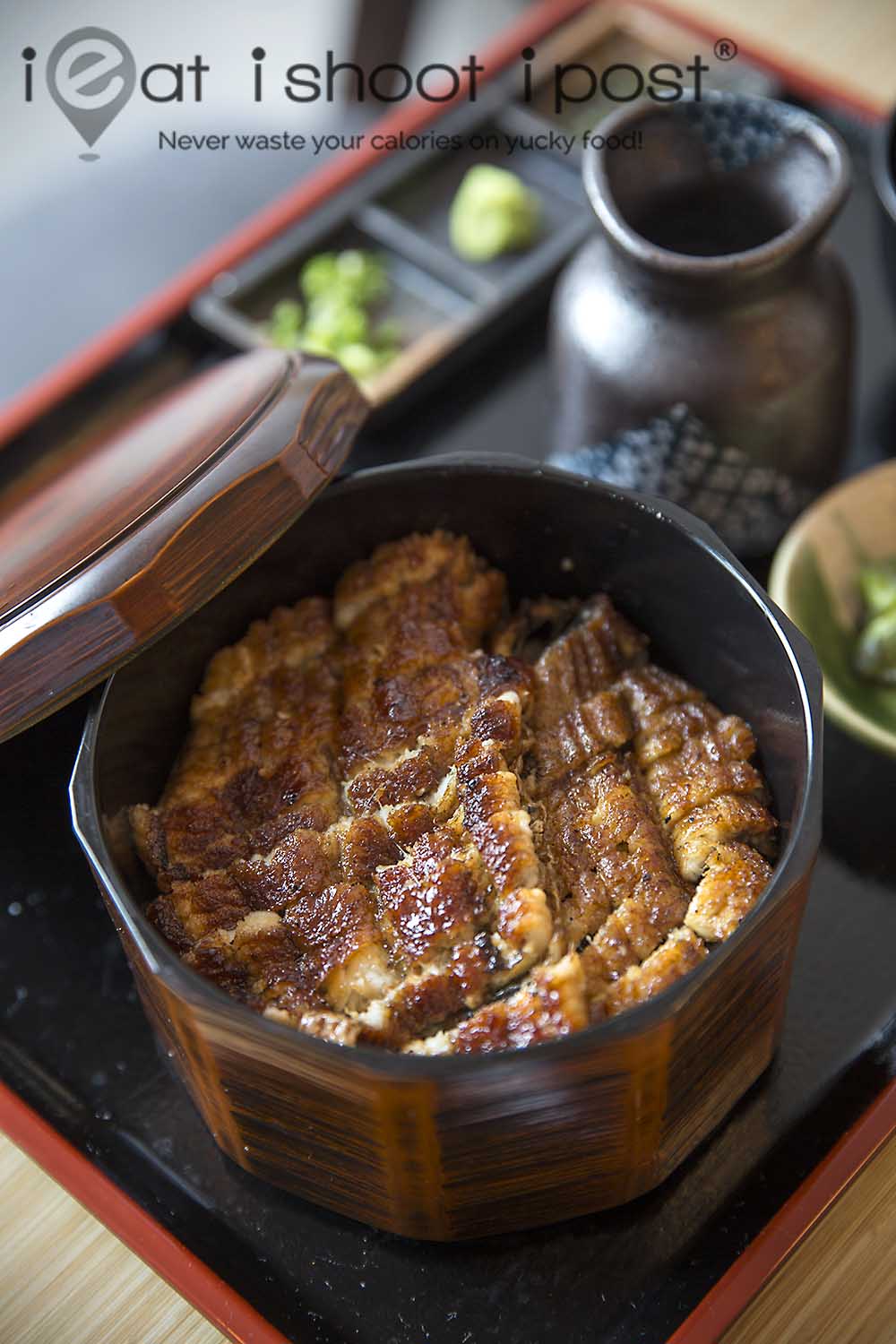 I've got good news and bad news.
The good news is that if you love unagi and have been intimidated by the queues at Man Man,  then there is a new place where you can satiate your craving for char-grilled live eels!
The bad news is that this year's catch of glass eels (ie baby eels) has been dismal and many suppliers are bracing themselves for a drastic shortage of unagi next year which not only means that prices will start going up, but you might not even be able to enjoy unagi next year.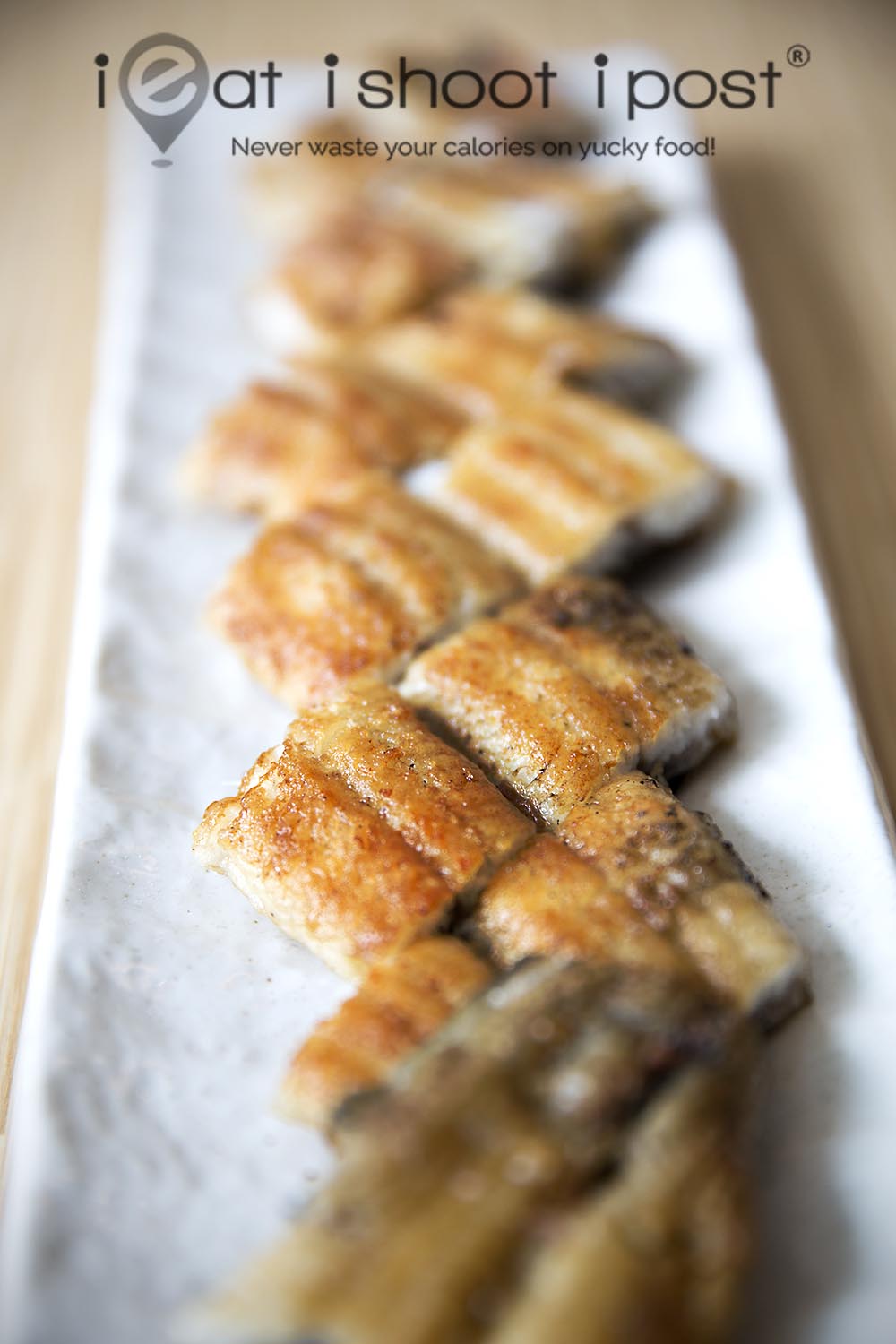 Most of the unagi we eat are farmed, but they have to be raised from wild caught baby eels. Unfortunately, the catch rate has been decreasing over the years; from 200 tons per year in the 1960's to just 15 tons in recent years. The glass eels are caught between Dec and Apr but this year's catch has been very poor so far.  There was a similar shortage in 2006 where they only caught 40% of the annual catch. (ie 40% of 15 tons)  This year, however, it looks like they will be fortunate to be able to catch just 20%.
There is some glimmer of hope as scientists from the National Research Institute of Aquaculture in Shibushi have succeeded in breeding the eels in captivity in 2010.  However, the challenge now is to be able to do this on a commercial scale so that eel farming becomes truly sustainable.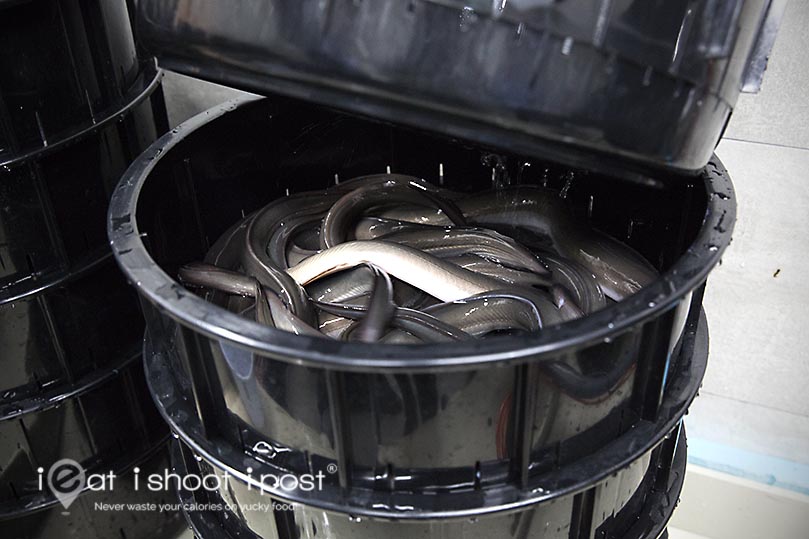 Proper unagi is made from the Japanese eel, anguilla japonica which is found in Japan, Korea, China, Taiwan and the Philippines.   Their life cycle is opposite to that of the salmon.  Instead of hatching in the rivers, spending their lives at sea and returning to the river to spawn, Japanese eels hatch at sea and live part of their lives in the rivers before returning to the sea to spawn. In 2009, Japanese scientists pinpointed their spawning site near the Mariana islands, about a thousand km southeast of Tokyo.  This discovery will hopefully bring scientists a step closer to developing a full cycle aquaculture of the eel.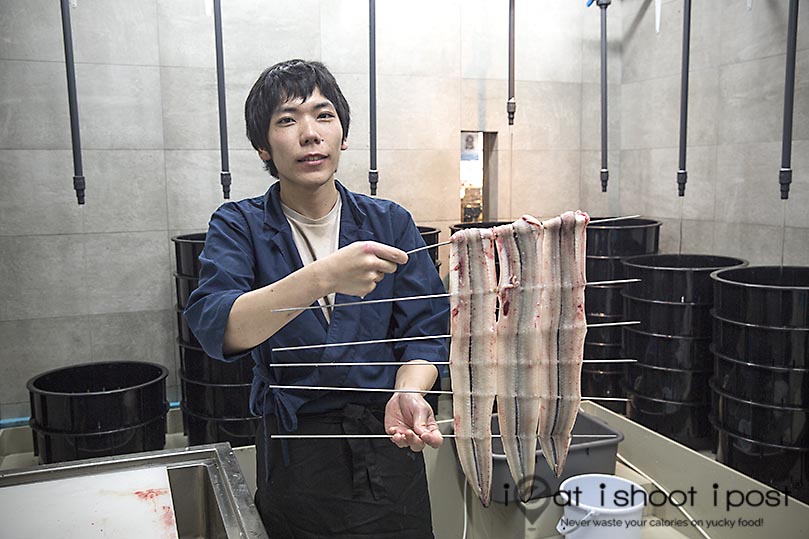 I never used to enjoy unagi until I had the ones which are live killed.  The unagi that you find at cheaper Japanese establishments are usually slaughtered and pre-cooked and I have come across ones that were downright awful which turned me off unagi for a long time.  The reason that it needs to be pre-cooked is because eel blood contains a deadly neurotoxin which is denatured only when the eel is properly cooked.  In addition, when eel fillets are frozen, they lose the slime that covers the skin.  The slime is important as it helps to crisp the skin. That is why unagi is usually sold pre-cooked at the supermarket.
Due to its scarcity, Japan also import eels from other parts of the world.  Like the Japanese variety, the elvers are caught and transported to farms in Japan to be raised. When the Japanese started to source their elvers from abroad, North American glass eels saw their value sky rocket to as much as $2600 per pound! These other species don't taste as good as authentic Japanese unagi, but most people won't be able to tell the difference just from its appearance.
Uya is a partnership between Nakasho Shoten, a wholesaler of unagi for over 90 years, and Shin Foods Ltd, a local company specializing in Japanese restaurants.  Through the partnership, Uya  is not only able to secure good quality Japanese eels, they also have access to the 90 year old mother sauce used to dip the eel fillets in!  Their current batch of eels come from  a Taiwanese farm which sells eels almost exclusively to Japan. Because of the partnership, Uya is the only restaurant outside of Japan which are able to procure the eels!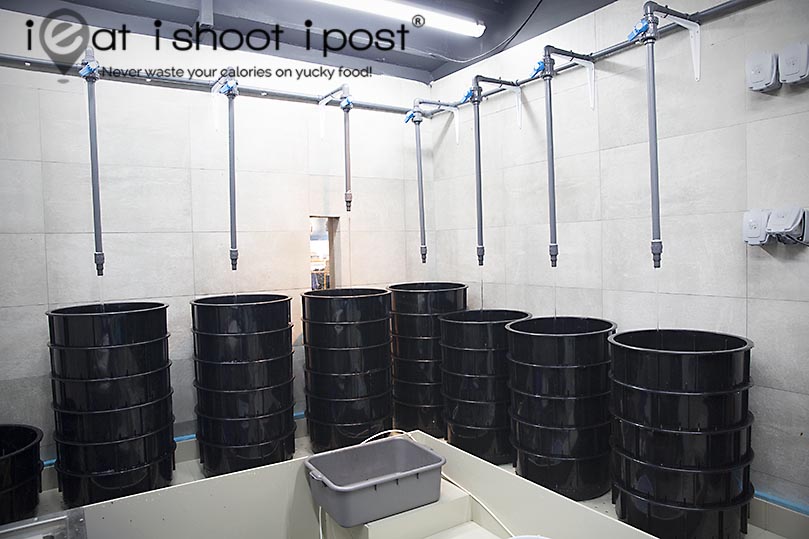 The live eels are housed in the tateba which look like the pilings at a construction site, hence the name. The "piles" are made of individual black plastic baskets called a "domaru" into which the eels are kept.  Each domaru can house around 5 kg of eels.  Chilled filtered water streams down from taps located above the columns, trickling down the baskets to keep the eels moist and lively.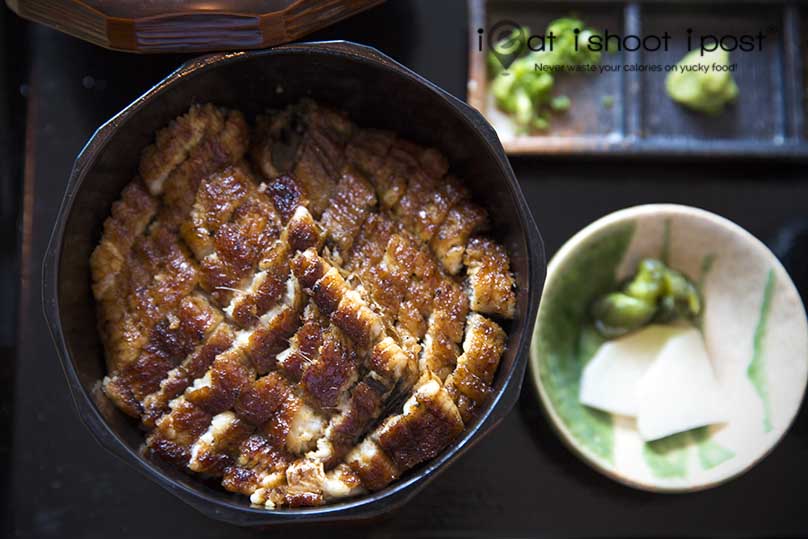 The unagi is served in a variety of styles, but the most popular is their hitsumabushi set where the chopped up eels are mixed together with the rice before eating. The bowl is divided into four quarters and you scoop the first portion into your bowl, mix it up and eat it as it is.  The next portion is eaten with wasabi, nori and spring onions.  With the third portion, condiments are added to the rice and warm dashi is added to make chazuke.  With the final portion, you choose your favourite way to have it.
I guess the question on everyone's mind is how does it compare with Man Man?  Well, there are pluses on both sides.  Man Man is slightly cheaper and they give you a whole wasabi root which you grate yourself.  I prefer the sauce at Uya which is less sweet and rather mooreish.  I also like the fact that you can reserve seats at Uya, so you don't have to wait an hour and a half just to get your seats! 4.5/5
The eels at Uya are very good.  I have never tried the wild, super expensive unagi in Japan, so I don't really have a gold standard to compare with.  But I did get to taste the eels which are grilled  without the sauce (shiroyaki) and they tasted fine.  By fine, I mean that there is no off putting, muddy odor or fishiness in the flesh.  The flavour of the eel itself is not as distinct as, say, chilean seabass or barramundi.  What is distinct is the skin of the eel is nice and crisp and the flesh is tender and almost creamy.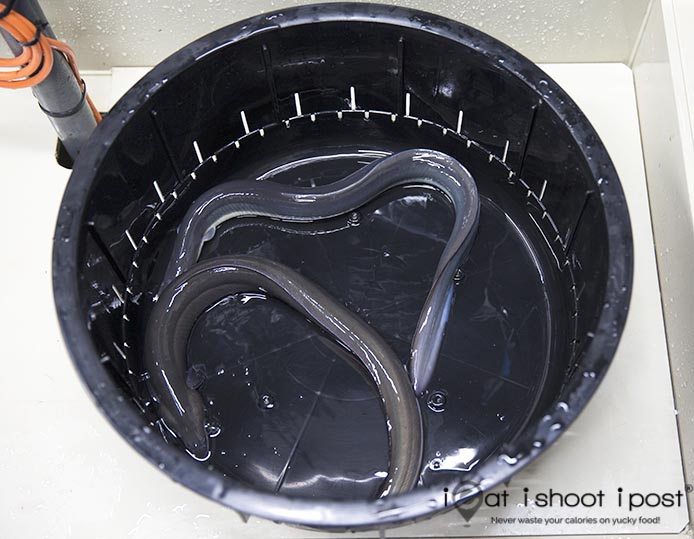 Here's a bit of inside information for those of you who have been patiently reading until this point: The eels come in two different colours, viz blue and brown.  The experts tell me that the blue ones are preferred as the skin is thinner and thus more crispy when it is grilled.  Unfortunately, you don't get to choose when you dine at Uya, so this little bit of trivia is really only used to impress your friends!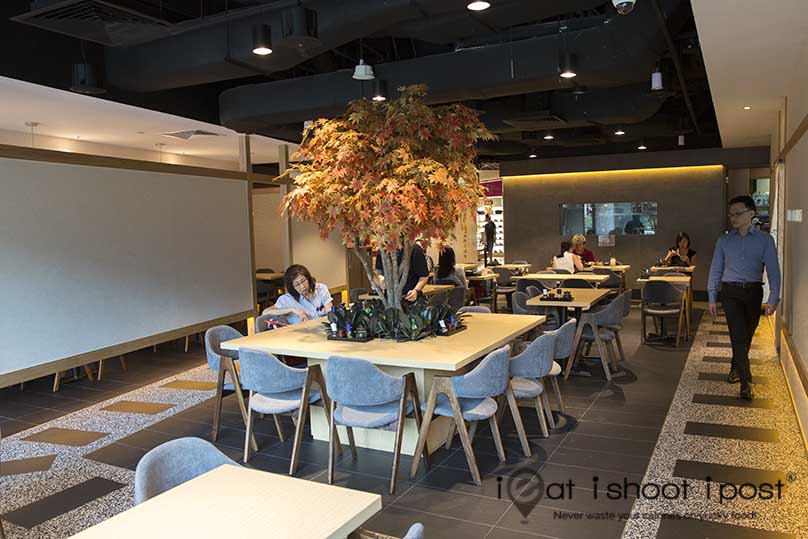 Conclusion
Uya serves authentic live killed unagi with an excellent sauce that has been handed down over four generations!  Half the seats at the restaurant are set aside for reservations, so you don't have to stand in line to get satisfy your craving.
Disclosure
This was a media tasting.  That means that the meal was hosted with no obligation to write a review.
The short documentary below covers the history and culture of unagi.