This eatery is closed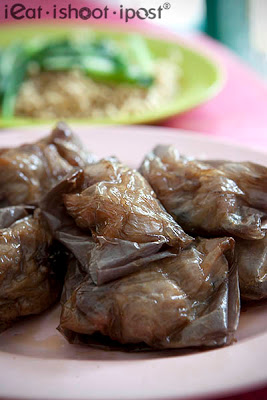 The original Chee Pow Kai (Paper Wrapped Chicken)
My recent blog about paper wrapped chicken in JB prompted a search for the deep fried version I remember as a kid known as "Chee Pow Kai". I had just picked up Sylvia Tan's, Singapore Heritage Foods, and came across the origins of Chee Pow Kai and discovered to my surprise, that the restaurant that invented them are still in existence. Amazingly, this dish, whose heyday was in the 70's, was crown one of the World's Famous Foods by the now defunct World's Famous Restaurants International. Little is known about this organization, but it seemed liked an organization which went around the world recruiting members to join their ranks.
As I googled for more information on Union Farm, I came across the reviews on hungrygowhere. Most of them were scathing reviews complaining of bad service, bad food and exorbitant prices. They got an overall rating of only 3.7/10! Now, how does a restaurant survive for 58 years with a rating of 3.7? Wouldn't you be curious enough to investigate?
There was no doubt, however, that Chee Pow Kai was invented by Union Farm and they were responsible for making the dish so famous that other people started copying them. Now that Chee Pow Kai fever has long subsided, they are still left standing, a stalwart mausoleum to the past glory of Chee Pow Kai.
It all started in 1953. Clementi was considered "Ulu" (outback) back then and Union Farm was still breeding the large Rhode Island Chickens. Then one fine day, a famous actor from Hong Kong suggested to the owner that he should create a dish out of the chicken. Thus, the Chee Pow Kai came into existence.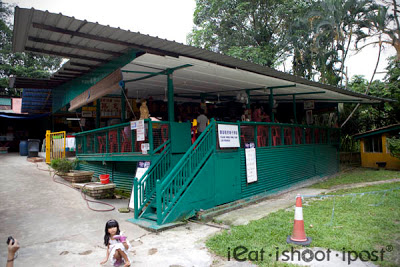 In those days, they didn't sell Chee Pow Kai by the pieces like they are now. They sold them by the chickens. Like an executioner, you would go pick a chicken from the coop and sentence it to be chopped to pieces, marinated and wrapped in paper, and deep fried. The last time my mum visited the place was back in 1967, before I was even an idea. She wasn't even my age then, she was less than half of my age! She tells me that the Chee Pow Kai then used to taste so much better.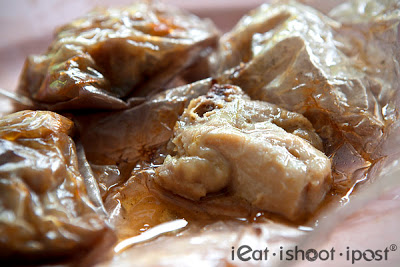 So is the Chee Pow Kai really that bad? Not really. It had a floral rice wine fragrance and a smooth, sticky caramelized sauce trapped within the paper bag. The chicken was juicy and done just right. I could eat quite a few pieces of this except for the fact that they were only bite sized pieces and each piece cost $1.20. I guess if you think of it as dim sum, a small plate containing 3 pieces of chicken would cost $4, so for $12 you could get 3 plates which is not too bad. But if you unwrapped ten pieces of chicken, put them on a big plate, then your $12 would look very small. Anyway, I quite enjoyed this and it certainly did not deserve a 2/10. For me its a 4/5
Incidentally, the 60's was the time when the original Star Trek series started airing the the US, 1966 to be exact. If you have ever watched the original series, you would be amazed by how much we have progressed with special effects. But special effects aside, the story lines of TV dramas nowadays have become much more complex. In the past they used to have only one story about one character that would take up one whole hour. Nowadays, the shows on TV are more elaborate, with subplots and complicated story arcs.
The same can be said of the cuisine at Union Farm. Back in the 60's, there was no subplots. In fact, I think they don't even have a menu. You basically came here to eat Chee Pow Kai and that was it. You can order noodles or bee hoon to go with it and a plate of greens to balance the meal. That was all.
Moving forward to the 21st century, Union Farm has seem to progress, albeit hesitantly, with the times. They now have a couple more side dishes that you can order, but they all seem to be there simply for the sake of being there. Looking at the menu, you would be hard pressed to order anything other than Chee Pow Kai. Anyway, I went ahead to order a plate of noodles and a plate of bee hoon, expecting them to be at least a basic fried noodle or beehoon you can get from the vegetarian stall. What they served was even more basic than basic. We are talking the stuff you learnt before learning the ABCs. Both noodles and bee hoon ($3 per plate) were nothing more than dried egg noodles and dried bee hoon that have been blanched, drizzled with sesame oil, splashed with some oyster sauce and presented with some blanched chye sim (veg). What can I say about this? It's instant noodles without the satchet of MSG, but strangely it went quite well with the Chee Pow Kai. 3/5
Now let me introduce you to some of the subplots. These are really non-compulsory items to try when you are at Union Farm, but if you don't order a few more items, the table would seem very empty. I guess, like many in the new generation, I have to make life more complicated. The deep fried Calamari was not bad. But for $11, it didn't look the part. The calamari was sliced as thin as a rubber band and there was a lot of batter. The lemon sauce also seemed like an afterthought that came out of a bottle. But I finished it. Heck, I had to get my $3 worth at least even if I couldn't recoup the rest of the $8. 3/5
The deep fried tofu was also another afterthought. These are all items that require little preparation, little planning and even littler imagination. Just whip them out of the fridge, cut them up and put them into the same vat of hot oil which you are using to fry your Chee Pow Kai. Simple, not bad, I finished it all. Same reason as with the Calamari. 3.5/5
The original signboard with past accolades
Conclusion
So why am I even blogging about mediocre expensive food? Well, for one, there are more restaurants offering a view of Marina Bay than there are a Kampung environment like this. When you come to Union Farm Eating house, you are helping grandma remember a time when there was still no stretch marks on her belly and teaching the kids that kids used to have fun chasing real chickens instead of pixelated ones on iphones. So take it that you are paying the price of admission to a living museum.
The way I see it, this restaurant will appeal to those people who still enjoy watching the original Star Trek series. You don't really watch it for the special effects, you watch it for the lack of it. You don't watch it for the flawless acting, you watch it because you want to laugh at the painfully prolonged shots of Captain Kirk as he tries to convey the message of pain through melodrama. You watch Star Trek because you wanted to remember that there was a time when prosthetic ears and blue paint would make you believe that an actor was portraying an alien race. If you think that watching Star Trek is a waste of time, then you probably would think the same of Union Farm.
So when you sit down to have your meal, just imagine yourself being teleported back to the 60's. Imagine a time when owning a HDB flat was like owning a Condo. As you eat the Chee Pow Kai, imagine listening to the Beetles on AM radio and then driving home in your VW Beetle to watch Star Trek on your black and white Television set. In fast changing Singapore, that kind of experience really is priceless. So Union Farm, may you Live Long and Prosper!