For those who would like to debate as to whether Hong Kong or Singapore is the real food paradise, I have only two words to say: Nasi Padang.
Ok, so you might argue that Nasi Padang is really Indonesian cuisine, but here in Singapore, Nasi Padang just means Malay/Indonesian style dishes that is eaten with rice. When you eat Nasi Padang in Indonesia, what they do is to flood your table with all the different dishes and you just pick which one you like to eat. If you don't touch it, they don't make you pay for it. It's like how we used to sell satay in the past where they just gave you a whole lot of satay and you pay for whatever you consume. I guess the rest of the uneaten satay ends up on the next party's table.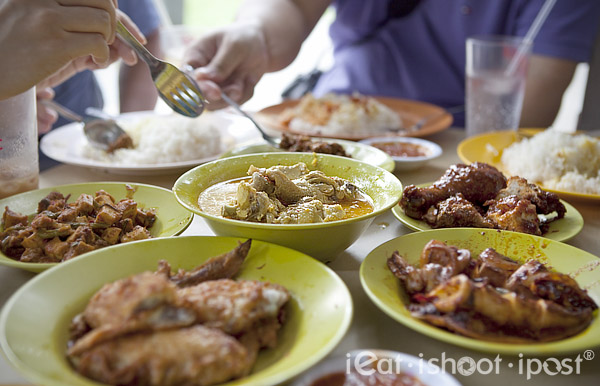 Of course, we don't have this practice any more in Singapore. But when you eat Nasi Padang, it is always great to go with some kakis so that you can flood the whole table with dishes made with creatures from the land, sea and air.
This particular Nasi Padang stall is located in an old coffeeshop in an old HDB estate. The Coffeeshop is called Khong Guan which immediately reminds you of the biscuit brand. I was told that this is no coincidence as they are actually the same owners.
There is always a certain level of excitement when I visit such old coffeeshops where the stall doesn't even have a name and the whole coffeeshop is full of people eating the same thing. We went crazy and ordered whatever dishes there were.
The dishes were in general very good. The best dish of the day was the mutton rendang. The spices were just right and the mutton was stewed till tender. However, being such a cheap eatery, they don't serve nice large pieces of mutton, so the quality wasn't really there. But it was very affordable. 4.25. The Ayam Merah is also another dish which I would recommend. I always like the combination of sweet and sour with a tinge of heat, so this dish suits me very well. 4.25/5
I usually gauge the Nasi Padang stall on the quality of the Ayam Korma. Sad to say that the Ayam Korma at this place is really not up to par. The gravy was watered down and it lacked flavour. 3.5/5 The sambal Sotong at this place was also very exciting to look at but turned out to be a little overcooked and rubbery. 3.5/5.
Conclusion
Ok so it wasn't a "blow your mind" kind of experience but for a whole table of food, we all ended up paying $4.50 per person. It is the kind of place where you and your colleagues can go for lunch,end up trying lots of different dishes, soak in the excitement of the mad rush of people lining up for their food and end up with quite a happy belly and some nice food pix to put up on your facebook page. All for less than five bucks.