This Stall is Closed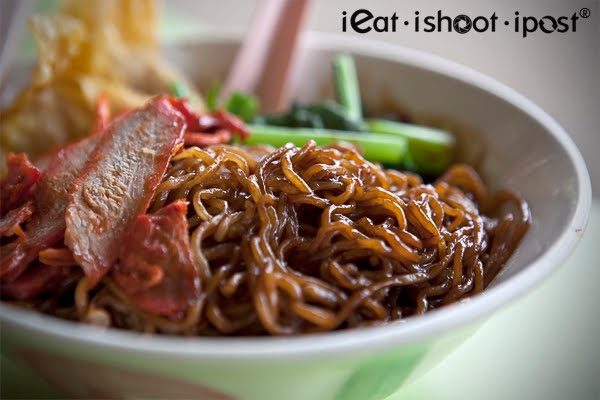 Handmade Egg Noodles
There was a time when it looked as if our hawkers are becoming traders rather than Chefs. In the past, they used to make everything from scratch. From the noodles for wanton mee to carrot cake to fishballs. Then we went through a time when everything started to be outsourced like those horrible factory made paus. But of late there has been more and more hawkers who are bucking the trend and trying to differentiate themselves by going back to the good old ways.

So if you look around, there are many more people selling freshly made bean curd, fish balls and chee cheong fun. Lately, I have even come across restaurants like Tai Shek Hai making their own noodles which I felt was such a wonderful development. The making of noodles is almost a lost art which I am glad is being revived ever so slowly. Perhaps it is because we are being influenced by the growing number of freshly made La Mian, Soba, Ramen and Pasta places around. Why not celebrate our humble mee kia (egg noodle) and give it its rightful place alongside these other noodles?
I came across this traditional handmade noodle stall in Serangoon Gardens Way food centre which I thought was pretty compelling. I managed to sneek a peak at the raw noodle and noticed that it looked a slightly grey and speckly, unlike the yellow noodles which we are generally accustomed to seeing. When the noodles are cooked, they have a glassy translucent appearance which was quite interesting. The owner wasn't very receptive to an interview, but I managed to find out that they actually handmake their noodles in Malaysia. They were pretty secretive of anything else beyond that.
Anyway the noodles were a joy to eat. I would suggest the black sauce version with chilli even though I don't usually like to eat my noodle with chilli. They have two different chillies here, one which is sweeter and the other more spicy chilli padi version. The wonton were very good as well as they add in a good amount of Ti Poh (Fried Sole). The only thing holding them back from the 4.5/5 is the charsiew which is a bit dry. 4.25/5
Conclusion
The noodles were so good that I am willing to overlook the mediocre charsiew!