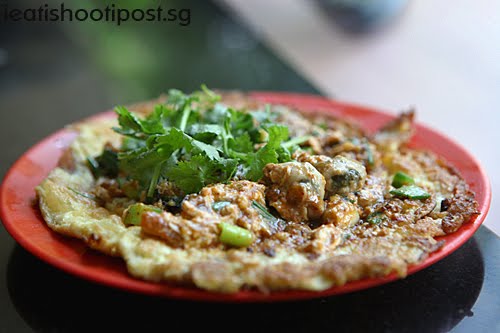 Oyster Omelette (Orh Nerng) $4
You know there are two types of Oyster Omelettes right? There is Orh Jian or Orh Luak which is the type where a sticky starch is added to the eggs to make it sticky and crispy, and there is Orh Nerng which is omelette without the starch. The beauty of the Orh Luak is the fact that the starch adds a sticky and crisp contrast to the oyster. On the other hand, with the Orh Nerng, you get to enjoy the taste of the fluffy, tender eggs with the oysters which is also very shiok.
If you are at Pek Kio to eat the Wah Kee Prawn Noodles, you can't miss this stall as it has a prominent sign stating that their fried rice is only $2. The fried rice is a bit dry, but I guess if you only have $2 in your pocket, you could try it. But if you have $4, then you would be pleasantly surprised by the Oyster Omelette. It's a rather straightforward dish and is essentially a plain omelette that is topped with oysters which have been fried with a rather nice chilli paste. Not many places actually make them this way. Its not too oily, unlike the usual Orh Jian and is a nice little side dish to order. 4.25/5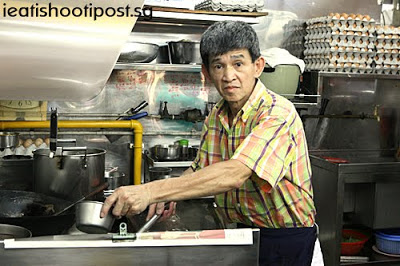 According to the owner of this place, they used to be much bigger and pretty well known while they were at Bugis St. But since the cleaning up of Bugis, they had relocated several times before settling in Pek Kio. Perhaps some of our readers can elaborate a little more about their history?
Conclusion
Don't you think that fried eggs are nice? They are seriously underrated. A fluffy egg omelette served with just a simple chilli sauce can be quite an easy treat. Add some oysters and you've got something that can really hit the Umami Spot!