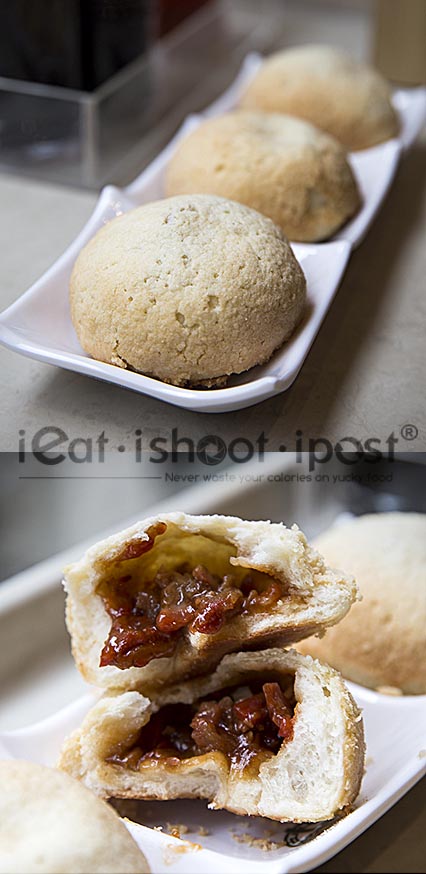 This post is for everyone who has ever been to Tim Ho Wan but decided to go eat at the restaurant next door instead because of the unbelievably long queue.
I know how it feels because I was one of them. After my friend waited for 40 minutes in the queue, we gave up and decided to eat elsewhere because it would have taken another hour or so before we can get a seat!
So I have asked the questions that everyone who has had suffered queue trauma have asked, viz: 1. Is it worth the wait? 2. Are the four "Heavenly Kings" of Tim Ho Wan really that good? And 3. What does a Michelin Star Dim Sum taste like and how does it compare to what we already have here in Singapore?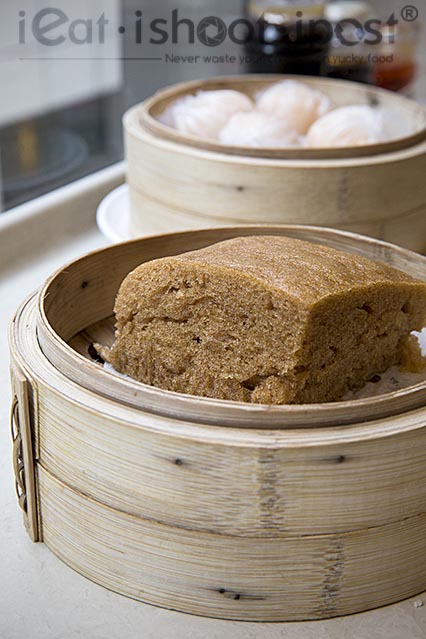 In case you still haven't heard. Tim Ho Wan is reputed to be the world's cheapest Michelin Starred restaurant. Its founder, Chef Mak Kwai Pui started the first Tim Ho Wan as a hole-in-the wall Dim Sum place in Hong Kong and won its first Michelin Star within a year in 2009. Now that there are four branches in Hong Kong, he has set his sights on opening another four in Singapore. This branch in Toa Payoh is his second.
His concept is simple. Make hotel standard Dim Sum for the masses to enjoy.
So you can expect the settings to be very casual. More like a "Kitchen" rather than a restaurant. I was kinda hoping that the prices would be in the $3-$4 range so that they can put some price pressure on other Dim Sum places. But, unfortunately, in our current economic climate, it seems that Dim Sum dishes in this kind of setting are hovering around the $4-5 range. So they are not exactly cheap, but neither are they priced out of the range of the average Singaporean family.
Tim Ho Wan's reputation is built on its four signature dishes which are known as the "Four Heavenly Kings.". In short, I found them (3 out of 4) to be excellent and a head above the rest of the competition. The rest of the dim sum dishes are good but are comparable to what we can already find here.
The Polo Buns are a definite "Must Try" at the restaurant. What is unique about them is that they managed to get that egg and sugar crust to be really thin and shatteringly crisp. The filling is also made fresh early every morning from Char Siew that has been roasted on the same day. As far as polo buns go, these are the best that I have tasted. 4.5/5
The 2nd dish of distinction is their steamed egg cake or what is popularly known as Ma Lai Gou (马来糕). Ma Lai Gou literally means Malay Cake which is a pastry invented in Hong Kong based on their interpretation of a Malaysian cake. Just like Sin Zhou Mee Fen (新洲米粉) or Singapore noodles, this dish doesn't exist in its purported country of origin.
The first thing you will notice about the Ma Lai Gou is its brown colour. I thought at first that they had used brown sugar or molasses to make the cake but the Chef revealed to me that they only use ordinary white sugar to make the batter. The brown colour is a result of the technique which includes 2 whole days of fermentation. No yeast is used in the process but they do use a mother starter which is the left over batter from the previous batch. The texture of the cake is excellent. It is light and incredibly fluffy. The taste is very unique and one might think it tastes a little like gula melaka. I still can't believe they managed to get the deep brown colouring using white sugar. That, I guess is what makes it special. I thought it was the most unique Ma Lai Gou I have ever come across. 4.5/5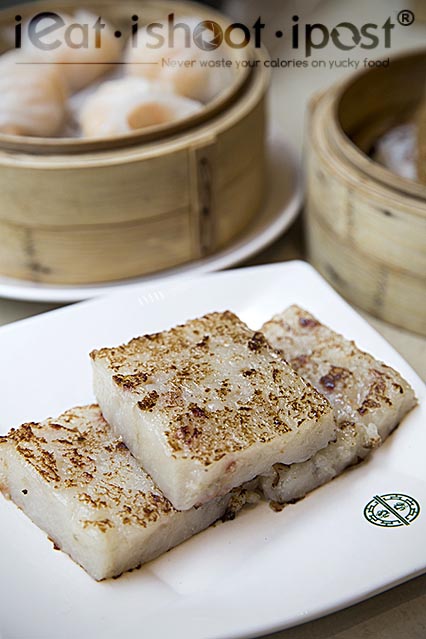 The distinctive feature of the Pan Fried Carrot Cake is it's incredibly soft texture and the amount of radishes in each slice. I have experimented with a Carrot Cake recipe before and I know just how hard it is to be able to produce a carrot cake with a melt in your mouth texture that is still workable on the frying pan. Too soft and it would be unable to hold the radish and breaks apart when you try to fry it. So I respect the chef for his skill in being able to push the tenderness of the cake to its limit. They go very well with the chilli bean sauce which are available on every table. 4.25/5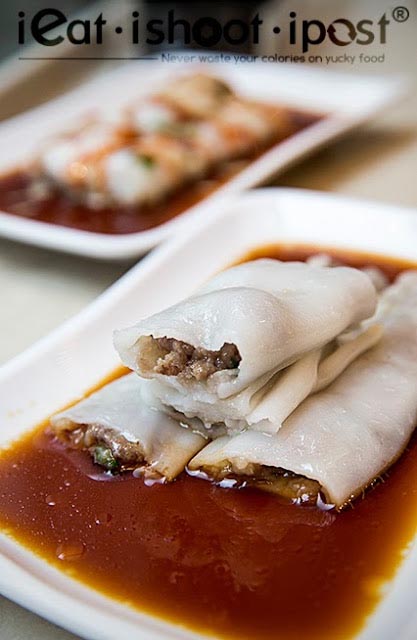 Now, I have never really enjoyed pig's liver so it is a little unfair for me to have to rate the last of the four heavenly kings. The Chee Cheong Fun and the sauce is very good but its about the same as what we can get here. If you like liver, then the texture is very tender and you get a to enjoy that offal flavour which is balanced with some ginger. Worth trying if you like liver. 4/5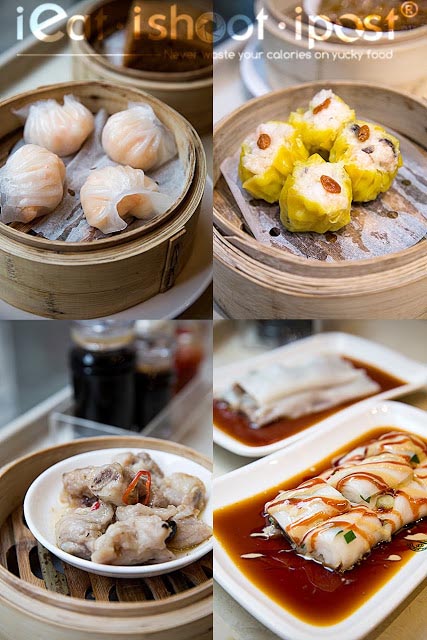 The rest of the dim sum dishes are on par with some of our more reputable Dim Sums here. Just like Din Tai Fung, they have an open kitchen with an army of Dim Sum cooks around a table making the various dumplings so you can be assured of its freshness. It is this made-on-the-spot freshness that sets them apart from a lot of other Dim Sum places.
Conclusion
So, is it worth the queue?
Well, I am very fortunate that I was invited to write this review, so I don't have to queue. I have however, experienced the queue before but gave up halfway. I would say that I wouldn't mind waiting up to half and hour if there were a place to sit and wait, but a 2 hour queue is way too long for me. The Four Heavenly Kings are quite unique and certainly worth trying. Let's hope that the queue shortens to something a little more reasonable when they open a few more restaurants because it is certainly a Dim Sum place which I would add to my list of Dim Sum restaurants to eat at.
NB: We were at the Toa Payoh branch on a weekday and by 3pm, there is no longer any queue. So if you are averse to queuing, this would be a good time to go to try the food.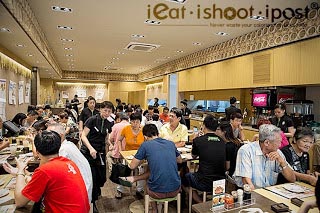 This was a media invited review