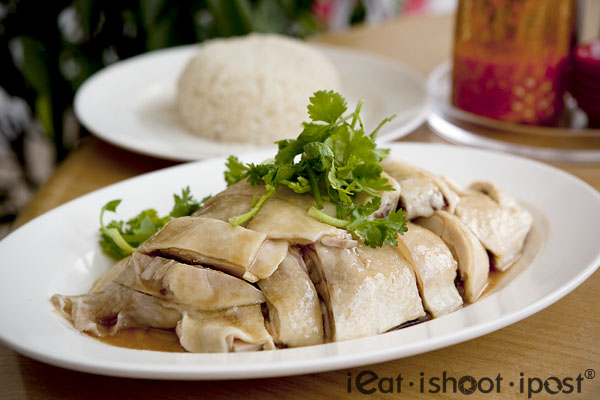 Our recent polls showed that most of our readers consider Tian Tian Chicken Rice to be the best Chicken Rice in Singapore. Coincidentally, Tian Tian has also just expanded from a humble hawker stall in Maxwell Road into a full fledged restaurant in Joo Chiat. So it is only right that I pay them a visit to congratulate the Aunty at Tian Tian as well as to find out what the new restaurant is like.
I am so glad that Tian Tian has decided to open their own restaurant. Now you can eat Tian Tian Chicken Rice in air con comfort with several side dishes to choose from rather than having to sweat it out at Maxwell Road Food Centre. It is also a great place to bring overseas guests to showcase one of Singapore's iconic hawker dishes!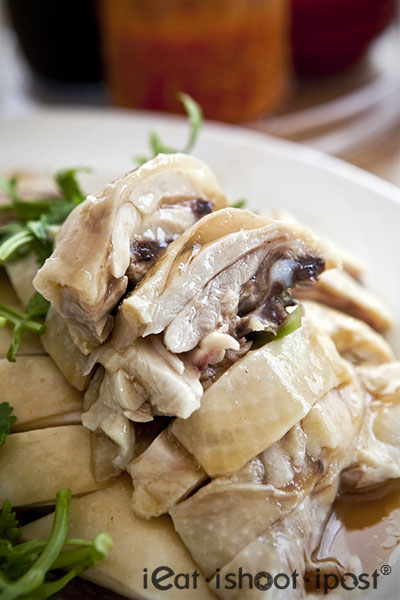 Perfectly cooked Chicken!
The thing that I was most impressed with at Tian Tian is their perfectly cooked chicken. They manage to get that wonderful layer of gelatin just under the skin and even though the chicken is cooked through to the bones, the flesh is still wonderfully tender. It is one of the best chicken around. 4.6/5
On the day of my visit I had the great opportunity to speak with their chicken supplier who just happened to drop by and found out some valuable information about our chickens in Singapore. The problem when you are trying to make chicken rice at home is that you can't get hold of the same chickens that the chicken rice stalls are getting. Tian Tian procures the highest grade of chicken from the supplier which are at least 2 kg in weight. The larger the chicken, the better the taste. The taste of the chicken meat is also very much dependent on the type of feed they use. Chickens like the ones at Tian Tian have been fed quality grains like corn which gives the chicken a richer and better tasting meat.
The chicken that Tian Tian dishes out come from farms in Batu Pahat. Unfortunately, you will not be able to get free range chickens in Singapore because the AVA wants all chicken to be raised indoors in order to reduce the risk of bird flu transmission. Did you know that it only takes 50 days to raise a chicken from chick to meat? It used to take three months in the good old days but now with their enhanced feed, the time has been drastically cut to almost half. At one stage, it was even faster when they injected growth hormones into the neck of the chicken, but that practice has since been outlawed because of the fear of the ill effects the growth hormones will have on humans. One urban legend even says that eating too much of growth hormone enhanced chickens will produce big bosoms inteenagegirls. If that were true, then it must have been the plastic (breast) surgeons who lobbied to get the practice outlawed!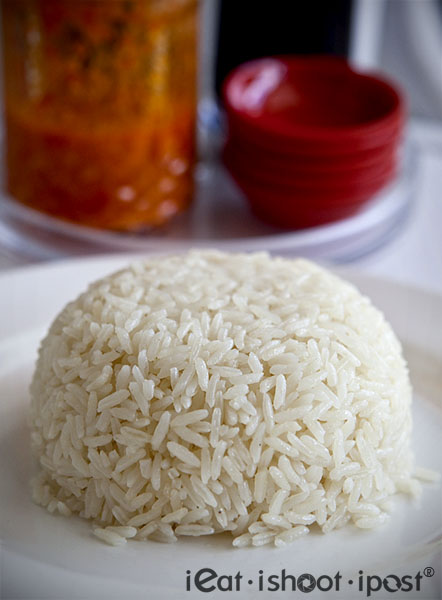 Rice 80 cents
The secret to a great plate of chicken rice lies in Madam Foo's insistence that "Only the Best will Do!" On the day that I went, I noticed that they did not give the ginger sauce and when I asked about it, Madam Foo told me that there was a shortage of ginger from her suppliers which is why she could not provide the ginger dipping sauce. One further probing, it turned out that Madam Foo only uses ginger from a secret location and she would rather not have the ginger sauce rather than use inferior quality ginger from elsewhere. It turns out that Madam Foo also sources all her other ingredients the same way. She uses two types of chillies to make her chilli sauce and they both have to come from specific parts of the world.
On this occasion, I remarked that I remembered the rice to be more flavourful and oily when I first blogged the stall. Madam Foo told me that they did cut down on the oil because of health reasons. The rice is still very good but it wasn't as memorable as the first time I ate it. 4.25/5Chicken Riceaficionadoswho simply eat chicken rice bathed in chilli sauce will still be happy to know that they only use calamansi juice to give the chilli that special twang. 4.5/5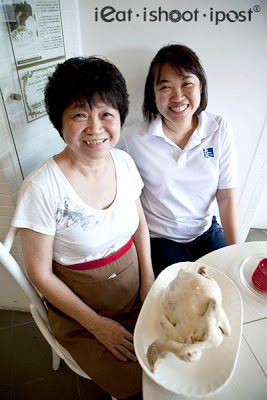 The expansion of Tian Tian into a restaurant means that we are going to be able to enjoy Tian Tian for at least another generation. The trend for famous hawker stalls transforming to specialty restaurants is slowly but surely picking up steam with the next generation of hawkerspreneurs like Madam Foo's daughter picking up the reins. This is definitely the way of the future for our well loved hawker brands.
Conclusion
Best Chicken Rice in Singapore? Most of our readers think so. That is quite an achievement considering that Singapore is Chicken Rice paradise!
The poll results can be seen
here
.
The previous post on Tian Tian Chicken Rice is found
here
.