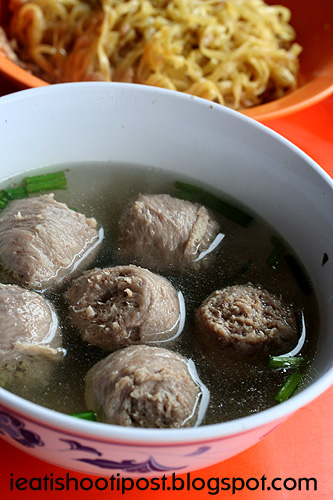 This is Happi Mummi's favourite Beef Noodle place and she insisted that I should blog it one day. So I hope she is looking at the pictures and drooling!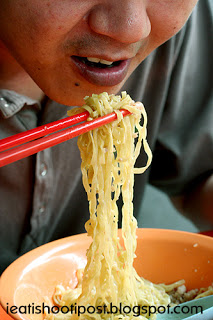 The stall is called the Beef House, but the only beef they sell are these Ping Pong Ball sized Beef Balls. This is not your run-of-the-mill beef noodle stall. It is Hakka style Beef noodles. That means you get your Beef Balls in a clear soup with thin bee hoon, kway teow, or the mee kia. They also serve other Hakka stuff like the Soon Kueh and Yong Tau Foo. Now when I say Beef "Ping Pong" Balls, I really mean it. They were super bouncy and you get a serious temporo-mandibular joint (TMJ) workout when you bite into them. I suspect that if I do drop one by mistake that it should just bounce back up onto the table! They were juicy and had a nice beef flavour. The beef balls are still made in-house so it is no surprise that I have never tasted anything quite like it anywhere else. 4/5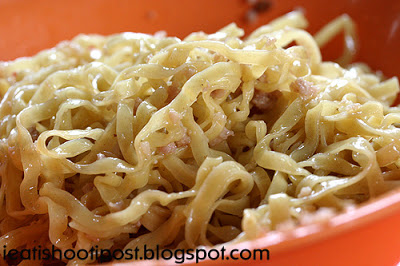 They ran out of kway teow that day so I had the mee kia instead. This is the type of noodles that you typically get with Hakka Yong Tau Fu, with a season minced pork to accompany it. Boy they were good! At least one of the best mee kia I have ever tasted. QQ enough to be a delight to the bite, yet soft enough to absorb the subtle flavours of the minced pork. The noodles were so good, I am rating them separately. 4.5/5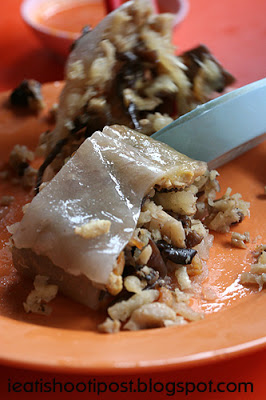 We also tried these super large Soon Kuehs that looked as good as they tasted. Chock full of dried shrimps and turnips, they were excellent. Tastewise, I think they are almost the same as other Soon Kuehs but it is the size that really sets them apart. 4/5
Conclusion
Really very few stalls that sell this style of Beef noodles. Although I liked the beef balls, my other kakis were less enthusiastic about it. The noodles were really memorable. Liverpool said the Yong Tau Foo here is pretty shiok too but I did not get to try it because they had sold out already.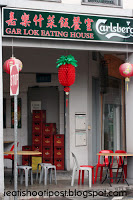 Recommended by Happi Mummi and eslim