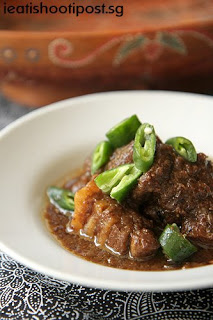 It's Palm Sunday today and for Christians it marks the beginning of the Holy Week.
On Palm Sunday, we commemorate the fact that Jesus entered Jerusalem with the crowds all cheering him on and waving palm leaves as a way of welcoming their King. Within the next few days, things would change drastically culminating in the crucifixion of Jesus on Good Friday and then his Resurrection on Easter Sunday. This week is the most significant for Christians as it commemorates the series of events that makes it possible for Christians to be Christians.

I have been invited by Cactuskit and Cactuskitty to celebrate Good Friday with them and they would also like me to extend this invitation to our readers who may be interested to find out more about why Christians celebrate Easter. It is going to be quite informal with the showing of a video and people sharing about why they decided to become Christians.
And because they opening this invite to foodies, Cactuskit has specially engaged a nice lady to cook up some really authentic Nonya dishes like Nonya Chicken Curry, Babi Ponteh, Satay Ayam, etc to spice up (pun intended) the occasion. Apparently, she only cooks for her friends and family, but on this occasion she has agreed to cook for us as well. I was told she still insists on pounding all the spices by hand, so the food will definitely be memorable.
So if you are still wondering about what to do for Good Friday, perhaps you might like to come join us. Cactuskit and I will be there as well as a few of our other kakis.
Here are the details:
Date: Good Friday
Time: 10am
Venue: Mandarin Gardens Function Room
Dress Code: Casual
To facilitate with the catering, please RSVP to 2009tgif@gmail.com and leave your name and contact number and how many persons you are bringing. You can also call Shirley at 97946034 if you have any questions.
It would be great if you could join us and do bring your friends along as well! We really look forward to meeting with you this Friday.