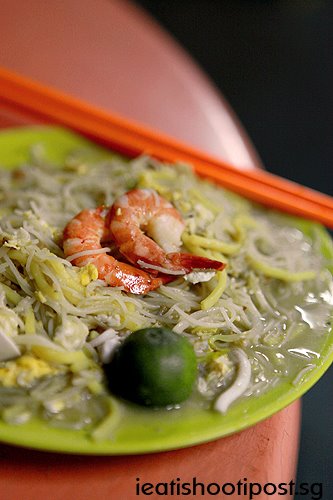 Wet version
I have grown to appreciate Hokkien Mee which is fried with the thin Bee Hoon. I used to like the other version which has the thick bee hoon and lots of gravy, but after blogging close to 30 of the most popular Hokkien Mee stalls in Singapore, I have developed a taste for the thin bee hoon type which has been fried till the gravy is absorbed and the bee hoon has crisp little brown bits which are full of that charred crustacean flavour.

Sadly, not many hawkers fry them this way anymore. You can't really blame them. If you have a queue of 10 people waiting for your Hokkien Mee, you can hardly spend time to really fry the noodles. What you would do is to quickly add the stock, and bring the whole thing to a boil so that you can heat up the noodles quickly. So really, it should be called braised Hokkien Mee rather than fried Hokkien Mee.
This old man has been around for a long time and I am sure there are some ardent supporters reading this blog. Now, he himself has admits that the Hokkien Mee he fries is different from the version he fried years ago. Nowadays, he doesn't use lard and there is no more pork belly added to the Hokkien Mee. However, he insisted that the taste is still as good as it was in the past.
Our first plate of Hokkien Mee was really wet and tasted pretty ordinary. It is a plate which we would have given a 3.75/5. However, I was not satisfied since a lot of people have told me that the Hokkien Mee here is really good. So when there was no one waiting for the Hokkien Mee, I asked the uncle if he would fry another plate for me. This time, I requested it to be fried till it was dry.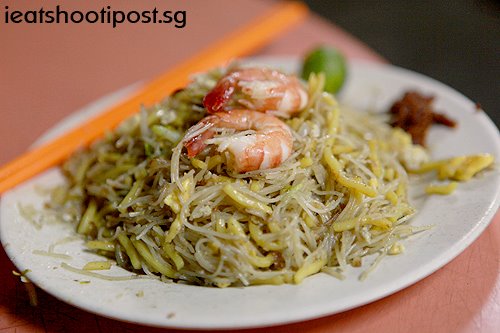 Dry version
So, after a few minutes we were presented with the dry version which frankly, was a bit too dry. However, the big difference in the second plate was that the bee hoon had really been infused with the stock and was nice and fragrant. I would have given it a 4/5
It was then that I decided to mix noodles from the two plates together and voila, I got what I was looking for! The noodles were so tasty and infused with the prawn stock and the bit of gravy really gives a nice contrast to the flavorful noodles. Now, this one deserves a 4.25/5.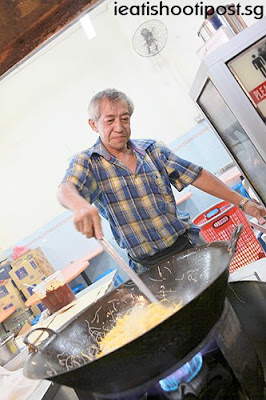 Conclusion
Of all the hawker foods, Hokkien Mee is the one dish that really tastes better when it is brought home. It is then that the noodles have enough time to rest and absorb all that wonderful stock. So I reckon, if you want to get the best Hokkien Mee experience, you should come by when uncle is not too busy, ask him to fry a dry version and at the last minute just splash some stock over it and pack it to eat at home. I reckon that would be a 4.5/5 Hokkien Mee experience.


The stall has moved to Hougang St 21, Blk 210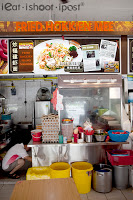 Thanks to Sen for the video link!