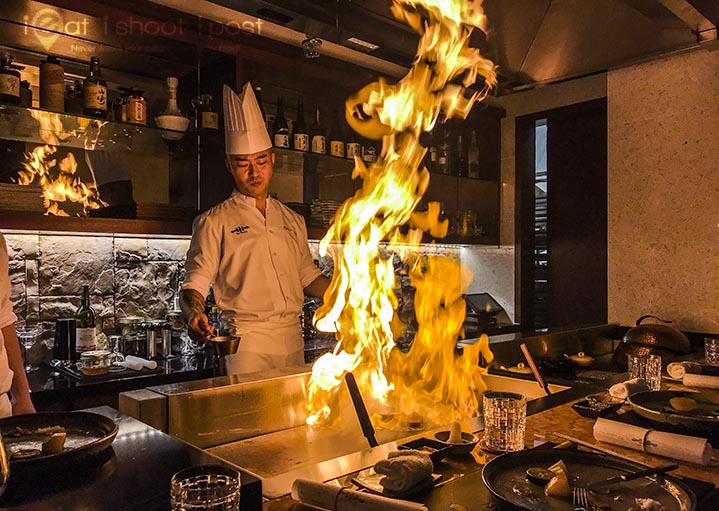 I don't know about you, but if I were given a choice, I would always choose to dine at the counter.  Not only do I get to eat, but I also get to be mesmerized when ingredients get magically transformed into tasty tidbits in hands of the chef.  It's alimentary alchemy that gets even better when the pyrotechnics get thrown in.
The concept at Teppan is similar to Waku Ghin.  They offer cosy counter seating in three rooms that houses 6,7 and 8  seats.  The centerpiece of each room is a teppanyaki hotplate from which the the chef orchestrates his gastronomic symphony.
The concept isn't classic teppanyaki as its name suggests, but a fusion of French and Japanese cuisine.  Michelin star Chef Yonemura who owns two restaurants in Japan specializes in French cuisine with his own unique Japanese twist.   So his version of seafood bouillabaisse is distinctly more petite and perhaps a little more demure.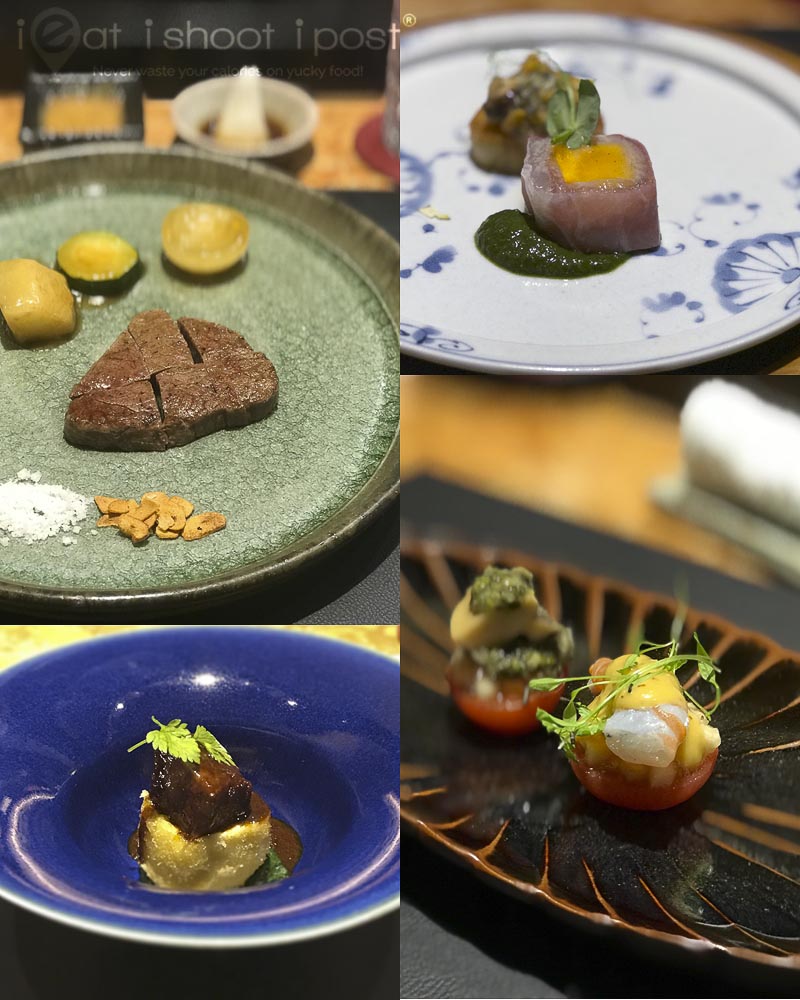 There are still the  classic teppanyaki dishes like a nicely seared Miyazaki wagyu fillet steak served with salt and crispy slices of garlic and fried rice finished with the requisite rapid fire chiselling of the egg omelette, but that's about as teppanyaki as it gets.
Our meal started with some flaming cocktails and ended with a flaming crepe suzette.   In between, we enjoyed bite size creations showcasing Chef Yonemura's French-Japanese creations.
One of the dishes I really enjoyed was his mushroom croquette with beef stew.  His approach to the traditional beef stew was quite interesting.  The mireproix, veal stock and wagyu beef cubes are prepared separately and brought together at the end.  So, instead of simmering tough cuts of beef till its tender,  well marbled wagyu is lightly seared and gently cooked in the gravy.  The end result is tender cubes of beef that bursts with beefy juices when you bite into it!
There are, of course, some dishes which didn't quite resonate with me.  One was the tomato stuffed abalone which fell apart when I picked it up.  I also felt that the pairing of the chewy abalone and tomato didn't quite work all that well together.   Although we did enjoy the fire show, the repetitive dramatization of the flames by turning off all the lights in the room became a little too repetitive.
Conclusion
We had a great dining experience overall.  The food was good, but being a Michelin star chef establishment, one's expectations is naturally higher.  I felt the hot plate was a tad small which resulted in restricted movements of the teppanyaki chef.  But, I was told that plans are already underway to install a larger hotplate, so it should be good by the time you get there! 4.25/5
Disclosure
This is a media tasting.  That means that the meal was hosted with no obligation to write a review.