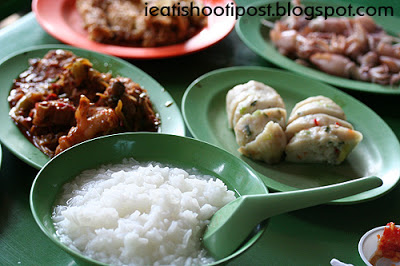 There's no doubt about it. Teochew porridge is comfort food especially if you are a Teochew Ah Hia. And even more so if you are a sick Teochew Ah Hia. Our resident Teochew Ah Hia, Damien was just recovering from a cold that day so he insisted that he needs to take some Teochew porridge from one of his regular stalls at Maxwell. Knowing Damien, this Teochew porridge's standard must be quite good.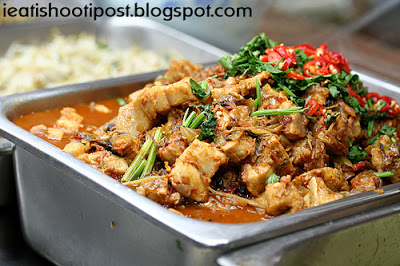 Most of the dishes he ordered were the staple steamed squid, handmade fishcakes, braised pork belly. They were all very good but the one that really caught my attention that day was the Sambal Shark's meat. This was the first time I am eating this and was pleasantly surprised and just how tasty shark's meat can be. This is the kind of dish that goes really well with plain porridge. It coats your mouth with all the tasty goodness that just begs to be washed down with piping hot porridge. 4.25/5
I just wonder: If shark's meat is so nice, why is it that not many more people actually sell it?
Conclusion
Considering how cold the weather has been, I am sure that many are yearning for a nice piping hot bowl of porridge and here is certainly one place where you can go and get your Teochew Porridge fix.