This stall is closed!
With Damien and smart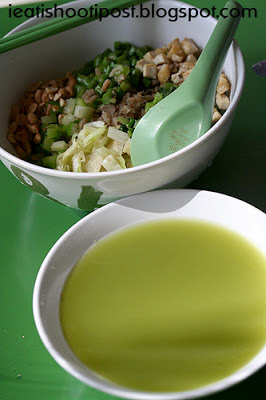 Thunder Tea Rice or Lei Cha Fun is one of those dishes that are bound to get very mixed responses. My two makankakis that day wouldn't even spare a calorie to eat it spewing expletives like "It's like prison food" and "Hospital food tastes heaps better". Others are actually hooked on the dish and expound on its wonderful virtues of being able to lower cholesterol, detoxify the body, relieve stress, aid digestion, combat flu, boost the immune system etc etc etc. (With food like this, who would need a doctor?)
OK, so it is a dish which polarizes seemingly homogeneous Singaporeans into two opposing camps just like supporters of Liverpool and Man U. Another assertion made by my makankaki (I shall not reveal which one) is that Thunder Tea Rice is a dish for health conscious ladies. Such statements only serve to ruffle the leg hair of women libbers. Hey some women like their Pork Lard too, OK!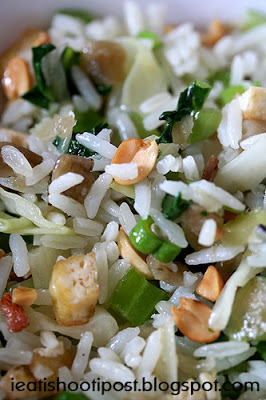 For those in the DON'T know, Thunder Tea Rice is called Thunder Tea Rice because of the bowl of Tea which accompanies the rice. The Tea is made from a mix of Green Tea, Basil, Mint and another herb called Yomogi. These are all ground up in a special bowl and then made into a tea which is to be added into your rice. The other ingredients such as pickled radishes, long beans, peanuts, dried shrimps, fried tofu are all prepared and topped onto the rice.
For those who have not eaten this before, I think your reaction would be similar to my two makankakis. How can pouring a bowl of slightly bitter and astringent Tea into rice be nice? Plus its all veggies man! And it ain't even fried rice!
OK, it wasn't all bad. It was quite ok and tastes even better when you think to yourself "Detox, lower cholesterol, lose weight, unclog arteries, clear complexion…….". Ohhh yum yum. But seriously, peanuts and pickled radishes do go quite well with rice and you do get your carbo rush. But for me, tea in rice really is an acquired taste which I found no absolute need to acquire. 3.5/5
Conclusion
I will think about eating this whenever I am in one of my health conscious moods or when I am out to play a prank on some unsuspecting foreigner looking for "die die must try" Singapore food. But seriously (again), for those who really are looking for healthier choice hawker food, this is really not bad.