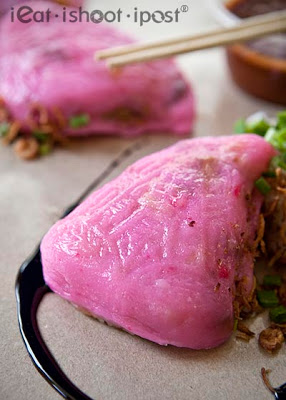 9 Mar 2022 : Address updated.  They have moved back to the Macpherson Coffeeshop.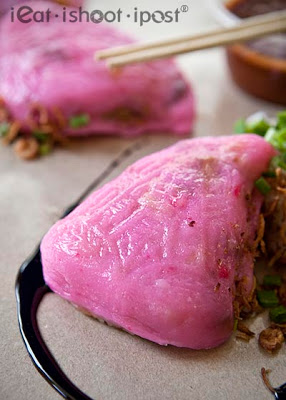 Ever wondered why the Png Kueh is made in such an odd shape and comes in red and white varieties?
Even though these snacks are popularly known as Png Kueh, we Teochews actually call these dumplings Poong Tor which literally means "rice peaches". In Mandarin, they are known as桃粿 which means "peach dumplings". The peach is regarded in Chinese lore as a symbol of longevity. There is reference to the sacred peaches of immortality in the story of Sun Wu Kong (The Monkey King) where he ate the sacred peaches of the Jade Emperor's garden and obtained immortality. So the Chinese used peaches as an offering in religious ceremonies as a symbol of longevity. Since peaches are only in season once a year, dumplings like the Png Kueh and even Pao that is made in the shape of peaches are used out of season as offerings. Both of this items have the familiar pink hue to make them look more like peaches.
Ok, so why are there white and red Png Kueh?
Well, it turns out that the red ones are used as an offering to the gods who dwell in heaven, while the white ones are used as an offering to the ancestors who dwell in hell. Sometimes you do see white ones with a couple of red dots which are imprints made by dipping the tip of a chopstick into red food dye. I was told that that was the shortcut way of turning a white Png Kueh into a red one!
Nowadays (Singlish – nowsadays), the question we ask about Png Kueh is not why it is red or white, but rather whether it is good or not. Ordinary, run-of-the-mill Png Kueh are a dime a dozen and can be found almost anywhere that they sell a variety of kuehs. But these generic Png Kuehs are no more than a quick way to waste some calories. They skin is often tough as rubber and the gummy filling just as bland.
What you want is a Png Kueh where the skin as sticky and tender and the glutinous rice filling is full of mushroom and dried shrimp flavour. Add some fried shallots, chopped spring onions and a trickle of sweet soy sauce and soon you will be reminiscing the good old days. 4.25/5
To be sure, the Png Kueh made by this aunty is not the most pretty in the world. In fact, I think one out of two of them would probably fail quality assurance in terms of the looks. Some are so full of filling that the skin is unable to hold it all in and splits like the pants of a primary five school boy who just did a squat in his primary two school pants. The skin is so soft that you can't even make out the two leaves, chinese characters and the maze motif on top of the kueh, but man this is a case of Hor Jiak Bo Hor Toi (Ugly but good to eat).
The Soon Kueh is equally rustic ( read: ugly). But within its shapeless mound is a treasure of sweet stewed turnips which has absorbed the flavour of the dried shrimps. The skin is slippery, smooth and oh so tender that if anymore water was added, it would turn gooey. All our kakis agreed it was one of the best Soon Kuehs around. 4.5/5
If you want to taste the flavour of the rice, go for the naked Png Kueh. ie Png Kueh without the skin. Eaten without the skin, you can really appreciate the flavour of the dried shrimps and mushroom in the rice, its sort of like eating just the potato curry without the skin of the curry puff, no? 4.25/5
Conclusion
If you enjoy Teochew kuehs, then you really need to do yourself a favour and make a trip down to the shop. These are kuehs made with a lot of passion with emphasis on taste and generosity of fillings and everything is made by the Aunty herself. If you are looking for pretty kuehs to look at, forget it. This is a stall for those who choose substance over style.
Update 2 Jan 2013
This stall will be shifting to 560 MacPherson Road, Singapore 368233 wef 3 Jan 2012.