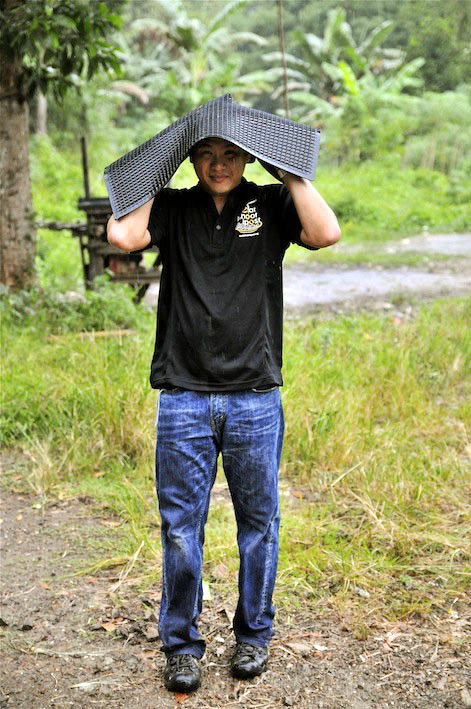 Raintesting the T shirt in Sandakan – Photo by Cactuskit
Join us for a cup of kopi and get your ieat T-shirts! – ieatishootipost
I am glad to announce that the new ieat T shirts are finally ready for collection!
But before we made them available, we ran some safety and quality tests on them during our recent Ieat Makan Mission (IMM) trip to Sandakan. I am glad to report that after some rigorous testing, our IMM team gave the T shirt two thumbs up!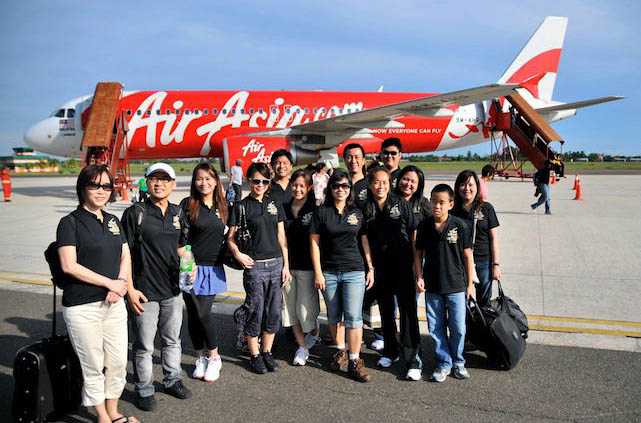 Testing the T Shirts by Air – Photo by Cactuskit
We first tested it by Air to see if the negative cabin pressure had any effect on the T-shirts. They performed very well, keeping our armpits well ventilated through its dri-fit technology. The crease resistant properties of the T-shirt also meant that we can squeeze our way through a budget airline cabin and still come out looking very smart.
On a side note, you will notice that the ladies T-shirt have been specially cut so that it accentuates the female form, with body hugging curves and shorter sleeves to make you look slimmer. The men's cut is based on the New Zealand all black jersey, with converging lines running down the front to give the foodie a V shape figure. This is a T-shirt that helps to hide all that extra stored calories!
We subjected the T-shirt to the effects of seawater. The dri fit material proved to dry quickly when subjected to salt water splashes and dried quickly. There was no shrinkage or stickiness after exposure.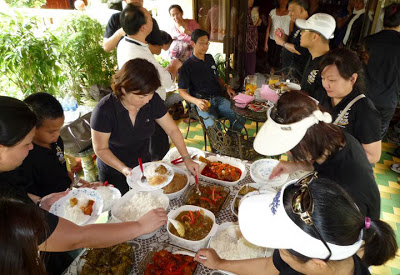 Testing the stain resistant capabilities of the T-shirt – photo by Kay
At the next village, we tested the stain resistant capabilities of the T-shirt by subjecting it to different types of curries. I am glad to report that our team still looked very smart after a curry meal and any curry stains were easily removed with a bit of water and some tissue paper.

Exposing the T-shirts to the elements
The T-shirts were then put through a jungle terrain in a tropical thunderstorm. Although a few of us actually slipped and fell and got mud on the T-shirt, the stains was easily removed with a few flicks of the hand and a bit of water. We also found that the T-shirt made an effective and stylish headscarf in a tropical thunderstorm.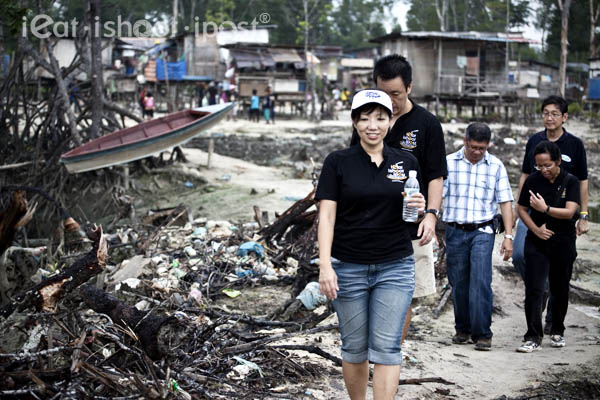 Chemical and Biological Testing
In the final test, the T-shirts were exposed to chemical and biological pollutants of a Mangrove Swamp. The chemical runoff from the nearby factories did not appear to have any effect on the T-shirts.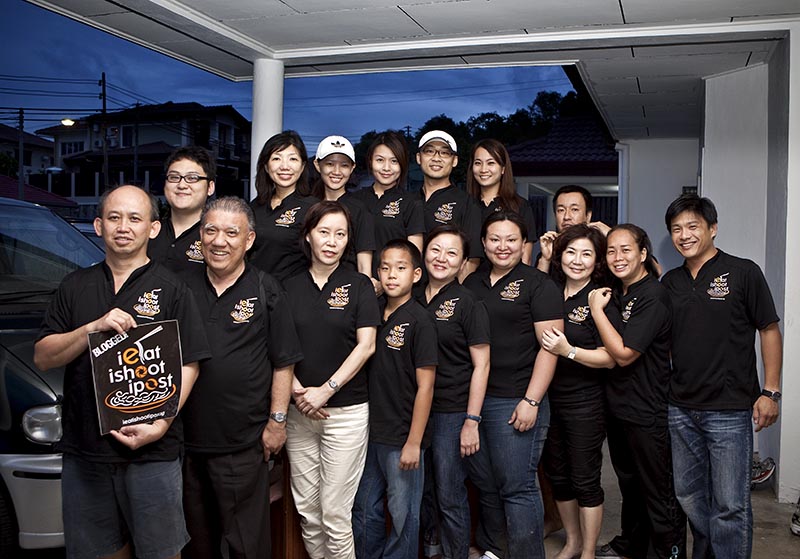 The ieat Team after a long day
And there you go! At the end of all that testing, the ieat T shirt was still in pristine condition! All it needed was a couple of flicks with the back of the hand and a spray of perfume and it is ready for the next day!
We have organized an afternoon tea at Good Morning Nanyang Cafe on 9 Oct for you all to come collect your T-shirts. If you have pre-ordered your T shirts, you should receive an email from us. All those who had ordered will be guaranteed a T-shirt.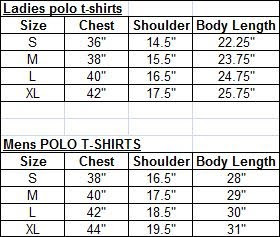 I have printed some extra T-shirts for those who did not manage to order them. If you would like one, please write to ieatishootipost@gmail.com. In the Title write: Late order T shirt. This will be on a first come first served basis. The sizes are in the table above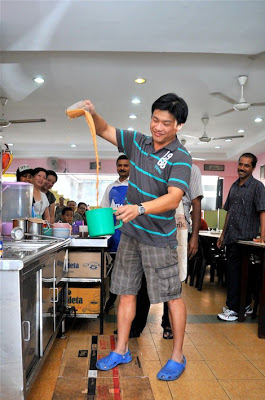 Making Teh Tarik in a Prata Shop in Kota Kinabalu
I shall be behind the counter helping Byron to make Kopi and Teh and have been practicing my Teh Tarik skills in case anyone orders some Teh Tarik that day! Byron has very generously volunteered to donate all proceeds from the Tea Session to Goducate, so make sure you order the extra special ieat Teh Tarik!
Venue: Good Morning Nanyang Cafe, 108 Robinson Road
Date: 9 October (Sat)
Time: 2pm to 4pm
Price of T-shirt: $20 (Cash only)
Note:
If you are unable to collect your T shirts that day, you can pick them up later at Good Morning Nanyang Cafe
The full trip report will be posted soon. But if you are interested, you can view the rest of our trip photos at our facebook group page: http://miniurl.com/55683