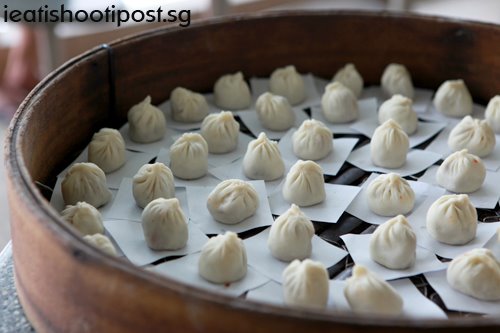 The Teochews are famous for many things. Char Kway Teow, Chai Tau Kway, Teochew Porridge, Mee Pok Tar etc etc, but not for Pau. This is so unusual that the stall aptly named themselves Teochew Handmade Pau because, basically, no one else does! The other stall in a similar kind of situation is the famous Chendol Stall in Penang. That is also called Teochew Chendul (sic) and as you all know, Chendol doesn't originate in Swatow.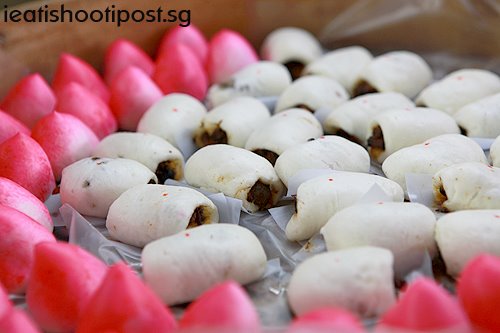 So what makes a Teochew pau special? Well, many things as it turns out. The Teochew Ah Hia here takes liberties with what we know as Pau and gives it his own Teochew twist.
Firstly, the paus here are small. They are tiny. Why are they tiny? Well, the boss tells me that they are small because the skin is very thin. Their philosophy is to make food for enjoyment and not to fill up the tummy, it seems. The most popular pau here is the Braised Pork (Kong Bak) Pau. If you want to eat this Pau, you should try to ring up to reserve them before you come because it is usually sold out by 12pm. Yes, you might see baskets of it lying around, but they all already have somebody else's name on it.
The Kong Bak Pau is tasty, though I found it a tad dry. Rather than having braised pork belly, I think they try to make it more healthy by having more lean meat. It is very nice and you'd finish it in two mouthfuls, or one if there's no one around to see how big you can open your mouth. 4/5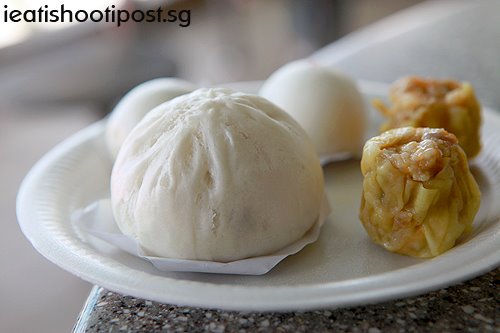 Apparently they are also famous for their Char Siew Pau, but I didn't really think much about it. It was good, but pretty much like many other Char Siew Pau and lacks a charred flavour. 3.5/5
Their Big Pau is good. Not fantastic. Not super juicy. But it has a very different flavour than the typical Big Pau and definitely worth trying if you like Big Paus. It's just another one to put into your Big Pau resume. 4/5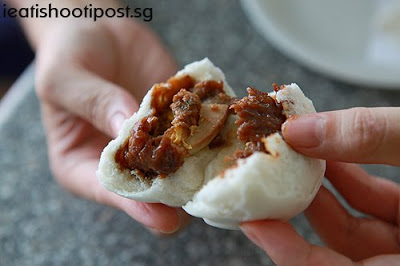 Of all the items I tasted that day, the best one for me was the Siew Mai. Again, I like it not because it is the best Siew Mai I have ever tasted, but for its novelty. The difference lies in the fact that they use fish in place of prawns in the filling and rather than having a bit of crab roe, the orange colour comes from carrots. So it is delightful because the taste is unique and it is quite shiok to eat. 4.25/5
Conclusion
All the items here are quite unique to this stall except for the Char Siew Pau. If you are looking for something novel in Pau, this is stall to visit.