Why is it so difficult to find a perfect bowl of Wanton Mee? Afterall, Wanton Mee one of our favourite foods. Yet, you always hear people say that the Wanton Mee in Hong Kong is so much better. When I was younger, I did not really appreciate the role the noodles played in the Wanton Mee. For me it is about the Char Siew. I used to trade Noodles for Char Siew with my younger brother. But as I started on my food adventure around Singapore, I began to appreciate the differences in the quality of the noodles.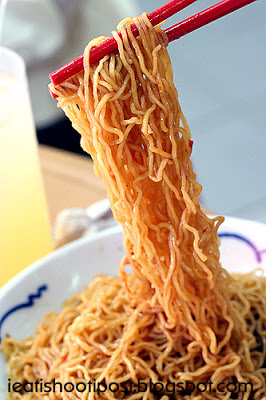 In the past, a lot more hawkers made their own noodles. Nowadays, most would procure standard noodles from the manufacturer. However, the better noodle hawkers would order their noodles made to a specific receipe for their own stall. The difference in cost may be as much as five times in some instances.
The noodles in this stall are specially made and according to the stallholder, it is "All Egg" noodles which means they use a lot more eggs than the normal ones. I think this has to be one of the best noodles I have come across in terms of the QQness. Some noodles are QQ but borders on being too firm to the bite. This one was just right, really springy, yet easy to chew.
They also use a soy based sauce which I prefer over tomato ketchup. The sauce was more on the sweet side and would be nicer if it was more savoury. The char siew was acceptable and the wantons were tasty but a tad small. What was nice was the fried wanton which is included in the $4 portion. The skin was thin and crispy and they use a fish paste for the filling. Too bad they used only a smidgen of fish paste, Zia Boh Gao (Not enough to eat!) 4/5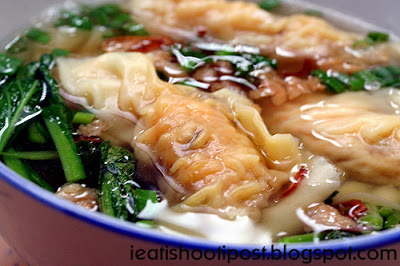 The Sui Gao here is very good and worth trying. In contrast to the wanton, the filling is generous and I especially liked the roughly chopped waterchestnuts which added a sweetness and crunch to the savoury mince. 4/5
We had an extra platter of roasted meats. The Duck was nice and tender and would have been great if they had provided some plum sauce. 4/5 The Sio Bak was not that great, the skin was a bit chewy. 3.5/5
Conclusion
Fairly good wanton mee. Noodles and fried Wanton was very good. If they improve on the sauce and charsiew, it could well become a Celebrity Wanton Mee.