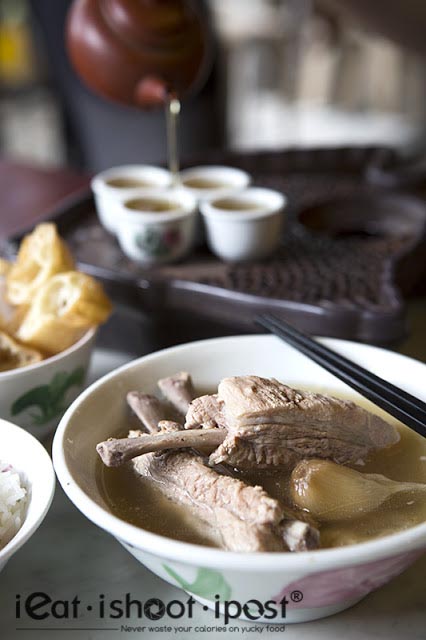 Walk into Song Fa Bak Kut Teh during a busy lunch time and what do you see?
People. Lots of people. Lots of people holding pork bones gingerly with a pincer grip teasing the meat off the bones while trying not to get too much soup on their fingers.
Look closely. What do you really see. People? Not just people. Young people… mostly.
This is traditional Bak Kut Teh reinvented by a Gen Yer for Gen Yers.

Ah, but I hear you say. "Bak Kut Teh is Bak Kut Teh, where got Gen Y Bak Kut Teh and traditional Bak Kut Teh?"
Let me explain.
Although Song Fa has been around for over forty years, the way that the Bak Kut Teh is made and served has gone through a bit of a revision to cater for a new generation of Singaporeans.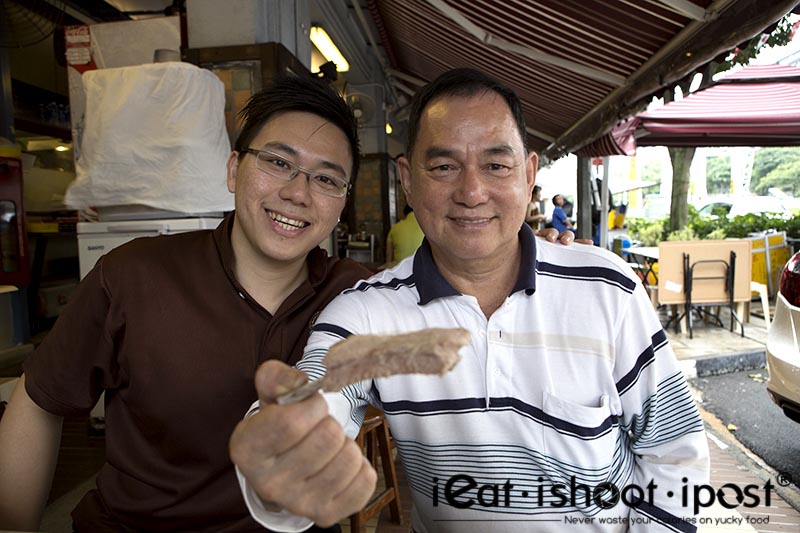 When the younger Mr Yeo Hart Pong decided to take over the running of his father's busy Bak Kut Teh business in a small kopitiam in Victoria street, he wasn't content to continue selling Bak Kut Teh in that small stall. He understood that for this generation of Singaporeans, comfort is a big factor in choosing where to eat. So 5 years ago he decided to start his Bak Kut Teh career by opening this flagship store at a corner coffeeshop in New Bridge road. He made sure that the environment was modern, clean and comfortable yet still paying homage to our Bak Kut Teh heritage.
Then he made some radical changes to his dad's Bak Kut Teh recipe. The most fundamental change, which I am sure still displeases some of his dad's older customers, is that he started cooking his pork ribs longer so that the meat is fall off the bone tender. This was how he liked to eat it and he was sure that the young people in his generation also like it that way.
The older generation of Bak Kut Teh fanciers would frown upon this. They like their Bak Kut (spare ribs) denture threateningly springy which means that the meat has is just cooked, almost well done but not long enough for the meat fibres to start contracting and toughening up.
But the younger generation, growing up in the era of fast food want everything to be easy to eat. To get this texture the meat needs to be cooked past the tough stage till the fats start to melt and the connective tissues become tender and loose its grip on the bone. By this time the meat would have also soaked up the flavours of the soup.
The recipe for the soup base has still very much remained the same. Teochew style Bak Kut Teh consist essentially of pork bones, salt, pepper and garlic. In the past it was made by throwing all the ingredients into a pot of water and bringing it to a furious boil for 25 minutes. The recipe might be simple, but it is in the execution and attention to details that set one Bak Kut Teh apart from the others. The elder Mr Yeo Eng Song explained to me that they use a particular garlic from China and the pepper must be from Sarawak. A bit of soy sauce is added only at the end in order to give it some colouring.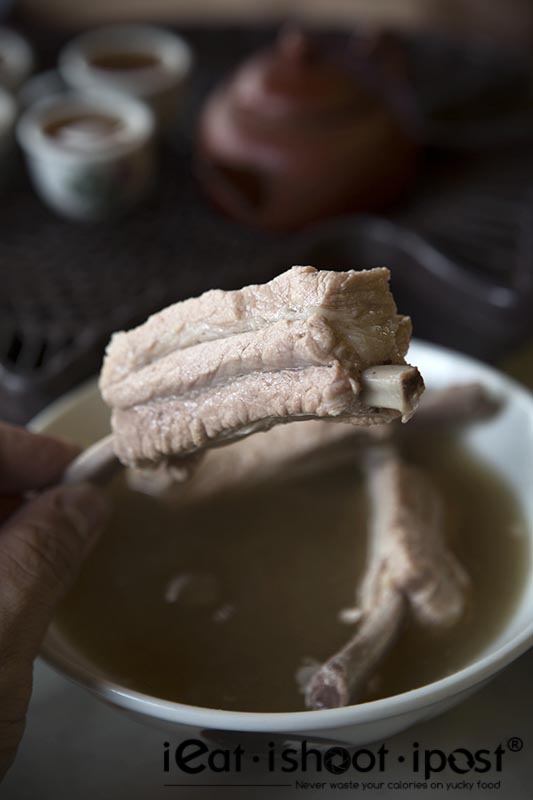 In the old days, Bak Kut Teh used to be a more leisurely activity which only the more well heeled could enjoy. He started selling Bak Kut Teh in 1969 in partnership with a friend along River Valley road before moving to his own stall in Victoria Street (Blanco Court) in 1975. In those days when Char Kway Teow was 30 cents a plate, a bowl of Bak Kut Teh was already 80 cents. Although he was not a pioneer of the modern Bak Kut Teh renaissance which was started in the 1950's by Mr Ng Mui Song (father of Ng Ah Sio), he was one of the first to start selling Bak Kut Teh at night. Up till then, Bak Kut Teh was primarily a dish that was eaten in the mornings.
Bak Kut Teh in those days was really Bak Kut "TEH" in the sense that the drinking of tea was an integral part of the whole Bak Kut Teh experience.
"People used to start drinking tea first and you are not allowed to serve the soup until the tea has hit the spot!" Uncle says.
It's unfortunate that nowadays the younger generation of Singaporeans have forgotten this part of our culinary heritage and often eat Bak Kut Teh without the Teh! Can you imagine having High Tea without a pot of tea? The tea complements the Bak Kut Teh perfectly and also helps to wash down the oil in the soup and brings the enjoyment of Bak Kut Teh to the next level!
I am glad that the younger Mr Yeo has recognized the importance of the tea culture and has incorporated it into the design of the eatery and has also stocked a good selection of Chinese Tea from Pek Sin Choon. So if you have never made it a habit to drink tea with your Bak Kut Teh, why not give it a try next time? It is one of the few hawker dishes in Singapore that has a ritual associated with it and it is good for us to celebrate it and preserve it for posterity.
Conclusion
So are you a modernist or a traditionalist? Do you like your pork springy or falling off the bone? That probably explains why Song Fa has many loyal fans as well as some detractors. I like it because the soup is not over peppery and it is nicely balanced with the natural sweetness coming from the pork bones. When it comes to the pork itself, I actually like both the springy and the falling off the bone versions, so whenever I feel that my muscles of mastication need a break for the day, I know where I will be heading to! 4.5/5
Congrats to Song Fa for being awarded the Bib Gourmand 2016!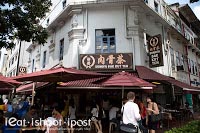 Postscript
Did the reading of this post suddenly trigger some childhood memories of eating Bak Kut Teh? Share it with the rest of Singapore by jotting it down at www.singaporememory.sg or on tweet it with the hashtag #sgmemory. You can also download the SG Memory iphone app and record your memories on your phone!