You might not know it, but aside from hawker food, I am particularly obsessed with pizzas. The obsession all started when I read about the Vera Pizza Napoletana which is an association set up to preserve the original pizza created in Naples. There are of course many styles of Pizzas even in Italy, but most pizza experts I know, people like Jeffrey Steingarten and Peter Reinhard, regard the Neapolitan or Neo-Neopolitan pizza to be the benchmark for all pizzas.
My obsession with the Neopolitan pizza led me to Jeffery Varasano's excellent website on how he perfected his pizza recipe. This guy is so obsessed about Pizza that I am sure the psychiatrists would coin a special syndrome just for his condition! (I am probably just a mild case) Inspired by what he did, I started by own quest for the perfect pizza. Over the last year, I have accumulated two pizza peels, two pizza stones, a few pizza books, various thermometers and even a Ferrari….. pizza oven. I have sourced flours from Italy, Canada the US and found places which I could buy fresh yeast. In fact, I even grew my own colony of wild Singapore yeast on top of my fridge. Don't get me started on the different brands of mozarella cheeses I have gone through to find the perfect one. Then there are the tomatoes. Yes, you need Italian tomatoes, San Marzano and certified DOC if possible. But fortunately, I wasn't the only one crazy about the perfect pizza. My kaki Damien, whom you all are familiar with as one of the walking directories on Singapore food was my accomplice. He even went to the extent of working for a Pizza Master in Naples for 3 months to learn how to make the perfect Neapolitan pizza! (Naples was previously known as Neapolis – hence the name Neapolitan)

Along the way, my appreciation for Pizza underwent a transformation. In the past, it was all about having a great topping. Now, the be all and end all of any pizza is the pizza base. Anyone can put Parma ham and rocket leaves on top of a pizza, but not everyone can get the crust right. Can you imagine the best slice of Otoro on top of mediocre Sushi Rice?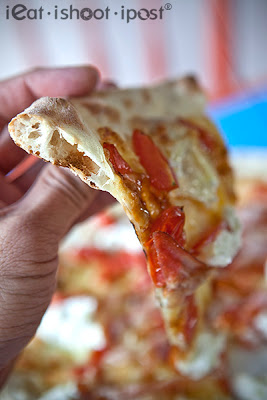 Cornicione! Crisp crust with great crumb structure
When I did my first Pizza Party for the kakis, most of them requested for the thin and crispy crust. But once they tasted the Neo-Neapolitan style crust, all of them were won over. Thin and crispy is just too one dimensional. The Neapolitan crust has a wonderful Cornicione (The outer rim of dough) that is puffy and has a crunchy snap to it while the rest of the base is tender with a nice chewy bite. In between the Cornicione and the middle part of the base is the transformation zone which ideally should still be a little moist. The only way to achieve this is if you have a wet dough and a really hot oven which can reach 450 degrees celcius.
Aside from the texture, a really good pizza crust must have a complexity of aroma that can only be achieved through the proper maturation of the dough. If you eat any pizza base and feel that the taste lacks that savoury flavour that coats the whole of the mouth, it just means that the dough was probably made a few hours before it was cooked. The best pizzerias in the world have got mature dough which are older than most of us. Just like the legend of the Braised Duck Lor (braising sauce) which ever gets decanted but just gets new ingredients added to the pot everyday, really good pizzerias always leave a batch of old dough which is added to a batch of new dough in order to preserve the lineage of the yeast.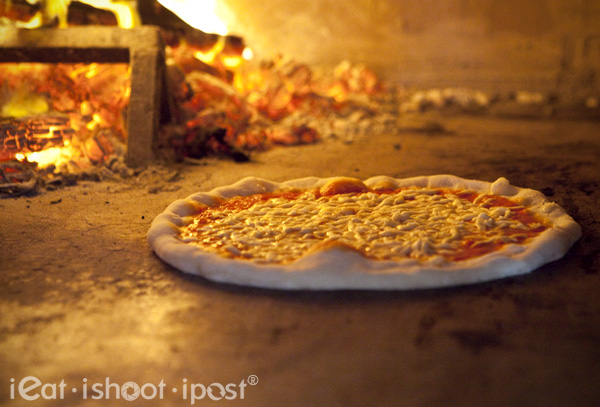 Pizza baking in Sole Pomodoro's Wood Fired Oven
Just about the most important piece of equipment in pizza making is the oven itself. The rest of the pizza, from the base to the sauce can actually be done quite well at home. But without the wood fired oven which can go up to 450 degrees C, you are never going to get close to an authentic Neopolitan Pizza. At home I have a standard oven that only goes up to 250 degrees C, so my pizza takes almost 10 minutes to bake. So although I get a nice crispy crust, it becomes a tad dry. To overcome that, I have to use a very wet dough that is very difficult to handle. My Ferrari pizza oven which has a stone base and can go up to 350 degrees C gets me closer to the target but still not quite there.
So whenever I visit a pizzeria in Singapore, my first task is to have a look at the pizza oven. Lately there have been many new wood fired pizza joints that have opened which is great. But I have noticed that most of them only go half way and compromise by having gas burners in the oven. I suspect that this is a cost saving measure because you really need a steady stream of pizza orders to keep the wood fire going all day. So most restaurants compromise and use gas during the off peak period. A real pizza oven actually takes up to ten days to get to the right temperature, so turning the gas on and off is not a great idea if you are serious about good pizzas.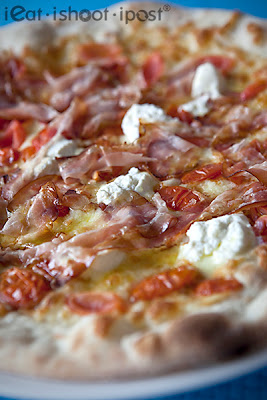 Home Smoked Bacon with Ricotta Cheese
I have been going around tasting pizzas from some of the pizzerias that people have recommended but so far they have been disappointing which is why you haven't read any pizza posts this year. I guess my gold standard for pizza has moved up a few notches since I started on my pizza quest so I am looking for a lot more. Most of these places give the outward appearance that they are serving authentic Neopolitan Pizza but come up short by taking shortcuts.
When I heard that my friend Gerri from Cugini was planning to open a wood fired pizza joint, I was excited. I have known Gerri and Mauro for a while now and I know these guys are passionate about delivering authentic Italian food. So on my first visit to Sole Pomodoro, my first question for Gerri was whether his oven was a real Italian wood fired oven, to which the answer was "Of course!" The next question I posed him was what kind of Buffalo Mozzarella he uses to which he said that their Buffalo Mozzarella is airflown three times a week from a small cheese maker in Campania. When I heard that, I knew that they are serious about the Pizza.
You see I have been trying to get my hands on some real Buffalo Mozzarella for a long time. It is not cheap and the one place in the world that makes Buffalo Mozzarella for the best Neopolitan Pizzas in Naples come from the volcanic region of Campania. Most the Buffalo Mozarella that I can get my hands on in Singapore come individually packed. There are many distributors of these individually packed Mozzarella cheese in Singapore and you can get them at supermarkets and specialty grocery stores, but there is no way I can get my hands on the fresh Mozzarella that Sole Pomodoro imports direct from Italy!
The pizzas at Sole Pomodoro are the best ones I have eaten in Singapore so far. The crust has a complexity of flavour, the Cornicione is crisp with an airy crumb and the middle of the pizza is chewy. The tomato sauce is fresh with a bit of zing to it and if you are ordering the Buffalo Margharita, the cheese is wonderfully creamy. My only comment was that Sole prefers to add the Buffalo Mozarella after the pizza is baked because they prefer not to drain the cheese first. As far as I know, this is not how they do it in Naples. But the creamy and cold Mozzarella on pipping hot pizza does have its own appeal. 4.5/5
The other flavour which I would recommend for those who want a little more smokey savoury salty flavour in the pizza is the home smoked bacon with cherry tomato and ricotta cheese pizza. Their home smoked bacon is in a class of its own and has that chewy texture like how all cured meats should have. 4.25/5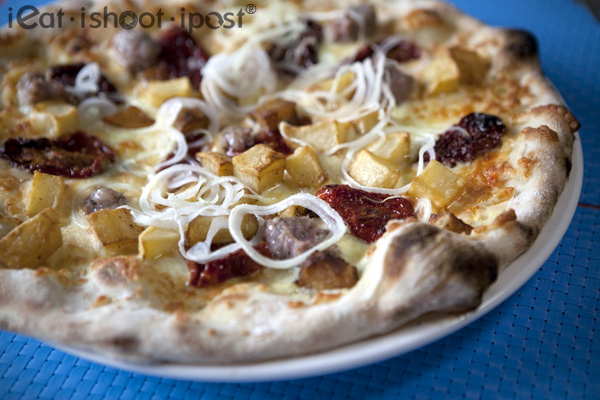 Sole Pomodoro: Italian sausage, sundried tomatoes and pototo $24.90
I wasn't enthusiastic about all their pizzas. One which I wouldn't order again is the Sole Pomodoro which is a new topping specially for the restaurant. I felt the potatoes were nice but overall the pizza lacked enough savoury flavour and was dominated by too much tang coming from the sundried tomatoes. 4/5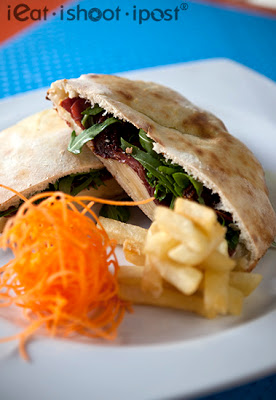 Panino with home cured beef and Fontina cheese $13.90
If you are looking for something for a light lunch. I would highly recommend the Panino. The bread is made in their wood fired oven and is almost like eating a stuffed pizza. The combination of the home cured beef and generous slices of Fontina cheese is excellent. 4.5/5
Conclusion
I finally managed to find a Neopolitan style pizza which I can rave about! If you have always preferred the thin and crispy pizza, I hope this one will change your mind. Until I eventually get to go to Naples to eat pizza at L'antiqua pizzeria da Michele, this will have to do. One of our forum members who have actually eaten the pizzas in Naples commented that it is the closest pizza to the ones in Naples that he has eaten in Singapore so far. I would like to hear from the rest of our pizza afficianados how the pizzas here compare to the real thing in Naples.
Special for ieatishootipost readers:
20% discount on pizzas from now till end Feb 2011. Just mention ieatishootipost or flash the website on your phone when you ask for the bill. You don't have to mention the discount when you order but please remember to mention it when you ask for the bill and especially when you give your credit card as it is extra work for the staff to reverse the payment with credit cards. Thanks!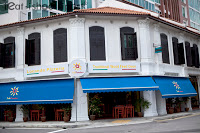 This review was part of a media tasting session