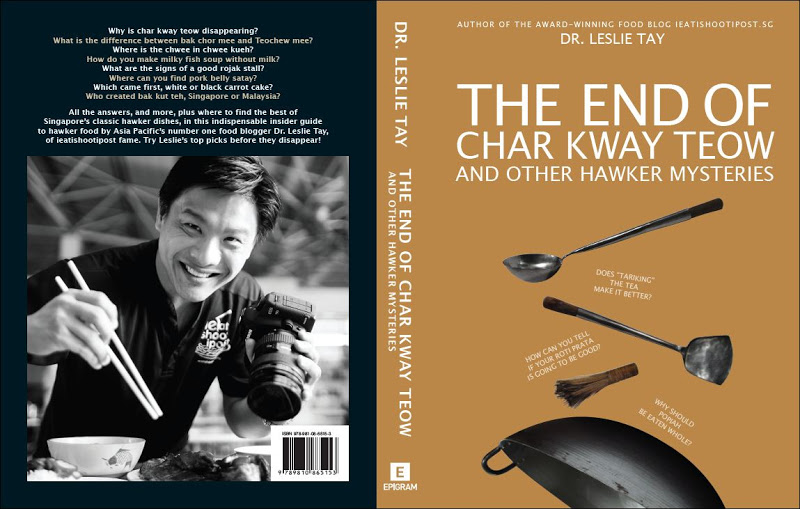 I am glad to announce that the ieatishootipost book will be officially launched on 18 December 2010 and you are invited to attend our very first book reading event!
The book is essentially a celebration of our Singaporean Hawker Heritage and will contain the stories that I have collected from talking to the hawkers over the last five years. In it you will read about where President Nathan buys his Teh Tarik, the story of the origins of Bak Kut Teh, why Poh Piah should be eaten uncut and of course, as the title suggests, why I say that it is curtains for Char Kway Teow. The book will contain full page and centrespread photos of the food that I took at the stalls. I hope they will do our Singaporean hawkers proud!
Prof Tommy Koh said in his foreward to "There is no Carrot in Carrot Cake" that we need to set up institutions to teach hawkers how to cook our local fare. I agree with him entirely. But that is only one part of the solution.
I recently spoke to a group of NTU students on the topic of Teochew porridge and was astounded that around five out of a group of fifty students said that they have actually eaten Teochew porridge before. Even more worrisome is the fact that very few of them would even consider going out with their friends to eat Teochew porridge. To me, that just means that Teochew porridge will also die out in my generation!
How are we going to preserve our Hawker Heritage? Yes, we need to help a new generation of Hawkers to learn how to cook our local dishes properly. But just as importantly, there needs to be customers who want to eat it! One way to nurture a new generation of Singaporeans to appreciate the food that is part of our Singaporean identity is to tell them our Hawker stories. This way we can create the romance around our different hawker dishes, just like how the Japanese tell stories of Sushi and Samurai and even have a whole series of Japanese food on Manga. We need our younger generation of Singaporeans to fall in love and appreciate the rich history behind the unique foods that define the Singaporean identity. I hope this book will play its part in achieving that goal.
Armed with these stories, when bring our foreign friends to eat Bak Kut Teh, we can tell them how Bak Kut Teh originated around Clarke Quay and how our Pepper style Bak Kut Teh is linked to our Teochew forefathers who monopolized the pepper trade in the 1800's and how Teochew gongfu tea began to be served together with the pork bone soup which gave Bak Kut Teh (lit Pork Bone Tea) its name!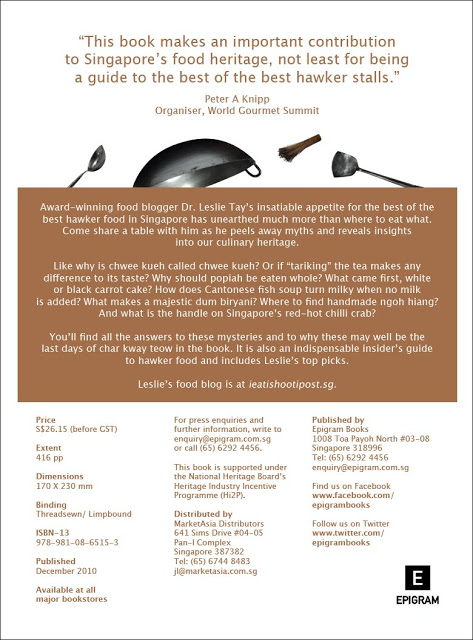 Writing a book is not a simple matter and I have receive much support from my family and friends. So I wish to take the opportunity to thank my family, the ieatTeam and everyone who have in some way or other contributed to this book. I would like to take this opportunity also to thank the following sponsors:
National Heritage Board
Canon
MHC Asia
Astons Specialties
Killiney Kopitiam
Nuffnang
Pek Sin Choon Tea Merchants
Fonterra
Core Concepts
Prima Group
The revenue from the sales of these pre-ordered books will be donated build schools for the underprivileged kids of Sandakan.
In addition, I would like to thank the gourmet guru, Peter Knipp for graciously penning the foreward to the book. Hey he might be an Ang Moh, but he loves his chicken rice and probably knows much more about hawker food than most of us! Finally I have to thank Edmund and his team from Epigram for persuading me to publish the book and who have worked so hard to make the book a reality!
I would now like to invite you to our very special Book reading event which is going to be held in evening of December 18th at Littered with Books. We have organized a Bak Kwa and Wine pairing event at the same time as well and I am now practicing to write legibly so that I can autograph your books. So I hope you can join us.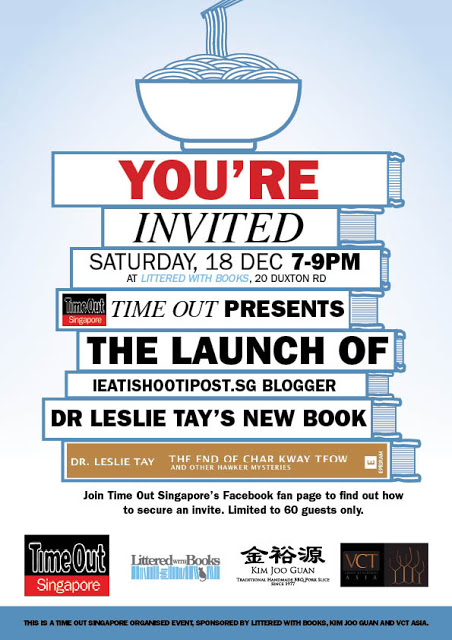 Please register on the TimeOut Magazine Fanpage.
Look forward to seeing you all there!
Many thanks to Timeout Magazine, Littered with Books, Kim Joo Guan Bak Kwa and VCTAsia for their generous sponsorship!
Attached is the pdf version of the introduction and 1st chapter of the book! Do help to circulate it and let your friends know about the book!
For more info and details on bulk purchase of the book please write to [email protected]