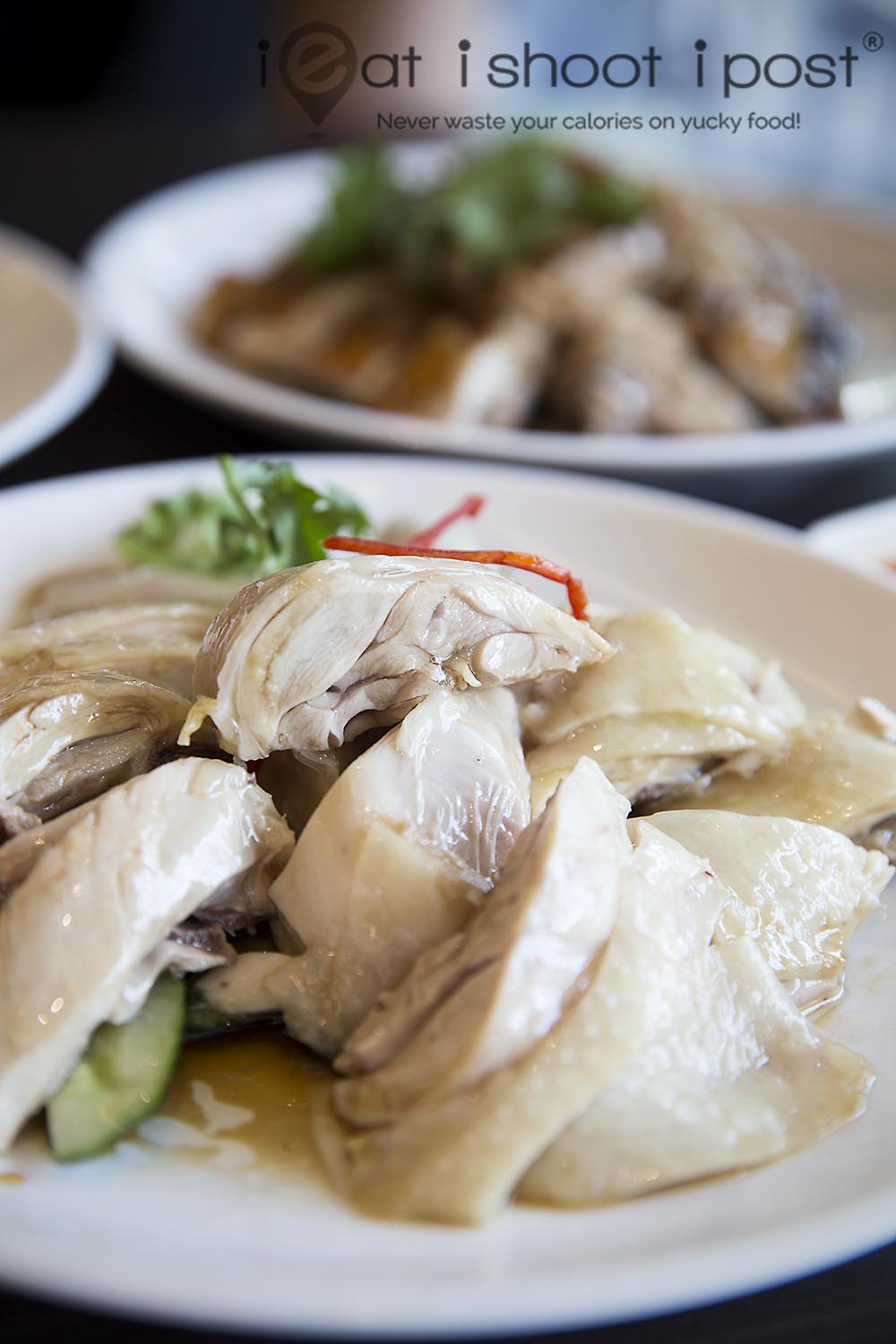 Sinn Ji Chicken Rice: Young, Innovative Next Generation Hawkers – ieatishootipost
There has been much debate about how to preserve our hawker culture.  One idea was to set up hawker "schools" where courses are offered on how to prepare certain dishes.  On paper, this seems to be a good idea.  If you are a young person wanting to sell hawker food, you can enrol to learn how to cook laksa as well as how to rent and set up a hawker stall.  That might work for some hawkers, but it automatically selects for those who are toying with the idea of being a hawker.   They might succeed in earning a stable income, but what are their chances of becoming a hawker legend compared to those who are really driven by passion?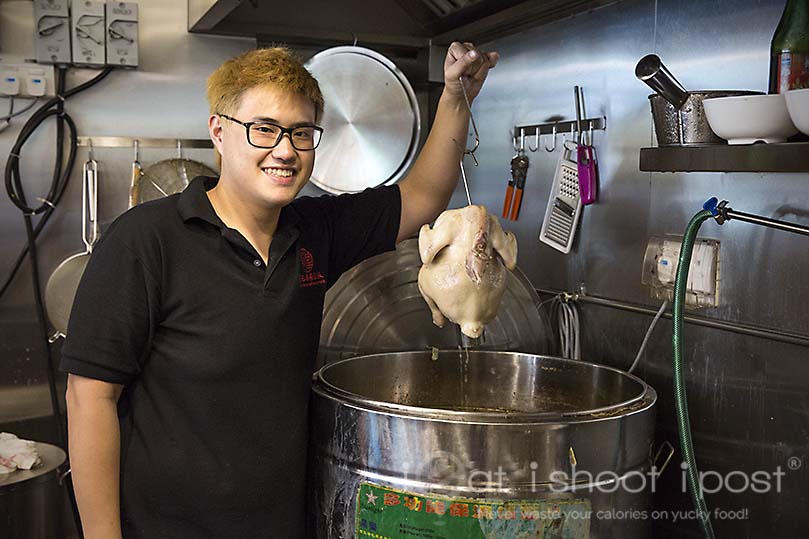 Passionate young hawkerpreneurs like 25 year old Derwin will find ways to carve out their own path.  Derwin has always loved cooking and after earning his diploma in animation, decided to pursue his first love.  He apprenticed himself under a chicken rice master for a month, learned the basics and then proceeded to innovate and improve on what he had learnt.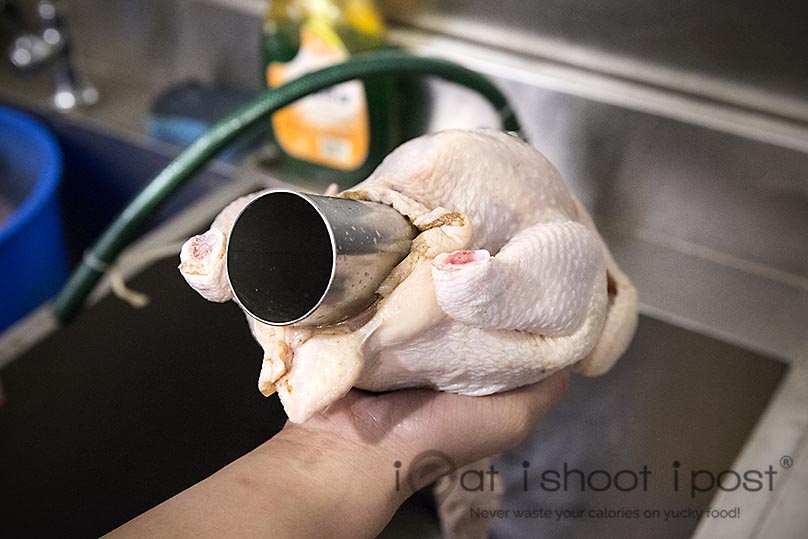 I was quite impressed by some of the things he is doing to make a better chicken rice.  One of things he has come up with is a simple tube which he inserts into the cavity of the chicken which helps to cook the chicken so that the breast meat doesn't dry out.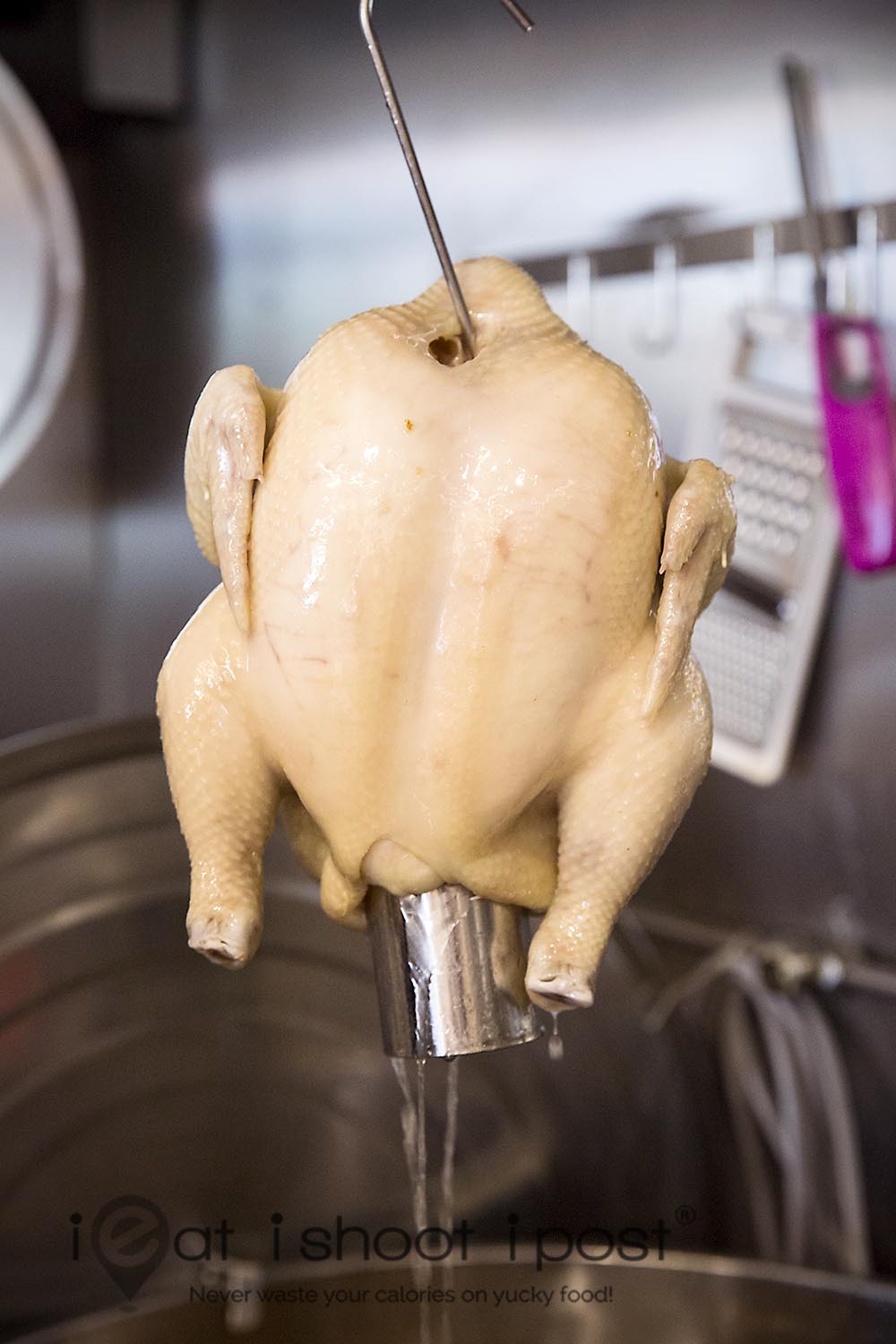 What the tube does is to ensure that the hot water is able to circulate and cook the inside of the chicken so that the breast meat is cooked evenly on both sides.  This enables him to lower the temperature of the poaching liquid. He also cooks his chicken in a large thermal vat which keeps the water at a constant temperature and he adds chicken bones and other ingredients to the broth so that the chicken is seasoned as it cooks.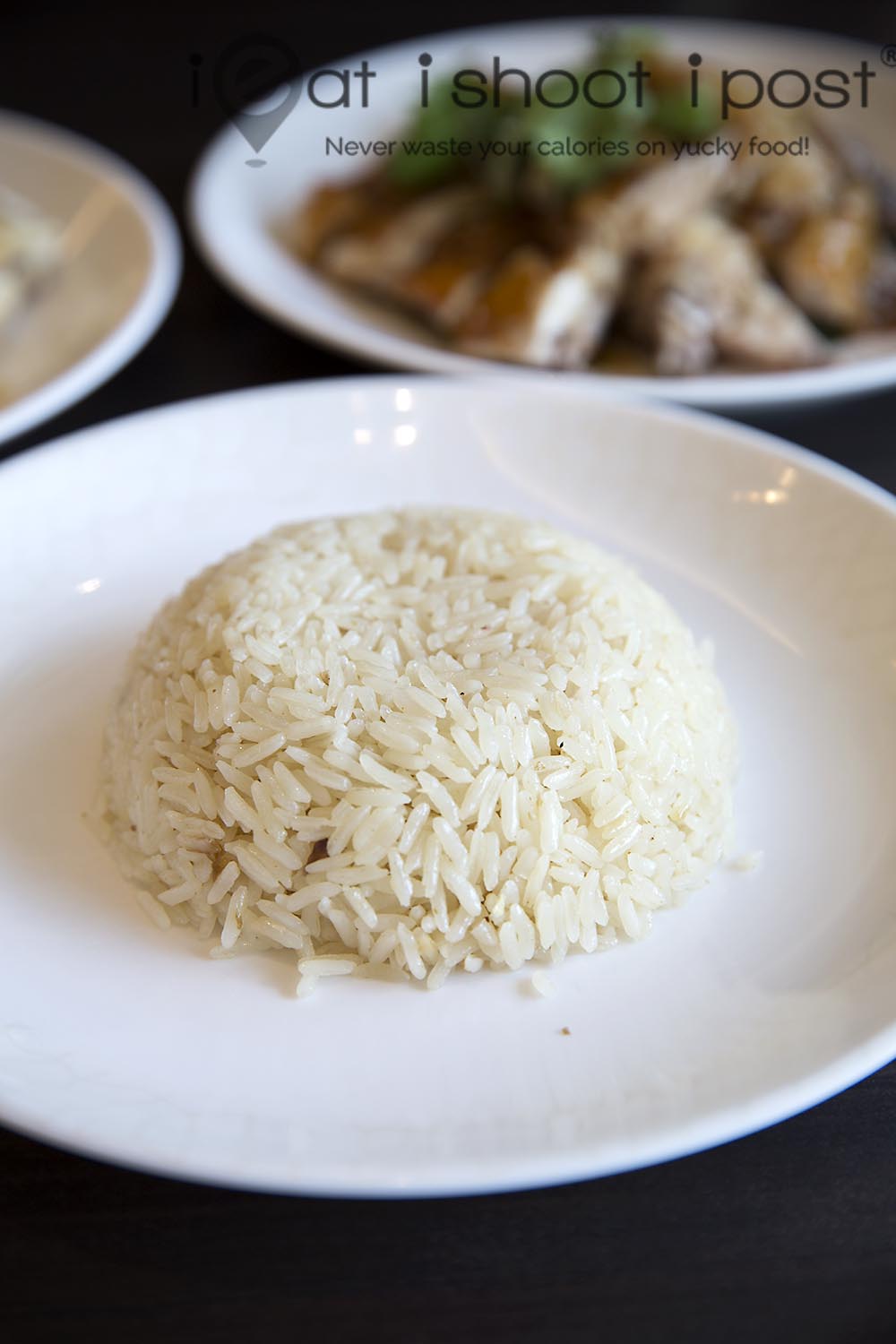 The results of his innovations are quite evident.  His chicken is perfectly cooked and the breast is moist, tender and flavourful. There is a nice layer of jelly under the skin and his drizzling sauce is also very tasty.  Overall the white chicken is very good.  4.5/5
The rice is also good but can be improved.  The grains are well seperated but it does lack that fragrance that you find in really good chicken rice stalls.  He tells me that he doesn't add any msg to the rice which is what he was taught to do during his apprenticeship and found other ways to make the rice tasty.  4/5
I found the chilli sauce to be a little on the sweet side, but there is a nice fragrance from the freshly squeezed lime juice.  Try some of his minced ginger when you are there.  Derwin personally travels to Pasir Panjang wholesale centre every week to buy his ginger which comes from Indonesia that is really fragrant and has a robust gingery zing.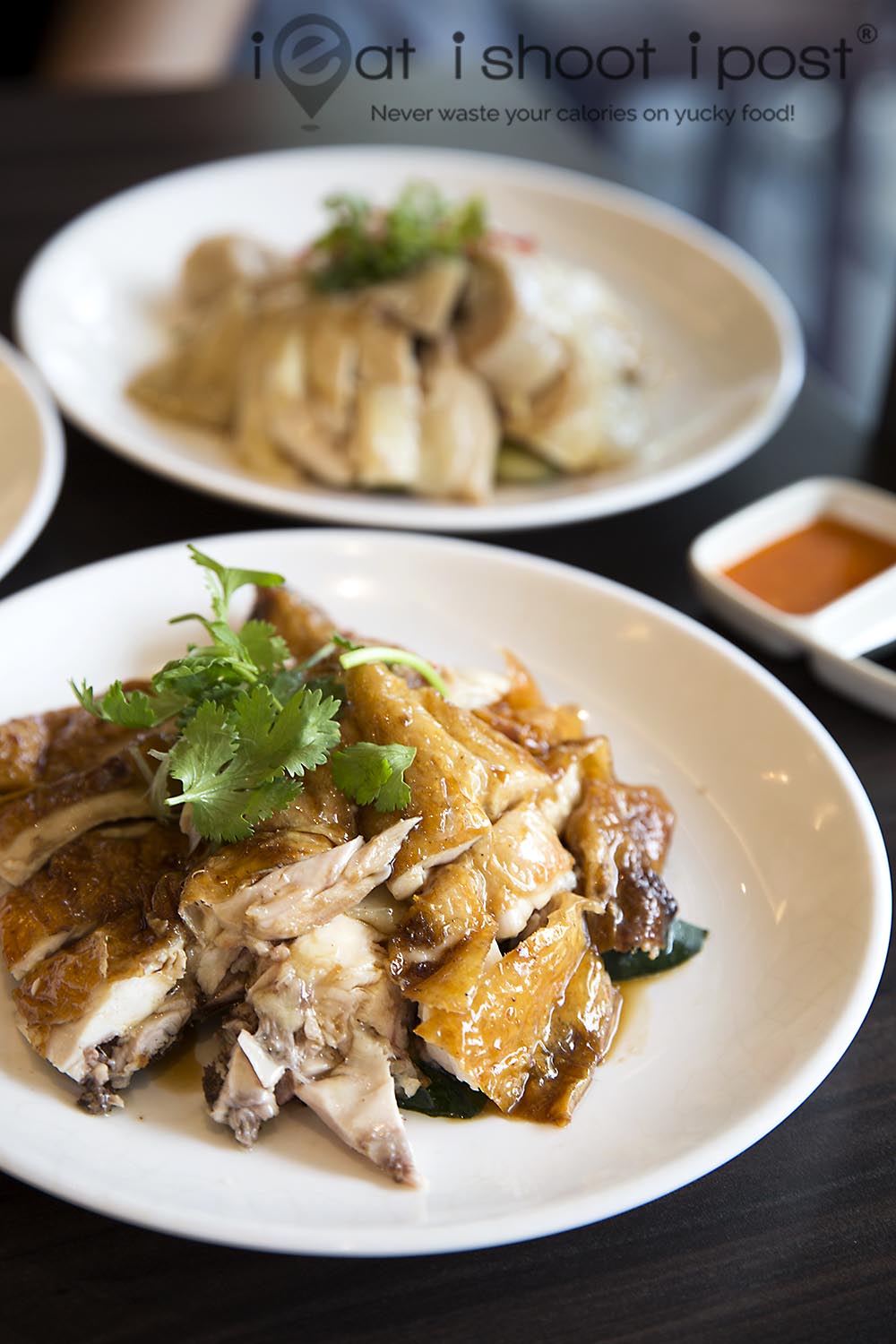 The roast chicken is quite good but between the white and the roasted chicken, I would go for the white.  I felt it still lacked the oomph of a good spice mix. 4/5
Conclusion
It is really good to see young hawkerpreneurs who are willing to take a traditional recipe, innovate and make it even better.  This 25 year old's chicken rice can easily rival some of the best ones which has been around for longer than he has!