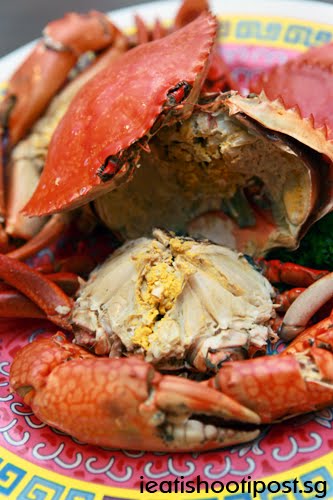 Cold Crabs $5.50 per 100g
Ieatishootipost started as a simple blog about the best Singapore food four years ago. The blog is four years old this month and has surpassed 7 million hits. When I started out, it was just my attempt to eat and take pictures of the best hawker food that Singapore has to offer. Four years on, there are nearly 1000 posts but the job is far from over. There are still so many places with so many dishes still waiting to be discovered!

Ieatishootipost has evolved to be more than just a one man blog. At its very core is a group of crazy ieaters who continue to plan what to eat next at the time when they are still eating their current meal. This community grew from being a handful of kakis to a small community who banter regularly in our forum. Two months ago, the facebook group was started and now we have over 3000 facebook kakis.
Now with the forummers and facebookers we have a critical mass of kakis with which we can organize more interesting makan sessions. But the task is really too much for one person to handle. In the past, I relied on our seasoned kakis to lend a hand with the makan sessions. But now that we plan to do at least one or two a month, I felt that it is time that we formally appoint an organizing committee.
So let me introduce to you our ieateam. Cactuskit is now the administrator of the forum with Byron and Khim as moderators. The rest of the organizing committee are Champagne, dr.azarael, holydrummer and holybro.
We had our first meeting, where else, but over a makan session. So here is our very first report.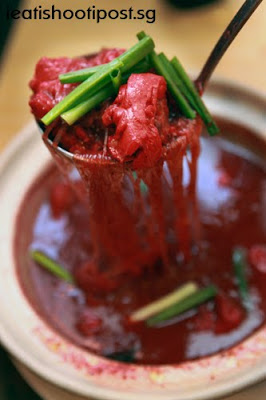 Red Wine Chicken $12 (small)
Singapura restaurant is one of those places that just has that air of authenticity about it. I don't know why, but I just get very excited when I walk into any restaurant whose doorway is like time tunnel that transports you back to when you still had to memorize telephone numbers. Yes, this is a place that still has those floral wallpapers which I remember helping my mom select when I was still a kid!
This restaurant sells Foochow cuisine and we had a sampled their signature dishes. First up was the cold crab. The beauty of the cold crab is the fact that it is just about to molt, so it has a soft shell inside of the harder outer shell. So sometimes it is also known as the double shell crab. At this stage, the crab is also full of "roe" which really isn't "roe" since it is a male crab. The yellow "roe" is in fact milt, which is the nice way of saying crab sperm!
O….K…..
Anyway, the crab was very good. It is eaten, cold of course, simply dipped into some plum sauce or chilli. I liked mine with just a bit of vinegar. The milt was creamy and the flesh was solid and sweet. 4.25/5
The next signature dish was their Red Wine chicken which is a dish that our Forum Administrator, Cactuskit cooks himself at home. So of course, he tells me that his version is even more tok kong than the one we had that day. The red colour is in fact made from red yeast rice which is a source of naturally occuring "statin". It is the same stuff that is sold in health stores as Hypochol which is used to lower cholesterol. So eating this dish is actually good for lowering your cholesterol too! I was told it is a dish that pregant women would eat during their confinement. So now we know why Cactuskit has the recipe down pat. Afterall his has had four confinements to perfect his recipe! 4/5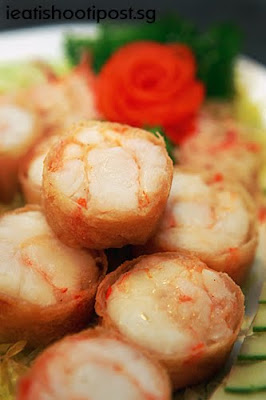 Prawn Rolls $16 (small)
Now the dish I really liked were the Prawn Rolls. These are made almost entirely from fresh "Sua Lor" prawns which have been lightly seasoned then wrapped with "Peng Seh" (pig mesentary) and deep fried. I like it because it is a way of enjoying the natural sweetness of the prawn. If you were to compare this with ngor hiang, then you might be dissappointed because it doesn't really have a very strong flavour. The flavour is more subtle, but the texture of the prawn with the crunch of the skin is very good. 4.5/5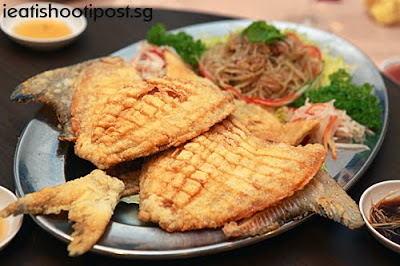 Thai Style Pomfret $65 (almost 1kg, "Dao Chior")

If my dad were ever to eat this next dish, I know what he would say. As a teochew, really, the only way to eat a fresh white pomfret is to steam it with preserved plums, tomato and ginger. For a teochew, to fillet a pomfret and then deep fry it really is a waste of a good fish. However, as far as fried fish goes, they executed this so well that Holybro managed to eat all of the bones of the fish. The thai salad that came with the fried fish adds a nice sweet and sour flavour to complement the crunch. 4/5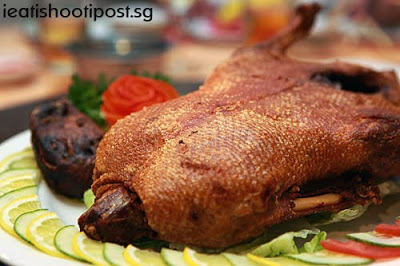 Aromatic Crispy Duck $48
When the aromatic crispy duck hit the table we all understood why it was called "aromatic". You could smell the woody spices especially when the waitress started cutting the duck. I felt though that it was just a tad dry and would have been better if it was more juicy. 4/5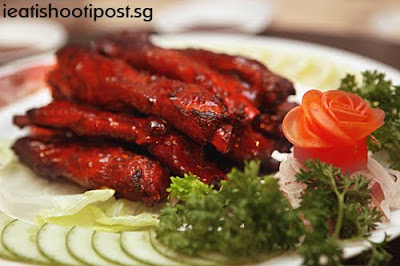 Pork Ribs $12 (small)
The pork ribs were done very well. The texture was excellent. Not too soft that it still held its shape but just tender enough so that it melts in your mouth. I like pork ribs and this one is pretty good. 4.25/5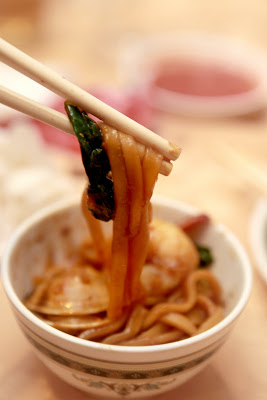 Foochow Noodles $10 (small)
The last dish turned out to be the one that I would think about going back to eat next week. The Foochow noodles were very similar to braised Hokkien noodles and the noodles were braised just right and had absorbed all the wonderful clam flavour. This is the must order noodle dish! 4.5/5
Conclusion
It's old school and a very nice place to bring the extended family for a decent meal. The prices are reasonable and its 80s decor will bring back lots of great childhood memories. The dishes that I would definitely order again would be the cold crabs, prawn rolls and Foo Chow noodles.
Special for ieaters
Mention ieatishootipost and get $10 dollars off for the first $60 spent. It is good to note that the restaurant does not charge the 10% service charge.