With Taukwa and Cactuskit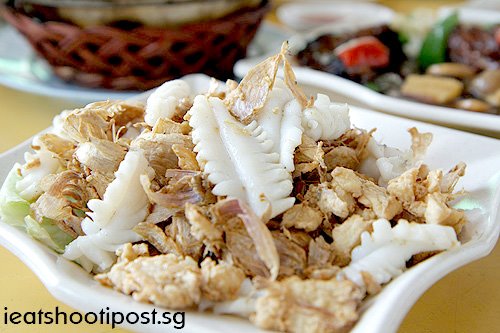 Fried Sotong with Crispy Garlic $8
Our favourite Thai food when we were living in Bangkok was not the typical staple that we order here whenever we visit a Thai Restaurant. One of my favourite dishes was Pad Krapau which loosely translates to fried basil leaves. Although it is called "Pad Krapau", minced pork seems to be the main part of the dish. Another dish that I love was the Kana Pad Mu Krop, or fried Kale with Deep Fried Pork Belly. Hmmmm…… I used to just pop downstairs (of my apartment) for a Kana Pad Mu Krop with rice for just 20 baht (80 cents) and that was a simple and very satisfying meal that really hit the spot.

Now, that kind of food is still hard to find in Singapore, which is why I quickly came down to investigate this little eatery when I heard about it from some of my patients.
It turns out that it is run by a Thai Lao Ban Niang who is married to a Singaporean man. To be able to order Thai food in Thai is usually a good sign that the food is going to be quite authentic.
Everyone tells me that there are three dishes here that are outstanding. The garlic sotong, kangkong with chili padi and the butter pork ribs. So I ordered these, but our man, Cactuskit just couldn't resist ordering some other dishes that looked good on the signboard.
One of the things the Thais love to do is the fry the garlic with the skin intact. In Thailand, they have these really small garlic which are sweet and very aromatic. Unfortunately, I haven't seen such garlic here, but what they did was to use the commonly available garlic for the Garlic Sotong which was eaten with a chilli dip. The Lao Ban Niang told us it was actually a dish to accompany beer. To borrow the phrase from one of our readers' daughter, it was "Bombastical" (meaning quite Shiok). However, please be aware that you would end up with a breath that would scare off a Vampire with a severe cold. 4.25/5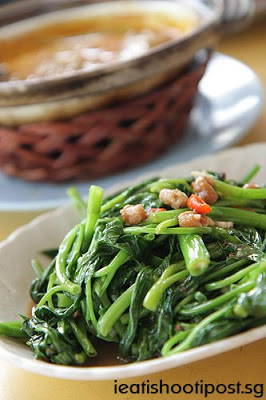 Boong Fai Daeng (Kangkong with Chili Padi) $6
Perhaps the dish that really did it for me was the Boong Fai Daeng. Fai Daeng literally means "Red Light" and refers to the red colour of the chilli padi on the bed of greens. In Thailand, this dish is usually made with the leaves of the morning glory, but in Singapore we use Kangkong instead. (Please see interesting discussion on this in our comments section) The signature taste of the dish is a smooth caramel Wok Hei flavour and this one really did remind me of the real deal. 4.5/5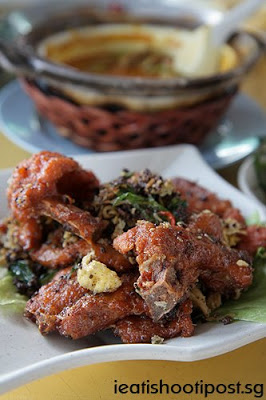 Butter Pork Ribs $8
I was a little dissappointed with the Butter Pork Ribs though. Perhaps I was expecting it to be like the excellent one I had at Two Chefs. Their version is very different. The deep fried and then topped with a mixture of deep fried eggs, basil, chilli padi and dark brown morsels which we assumed was the butter. This was supposed to be one of their signature dishes but I wasn't overly impressed by it. 3.5/5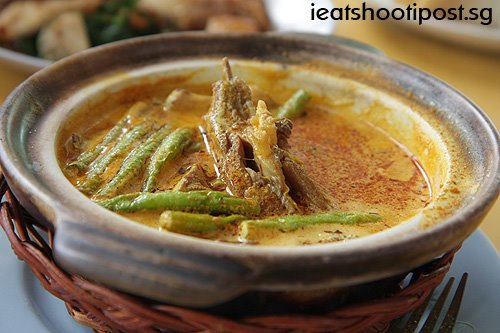 Curry Mutton $4
Cactuskit just had to order their curry mutton which is part of their repertoire of "Value Meals" I was really quite surprised that the whole claypot of curry was only $4 and it had quite a few pieces of mutton in it! Frankly it looked more like a $8 dish. It was creamy and spicy, definitely can eat but not exceptional. 3.75/5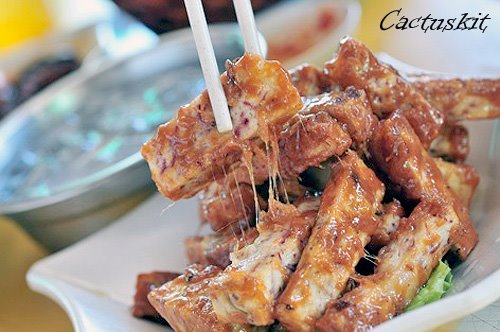 Caramelised Yam $6 – photo by Cactuskit
We had a surprise off menu dessert of caramelised yam with compliments from the Lao Ban Niang who was so charmed by Cactuskit. If you recall, Cactus was the "Aunty Killer" who also charmed the Kway Chap Aunty from Yong Li into inviting his family to her home for a very special dinner.
This dish has to be eaten hot, while the sugar is still sticky. It is picked up and dunked into a bowl of ice water which then hardens the caramel. If you wait too long, the whole dish will be one big piece of rock hard candy. The contrast of the crunchy caramel with the powdery yam got Cactuskit so excited that he finished almost the whole plate by himself. 4/5
Conclusion
Good place to go for a cheap Cze Char with some rather unique Thai inspired dishes.