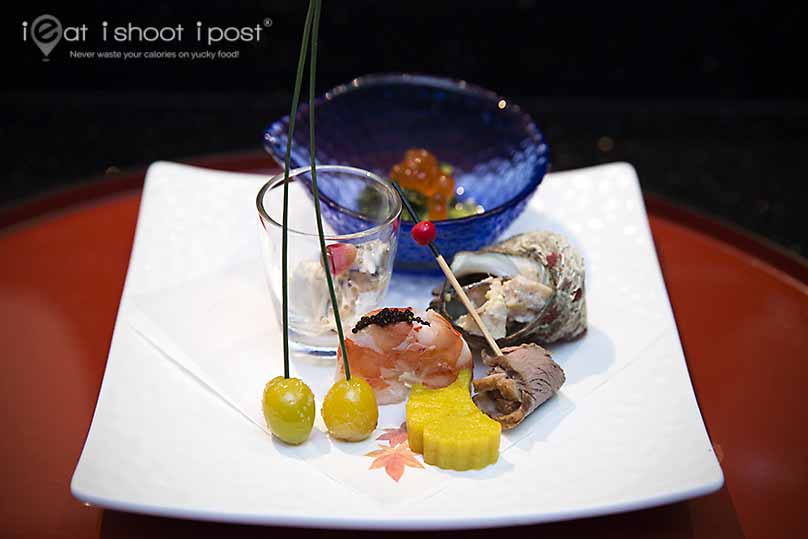 Japanese food used to be so exclusive.  This was certainly the case when Shima opened its doors in 1980.  At that time, it was one of only a few Japanese restaurants in town.  That is quite hard to believe,  given today's vibrant Japanese food scene.  But, there was a time when the average Singaporean would balk at eating raw fish, not to mention paying a premium for food that doesn't even require any cooking!  Those were the days when "chashoba" (green tea soba) could be mistaken for "cha siu bak" (roast pork)!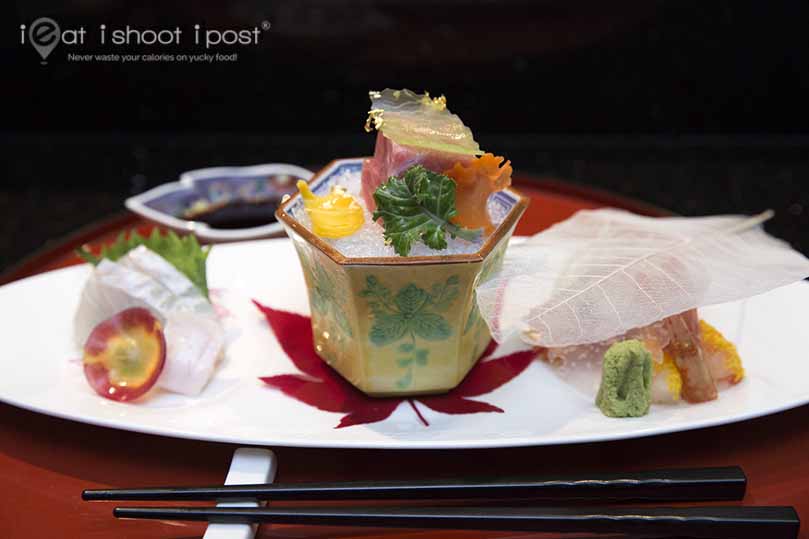 Since then, Shima's predominance has been overshadowed by the deluge of new Japanese eateries.   It still holds a soft spot for patrons who have fond memories of eating there as a kid, much like other institutions such as Shashlik.  Although it underwent renovations a few years ago, the place still has an old school feel about it.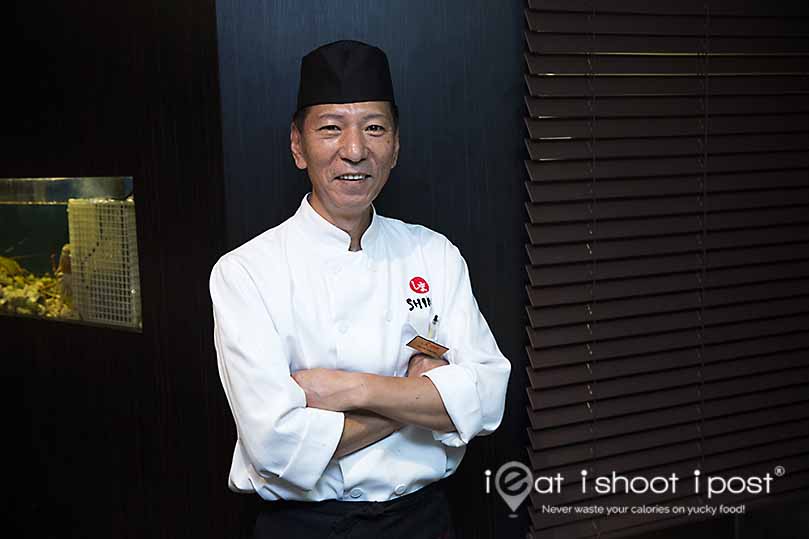 To inject new life into the restaurant, the management has managed to attract veteran Kaiseki chef Hoshiba Fumihiko to helm its new kaiseki menu. Chef Hoshiba is one of the most awarded kaiseki chefs in Hokkaido with over 40 years of culinary experience, 30 of which was spent at the Koishikawa restaurant in Tokyo Dome, Sapporo.  Regarded as one of the best kaiseki chefs in Hokkaido, he also formerly served as chairman of the National Culinary Society of Japan.
I was attracted by the $88++ kaiseki dinner menu which is very good value by today's standards.   The eight course dinner started with a sakizuke course; the equivalent of an amuse bouche in French cuisine.  Chef presented several bite sized items of which the yuzu aigamo, ie aigamo duck steamed with yuzu was the most interesting.  4/5 It was followed by an elaborately presented sashimi platter which was beautifully decorated with gold leaf and slices of daikon meticulously cut to resemble chrysanthemum flowers.  4.25/5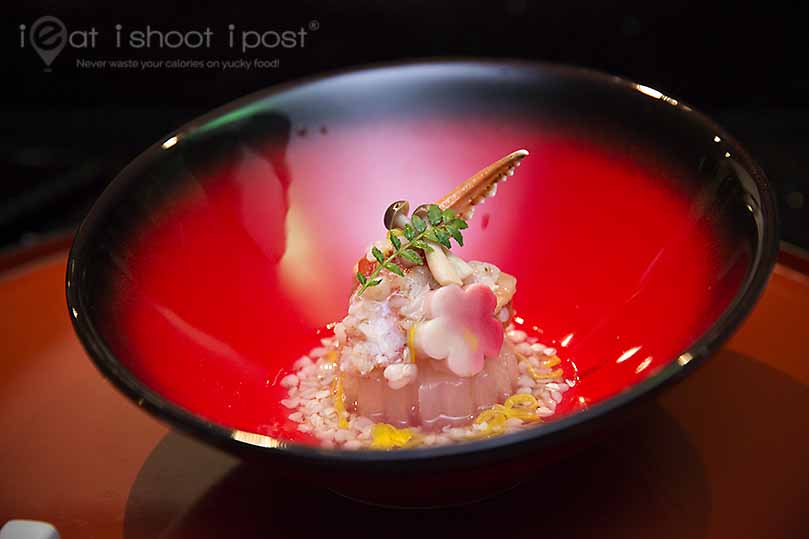 The first dish that really caught my attention was the chawanmushi.  The flavour of the dashi was robust and the egg custard, smooth. It had great depth of flavour which is testament to the chef's mastery of the dashi stock.  At the bottom was a layer of house-made goma tofu which added another layer of flavour and a layer of shark's fin on top gave it very interesting textural contrast. 4.5/5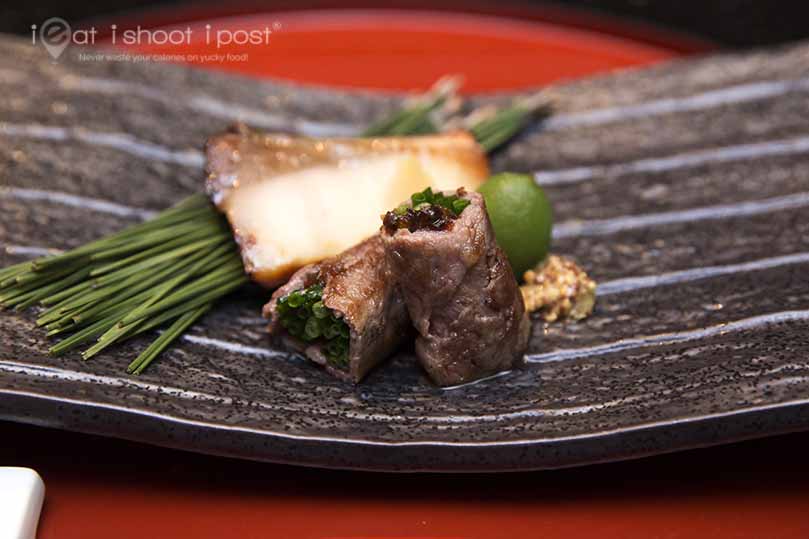 I also enjoyed the yakimono course where chef presented a slice grilled hamachi which as been marinated with miso from Kyoto for three days.  It would have been even better if he had used the oilier gindara but it was tasty nontheless.  The grilled wagyu with green onions was also very good, though you can just about imagine what that would taste like. 4.25/5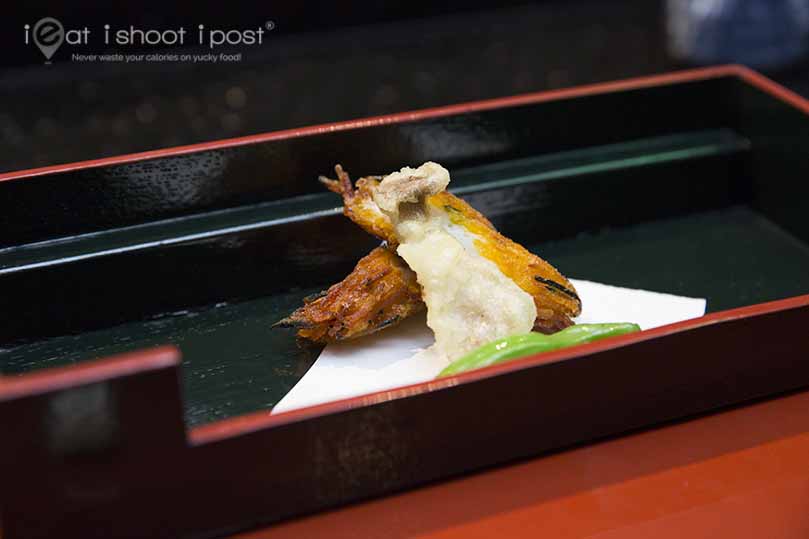 Another course which really stood out for me was the agemono (fried food)  where Chef presented a house made fish paste covered with crunchy shredded sweet potatoes. Oishii! 4.25/5
*The full course is shown in the video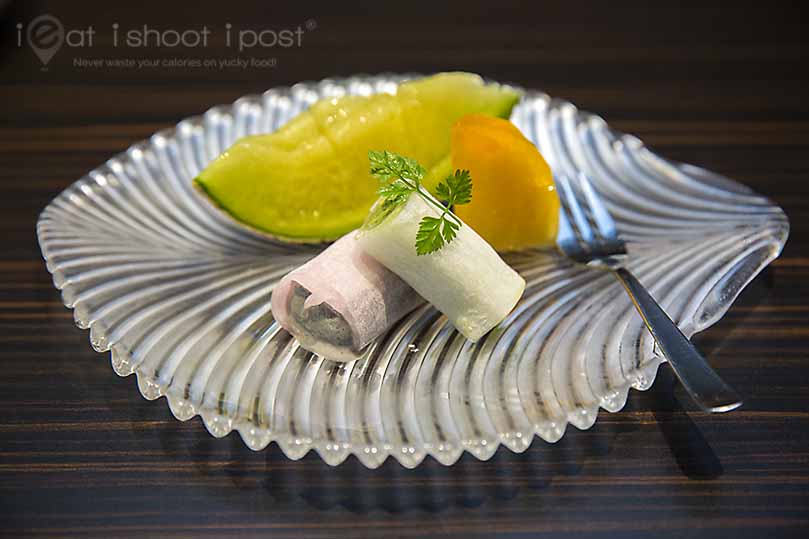 For dessert, we had some ice cream wrapped in mochi sheets and seasonal Japanese fruits.
Conclusion
The kaiseki course was beautifully presented and there is no doubt that Chef Hoshiba is a very accomplished kaiseki chef.  The $88 kaiseki course is very good value  by today's standard.  There are also $188 and $288 options available for dinner.  Lunch starts at $48 for a six course meal.  The environment is a little dated which might be good for those looking for a bit of nostalgia, but in today's competitive environment, patrons might be expecting hinoki wood table tops instead of granite.
Disclosure
This was a media tasting.  That means that the food was provided free of obligation and no fee as paid for the review.