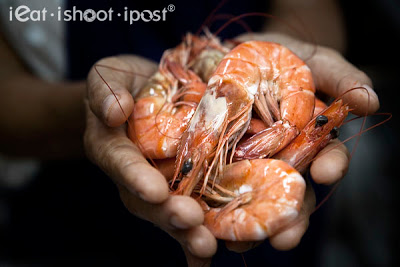 Unfortunately they have stopped after 48 years!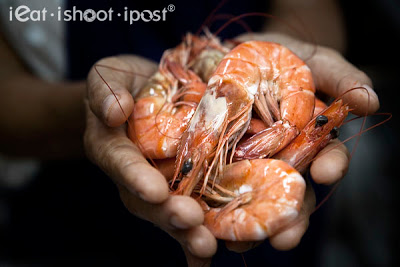 Handful of good sized Prawns for frying Hokkien Mee
I love talking to Heritage Hawkers like Uncle Loh and his wife who runs a little stall selling Hokkien Mee in East Coast Lagoon Food Centre. Uncle has been frying Hokkien Mee since he was 15 years old back in 1958 where he worked as an apprentice for Hokkien Mee Hawker who has been selling Hokkien Mee from a pushcart since 1940. He tells me that it takes 5 years to master the art of frying Hokkien Mee, or at least that is how long he took before he struck out with his own pushcart along the Tanjung Rhu area in 1963. He finally got his permanent stall in the 1970's when they open East Coast Lagoon Food Centre. If you live in the East like Holydrummer, you might have also grown up eating his Hokkien Mee!
Uncle is already past 70 but he is still spends most of his time at the stall frying Hokkien Mee. Aunty still goes about her work of taking orders with a big smile on her face and her eyes will light up when she talks about her son who is working in the EDB as one of their Directors based in the US. It doesn't sound like there is going to be anyone to take over the stall once Uncle decides to retire.So, if you want to try some authentic, old school Hokkien Mee, you should make a beeline to this stall soon!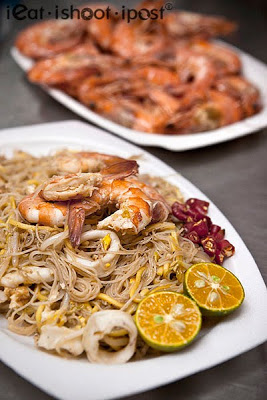 Hokkien Mee: Price from $4
As you well know, there are two broad schools of Hokkien Mee. The original version is dryer and fried with thin Bee Hoon. The newer version has the thick laksa bee hoon and is wet and gooey. I like both versions depending on which stall I am eating at. The beauty of the thin bee hoon version is that they add the bee hoon while it is still dehydrated, so the bee hoon soaks up all the prawn stock and is especially tasty when they are fried well. Actually, this type of Hokkien Mee should be called Hokkien Bee Hoon because there is more Bee Hoon than Mee!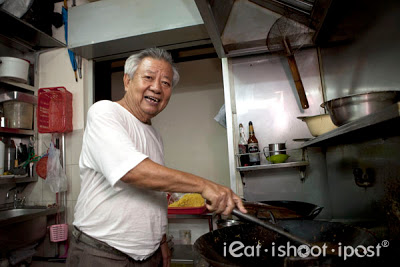 I have eaten at this stall several times, but I never really took much notice until this occasion. The noodles I had this particular night was exceptionally tasty and well fried. Perhaps Uncle wasn't as busy that night and managed to give the noodles a few more swirls. The bee hoon were very tasty and they are actually excellent value as even the $3 plate comes with nice and juicy medium sized prawns. It's too bad that Uncle has decided not to add the belly pork anymore. 4.25/5</div>
Conclusion
Great place to get a plate of old school Hokkien Mee to go with some Satay! If you are a fan of thin bee hoon style Hokkien Mee, then this should definitely be included in your eat list!