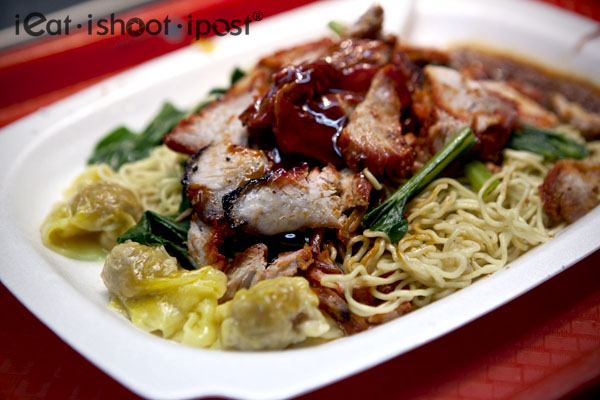 When I was a kid, mom used to buy Charsiew home from the market. The Charsiew always comes with a little bag of sweet Charsiew sauce which is great to use for our fried rice. I think the last time I ate it must have been 20 years ago. Hey, as kids we just love everything sweet OK?
Now, this Wanton Mee stall is famous for one thing and that is the fact that it is one of the few Wanton Mee stalls which douse their Wanton Mee with sweet Char Siew sauce. They do have lots of fans who rave about their Charsiew sauce. With such popularity, I often wonder why not many other Wanton mee stalls just copy what they are doing? Afterall, it is just a matter of adding the Charsiew gravy onto the noodles right?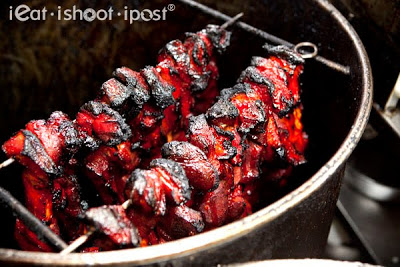 While I think that this is a nice plate of Wanton Mee but I am not crazy about it. The Charsiew is nice but not stellar even though they are charcoal roasted on the premises. They have a special machine to slice the charsiew and it always comes out a little ragged and by the time you eat it and it is a tad dry. I have eaten here a few times already and everytime, I always come away feeling that the noodles are a little starchy. Wontans are good but again, not remarkable.
4/5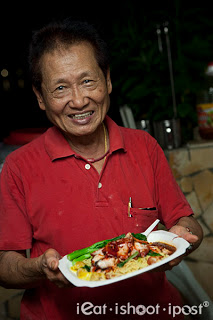 Conclusion
I think my personal taste for Wanton Mee has changed over the course of the last few years. I would have loved this Wanton Mee years ago because of the Char Siew sauce. Now however, I am looking for a plate of noodles where I can appreciate the original flavour of the noodles with just a light flavouring sauce. The Charsiew is still important to me and if I can get a few slices of succulent Bu Jian Tian (marbled Charsiew) that would score big time. However, if you are hankering for Wanton Mee late at night, this is still a famous stall where you can satisfy your Wanton Mee craving.