This stall has reopened in a new location – updated 25 Jan 2016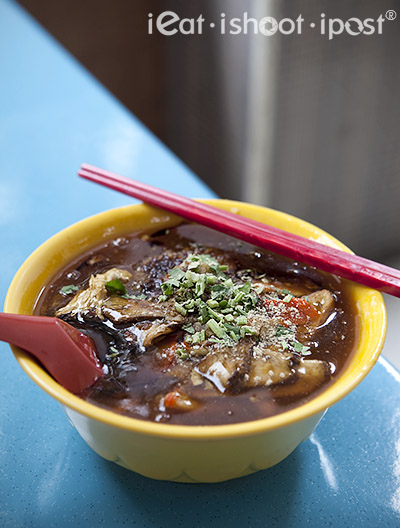 You can categorize hawker foods several ways. You could have a group called "Superstars of Hawker Cuisine" which would consist of foods like Chicken Rice, Hokkien Mee, Laksa and Satay where every tourist that comes to Singapore must eat. If that be the case, then the next category would be the "Unsung Heros of Hawker Cuisine" which are the dishes that most Singaporeans love, but which get no attention from the Singapore Tourism Board. These would be dishes like Mee Pok Tar, Wanton Mee and Fish Soup. Or you could categorize them into "Sinful Hawker Foods" of which Char Kway Teow and Orh Luak (Oyster Omelette) would feature as the prime culprits.
Now what kind of category would I place Lor Mee under, you think? I guess it could go under "Less popular Hawker dishes with long Queues". Under this category, I would also put dishes like Satay Bee Hoon of which there are a few popular stalls that command super long queues but which no other hawkers seem interested to steal a piece of the pie.
Lor Mee is not one of those dishes that I dream about eating frequently, like, say, Roti Prata. That is of course a personal preference. I wonder if there are any readers out there who would eat Lor Mee on a weekly basis? Well, you might if you found a bowl of Lor Mee as good as the one at Bukit Purmei.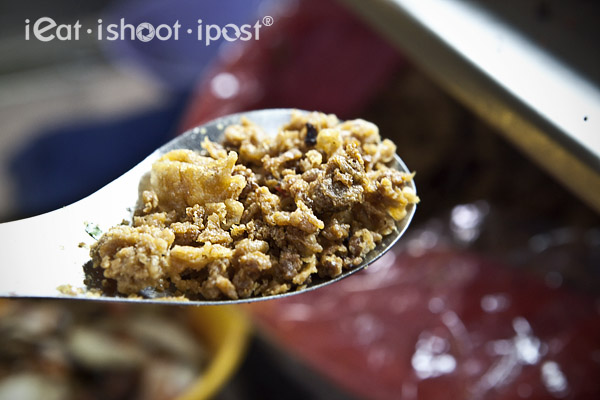 The beauty of Lor Mee lies in the contrast of textures. The most prominent is the contrast between the sticky, gooey,slimysauce and the crunchy fried bits. For me, the shiokness of Lor Mee is nibbling onthe crunchy, salty, savoury fried nuggets of flavoured batter coated in theslimy, sweet, garlicky, sourish sauce. Ever wondered what those frilly fried bits are? The closest thing I could compare them to are the crunchy fried bits that go into Poh Piah, or even Popcorn Chicken. It is a wonder why I don't eat Lor Mee more often!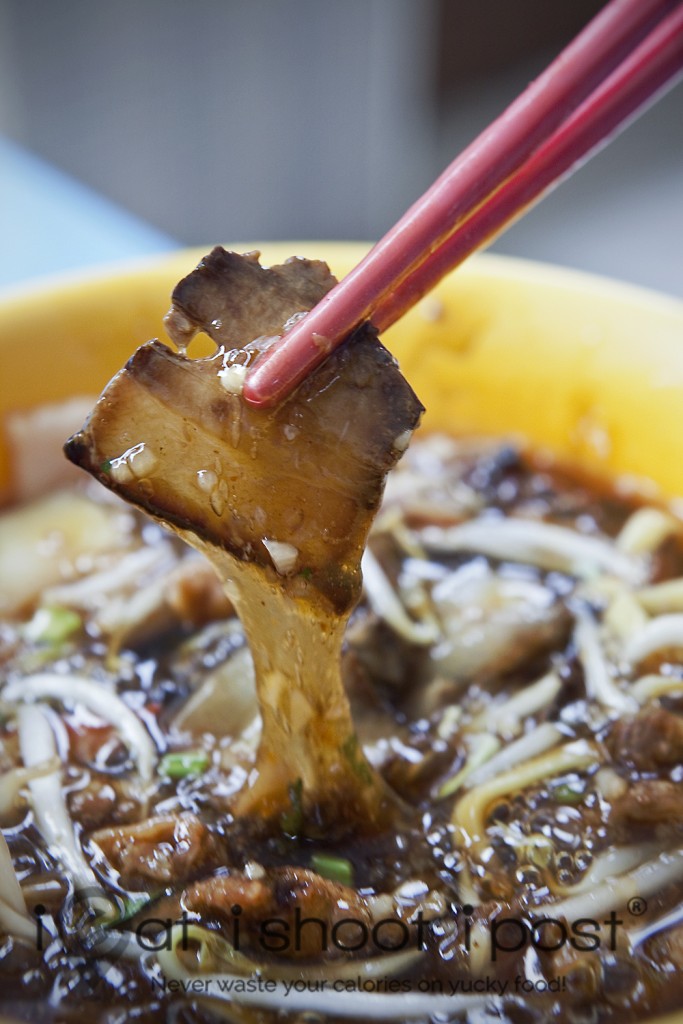 Now, it is not easy to get so many textures and tastes in perfect balance. But when it happens, you have a bowl of gooey goodness to behold. The owner, Mr Teo, somehow just manages to do that and has produced one really tasty bowl of Lor Mee. Unlike the Lor (braising sauce) of Braised Duck where the role of the Lor is to flavour the duck, the Lor in Lor Mee is the main star of the show. Mr Teo tells me that the sauce made from pork bones, spices and egg white and is made fresh every morning when he gets to the stall at 5am. By 7.30am, it is ready to be served. Aside from the Lor, the other two ingredients which act as supporting actors are the chopped garlic and black vinegar. The vinegar is also specially flavoured with a secret blend of spices and this very important condiment gives the Lor a well balanced and rounded taste which coats the whole of the palate. 4.5/5
Now, here is a little tip for those who are visiting the stall for the first time. The standard bowl of Lor Mee comes with sliced lean Lor Bak, crunchy bits, ngor hiang, pork chops and charsiew. If you want to make the Lor Mee extra special, ask him for his special stash of braised Pork Belly which he prepares for his regulars. He tells me that most people nowadays try to avoid fatty meat which is why he serves the lean braised meat. But for the ultimate bowl of Lor Mee, his regulars know that the secret is in the braised pork belly!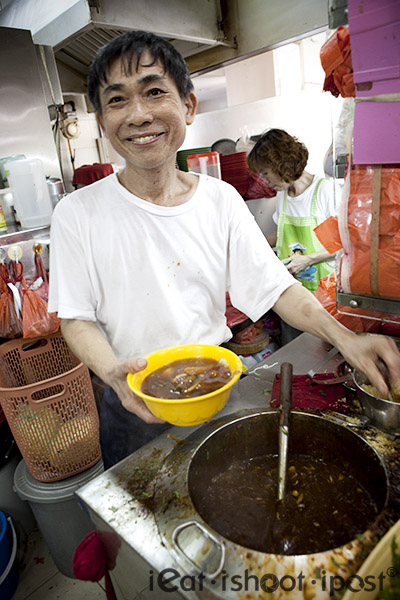 Lor Mee is a Hokkien dish that originated from Xiamen in Fujian province. When Mr Teo's father arrived from Xiamen in the 50's, he started selling Lor Mee because that was what he was familiar with. In those days, Lor Mee only had three ingredients, viz shredded fish, belly pork and egg. Mr Teo tells me that the Lor Mee in the past was even more sticky then it is nowadays! Wow, that is really sticky!
He and his sister took over the business and settled in a stall in Tiong Bahru food centre in the 70's. Then 15 years ago, he left the stall in Tiong Bahru to open his own stall in Bukit Purmei. It is at this time that he made the crunchy bits in order to differentiate himself from his sister's stall in Tiong Bahru. He also stopped putting shredded fish in his Lor Mee because there were occasions when he couldn't get hold of the freshest fish, so he decided to do away it it altogether. So, like many of our other hawker dishes, our Lor Mee had its origins in China, but has sinced evolved into something unique to Singapore such that it is nothing like the version you get in Xiamen today.
Conclusion
It's sticky, gooey, crunchy, savoury and shiok! Need I say more?
Thanks to Sen for the upload!