With PK, smart, liverpool, tamago, yummydummies and iwatch_ueat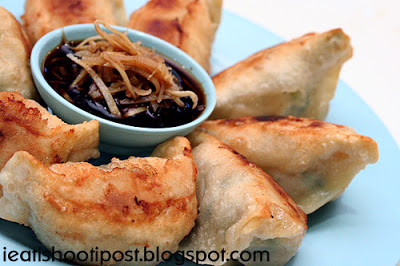 Next time you are at Sim Lim Square and are feeling peckish after all that shopping for computer stuff, make sure you visit this Shanghai Delights stall at the food court. I guarantee (Did I say guarantee? I take it back. No guarantee, no refunds!) that you are going to be delighted! Just look at how big and juicy the Guo Tie is! At 50 cents a piece, it is a real bargain.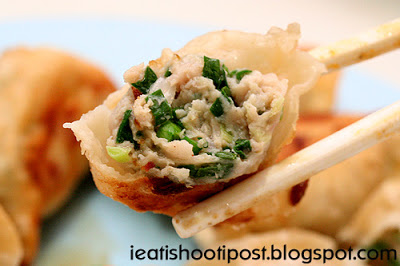 The skin is nice and crisp and the filling is generous and juicy. I felt the filling could do with a bit more ooomph though. 4/5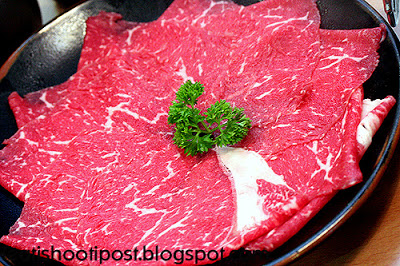 The one dish that you really MUST TRY is the Stir Fried Beef with rice. Yes, when I was recommended the Stir Fried Beef with rice, my first reaction was also: "Huh? Sure or not?" How good can this be? BUT it was GOOD! There was some flavour in the Beef that triggered that part of my brain that archives tastes. I couldn't put my finger on it, but there was something in the Beef that triggered a brief flashback to my childhood days. It tasted like some sort of really tasty canned meat, like Ma Ling Kong Bak or something like that. It got me tasting it again and again to try to retrieve the info from the deep storage archives of my temporal lobes. Unfortunately I still could not positively identify the flavour, but boy was it pleasurable. 4.5/5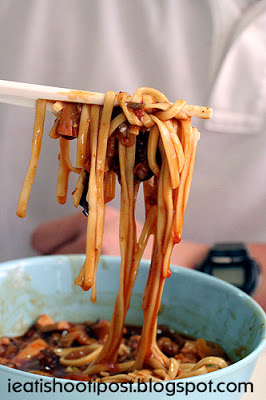 The other signature dish is the SzeChuan La Mian. Not bad if you like Hot and Sour soup. The gravy was full of chucky chicken pieces and the bowl was very generous. Quite shiok on a cold rainy day! 4/5

Conclusion
Great food and very generous portions! Though there are an increasing number of Shanghainese food places springing up in Food Centres, this has got to be one of the best ones around for affordable and shiok Shanghainese Food.