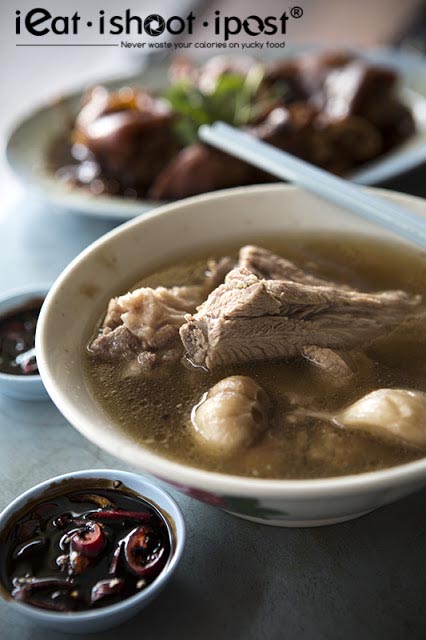 My physiotherapist told me about this Bak Kut Teh while he was working on my Bak Kut (Backbone).
When I have to lie down for half an hour to have your neck and back bones mobilized and twisted, our conversation would usually gravitate towards where to eat next. So he was telling me about this particular stall in Ang Mo Kio which he grew up eating. It was, in his opinion, the best Bak Kut Teh in town.
So while he held my head in a neck lock, about to give it a good crack, he gently persuaded me to blog about it.
I couldn't say no now, could I?
So I made my way to this Mom and Pop (MnP) Bak Kut Teh shop in Ang Mo Kio one day to see what the fuss was all about. I make the distinction between MnP BKT and the BKT served by famous joints like Song Fa, Ya Hua, Ng Ah Sio etc because there is a fundamental difference in the way they prepare the Bak Kut Teh. The large restaurants tend to cook a big pot of soup base separately from the ribs that they will serve in the dish, whereas the MnP shops tend to simply boil the pork bones together with the soup and spices just like grandma used to do at home. As a result, I always find that the soups sold at these larger restaurants tend to be more robust while the MnP BKT tends to be a little more "Cheng" (clear).
I also find with such shops, consistency can be a problem. The quality of the soup can sometimes depend on whether it is a freshly cooked pot or if it has been simmering away for a while. The soup from a fresh new pot can sometimes lack depth and the meat might be a tad tough while one which has had too much simmering time can mean the meat has dried out, but the soup will be very tasty. With this in mind, I think that my bowl of Bak Kut Teh that day might have come from a fresh pot as it lacks the depth of flavour. 4/5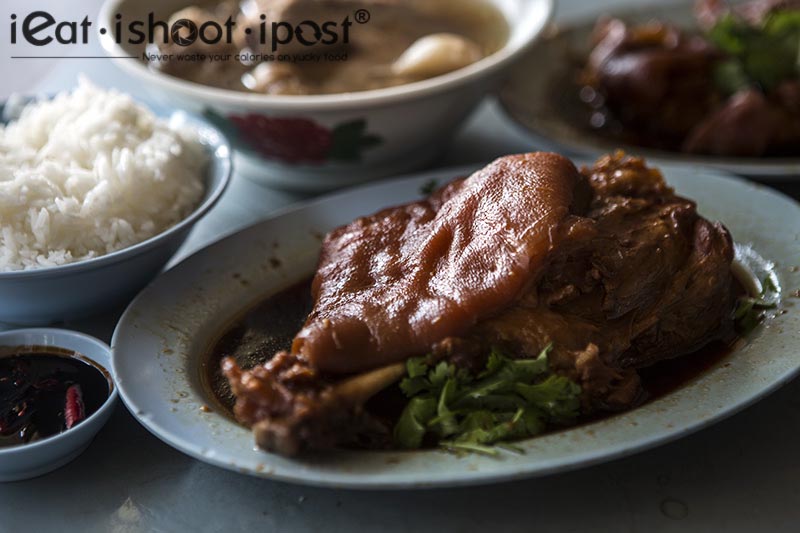 The Ter Kah on the other hand was very good. The meat was braised till it was falling off the bone tender and the skin was a nice springy consistency. Still not the holy grail of Ter Kah as I felt the braising sauce still lacks that addictive umami flavour, but its commendable. 4.25/5
Conclusion
Good place for a round of Bak Kut Teh if you are in the Ang Mo Kio area.