With Damien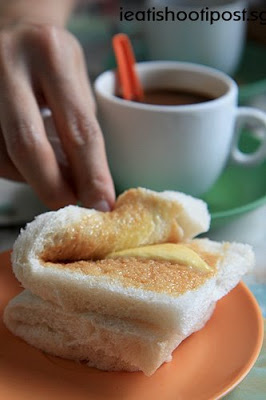 Steamed Lohti with Peanut Butter 50 cents per slice
Nostalgia is a precious commodity in Singapore. In our fast paced society where "Land is Scarce" most places only have a limited lifespan. So you are not likely to find the old oak tree where grandpa was supposed to meet grandma and run away together. A lot of the significant spots that Amagada and I fondly remember from our dating days have either been renovated or demolished altogether. Heck, even SM Goh's old dating hotspot, the National Library, is no more.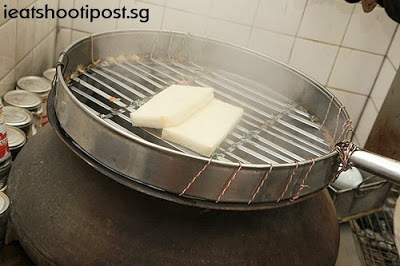 Bread steaming over pot of boiling water
So when Damien mentioned this old coffeeshop which still steam their Lohti (traditional bread), I got really excited.
It gets better. Not only were they steaming their Lohti, they were still boiling water from an ancient pot which, I am told is at least 70 years old. Rest assured, they clean the pot and decant the water at the end of the day, so it is not one of those legendary braising sauce stories where the pots are never washed out and theoretically, you can still be eating the part of same sauce from great grandpa's days.
You hardly see steamed bread nowadays, but I tell you, it really is very shiok! I was literally transported back in time ala Anton Ego's flashback sequence from Ratatouille. Mom used to steam bread for Grandma who prefers it to toast as it is easier on her dentures. In those days I never really appreciated steamed bread. In fact, when Gardenia made its first appearance in our supermarket shelves, we were all awed by its "so good you can eat it on its own" tagline and we kids looked upon steamed Lohti as passe.
Needless to say, the steamed Lohti with peanut butter was one of the best things I have eaten. It's warm and it is superduper soft. No wonder Grandma could gum it without her dentures! It was so good, I had to order a second serving and I would have a third if not for the fact that we came here right after lunch. 4.5/5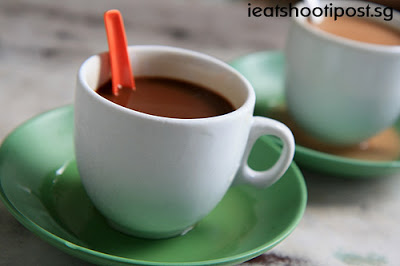 Kopi 80 cents
The Kopi here is what it should be like. Thick, full bodied, creamy and fragrant. It's no wonder since they can trace their origins back to Tong Ya at Keong Saik Road. It happens that 40 years ago, the third son of the owner of Tong Ya left to open his own coffeeshop right here. Just like Tong Ya, the coffee tends to be a little on the bitter side but this can be fixed easily with the addition of evaporated milk if you don't like it too bitter. 4.25/5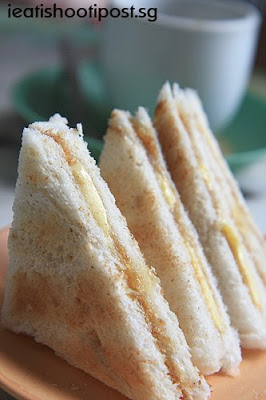 Kaya Toast
The Kaya Toast is good here but would have been better if they made their own Kaya. With so many places making Kaya Toast nowadays, you really do need homemade kaya in order to stand out. 3.75/5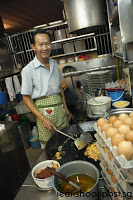 Mr Tan standing at the original counter brought over from Keong Saik Road
Conclusion
I wonder why not many other places serve steamed bread. It is really very very shiok and sitting in that old coffeeshop, sipping Kopi and eating soft lohti is just one of those things in life that are so simple and yet so enjoyable. And all for less than two bucks!