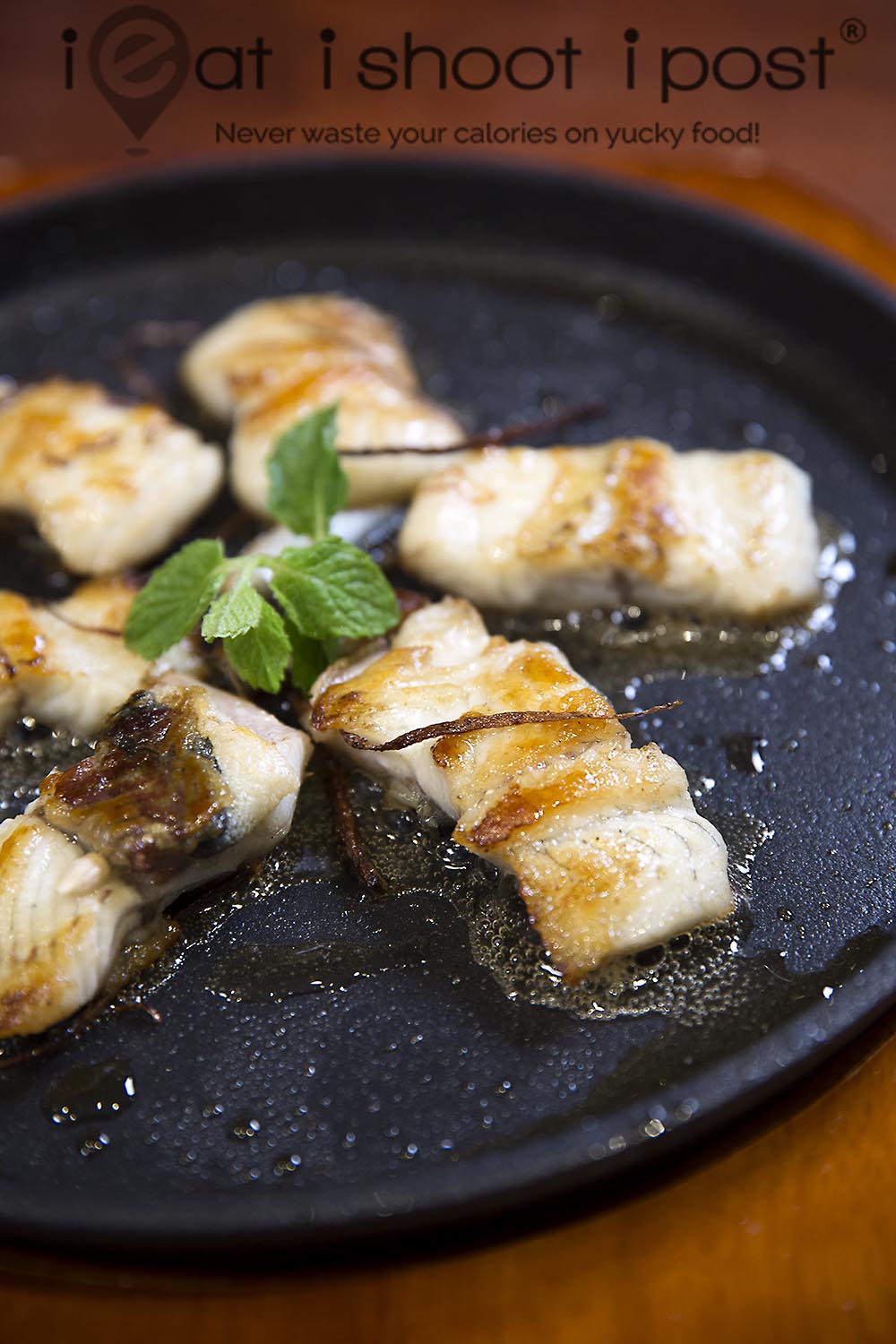 Sep 2020 Update
We were back at PUTIEN, this time at their new outlet at Great World to check out their live eels again. In addition to eels cooked on hot plate and in natural spring water, this year they are baking them in a claypot with a moreish garlic and Puning bean sauce! In this new video, we introduce this year's new eel dish and walk you through some of their signature dishes and the specially sourced ingredients that go into making them!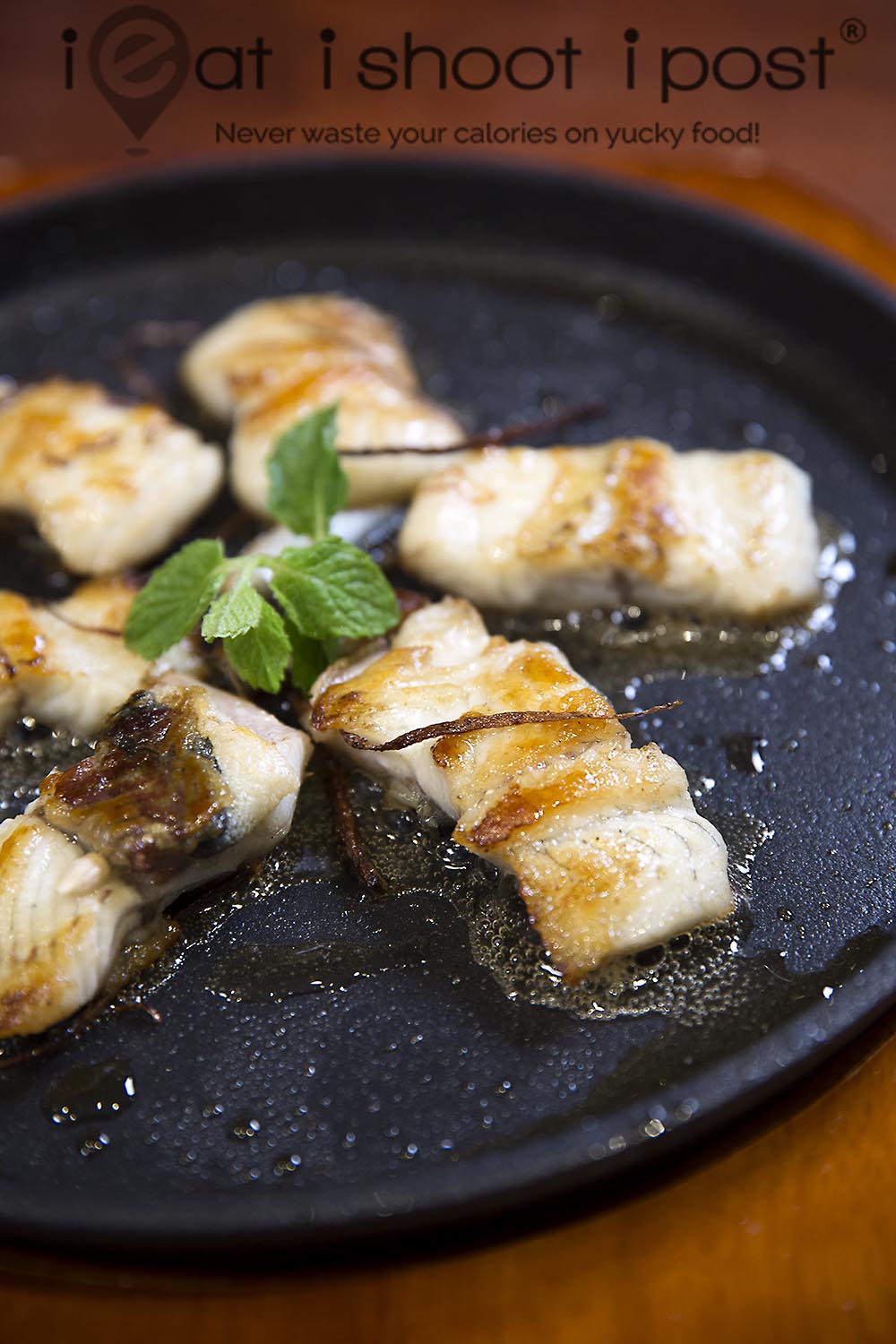 One thing that sets PUTIEN apart from a lot of other Chinese restaurants is the meticulous sourcing of produce and ingredients direct from the Putian region in China. Regular patrons of the restaurant would wait in anticipation of seasonal ingredients such as DUOTOU clams and Oysters which are specially sourced from the region. The uniqueness, quality and precise execution of seasonal ingredients is one of reasons they are a Michelin Star restaurant.
I first wrote about PUTIEN in 2006 when they were still a lone restaurant selling dishes from the hometown of its founder, Mr Fong Chi Chung.  That humble eatery has since expanded into an International restaurant empire with 70 outlets across the Asia Pacific region!  Their commitment to sourcing regional ingredients and commitment to quality has won them a Michelin star since 2016.
Live Eel Season 2019
This year, PUTIEN is introducing another seasonal ingredient — live eels — which are at their prime between August and October as they fatten up to prepare for the spawning season.  Most of us would be  familiar with unagi in Japanese cuisine and probably that is the only time we encounter this particular fish. It is quite interesting to see that the Chinese also have a tradition of eating eels!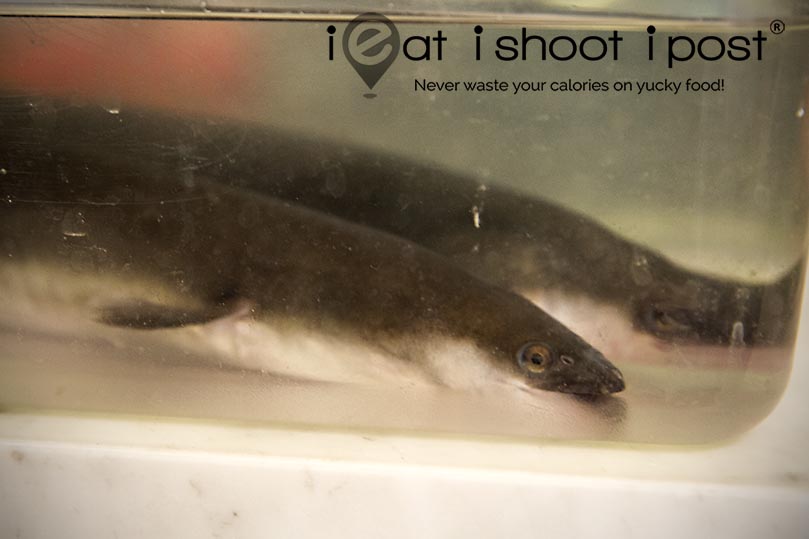 Being a coastal province, the cuisine of Putian, known as "Heng Hwa" cuisine places much emphasis on the freshness of the produce and simplicity of cooking in order to bring out its natural flavour.
The eels are thus cooked very simply in two ways.  A soup dish which uses the belly portion of the fish and a pan fried dish using the meatier portions.
With the fried version, eel fillets are simply pan fried on a hotplate and as the fats melt, the natural aroma of the eel fills the air.  Then, it is simply topped with julienned ginger and a sprinkling of natural sea salt and served.
The meat is a tender and juicy due to its natural fat content and flavour is sweet and completely devoid of any fishy odour as the fish are harvested barely 24 hours earlier and arrive in Singapore still very much alive and active.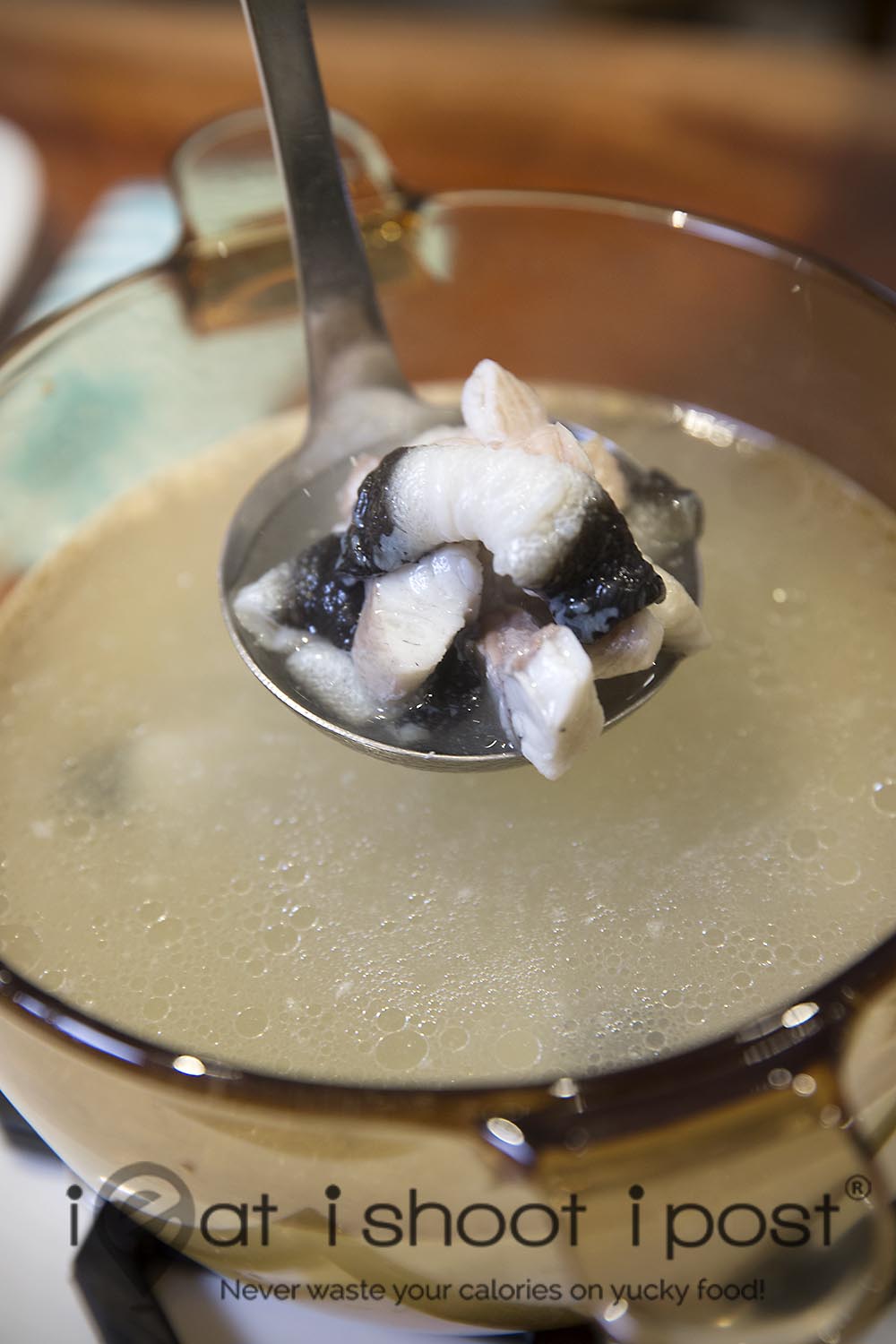 I was quite surprised to find that the eel soup was also treated so simply.  The belly fillets are simply added into a glass pot of mineral water and simmered for 10mins.  Only ginger, goji berries and salt are added for flavouring.
My initial impression was that this dish is too simple to be served in such a fine restaurant! But I am reminded of the founder's philosophy of wanting to make his mum's simple cooking available to the masses, thus its necessary simplicity.  Like the philosophy underlying sushi, the spotlight is on the raw ingredient rather than the seasonings!
The soup turned out to be amazingly sweet and you can really taste the natural flavour of the eel!
Classic Treasures of Fujian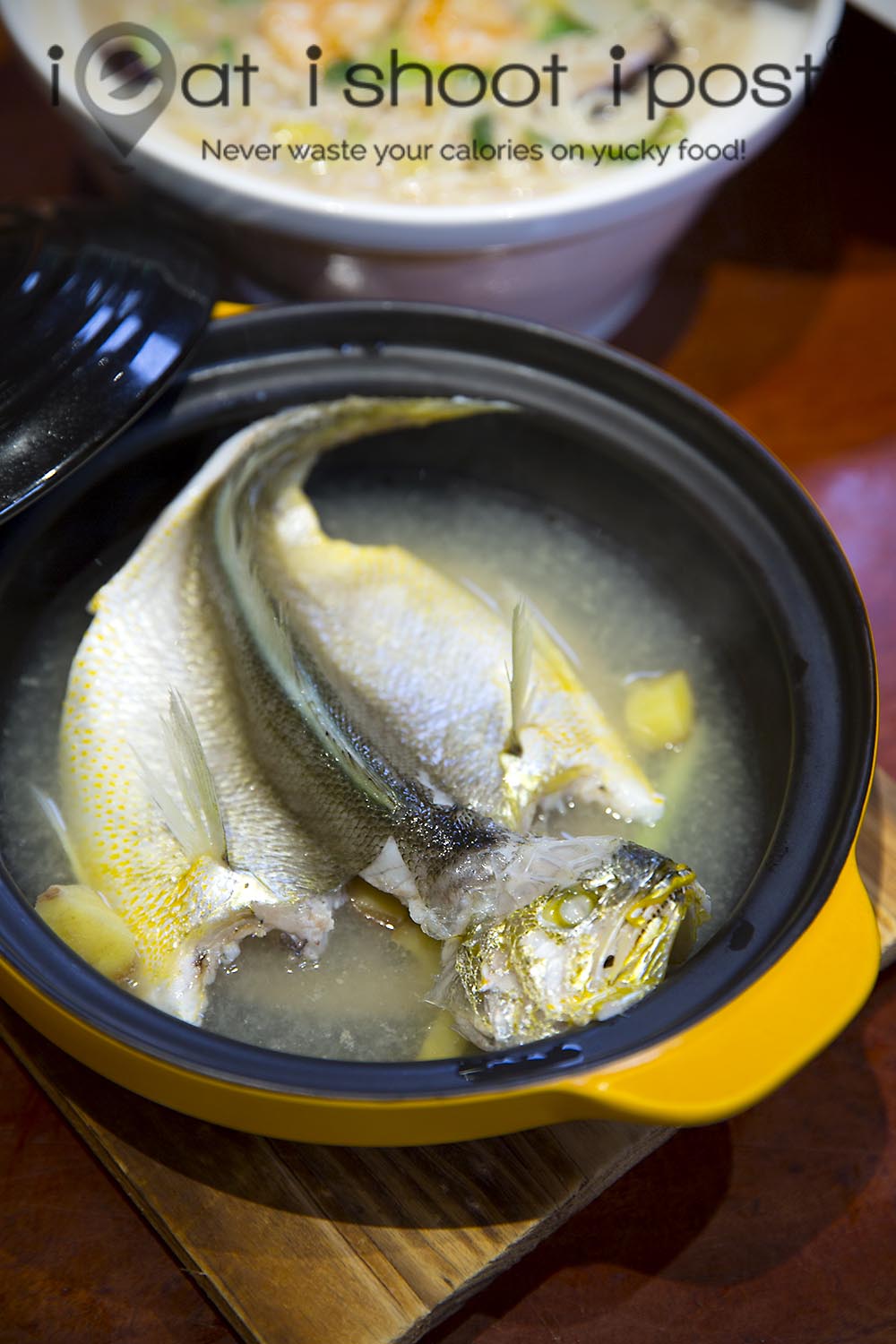 Aside from seasonal ingredients, PUTIEN also procures regional produce like the yellow croaker fish.  These fish are harvested from farms in Xiapu, off the Fujian coast and in order to preserve their brillant yellow colour, they need to be harvested at midnight when they are at their most iridescent.  The fish are then immediately packed into ice and air freighted to Singapore and other restaurants in the region.
The cooking method is also very simple, using just some ginger and green onions and soy sauce.  The fish is placed in a claypot, covered and cooked for precisely 100 seconds and served.
It's quite amazing to see a fish being cooked in just over one and a half minutes!  Usually it would takes around 8 to 10 minutes to do a Teochew style steamed pomfret. But the combination of the claypot, the way the fish is presented and the fact that the fish is both steamed and poached at the same time results in a short cooking time, thereby preserving its texture yet preserving its original flavours.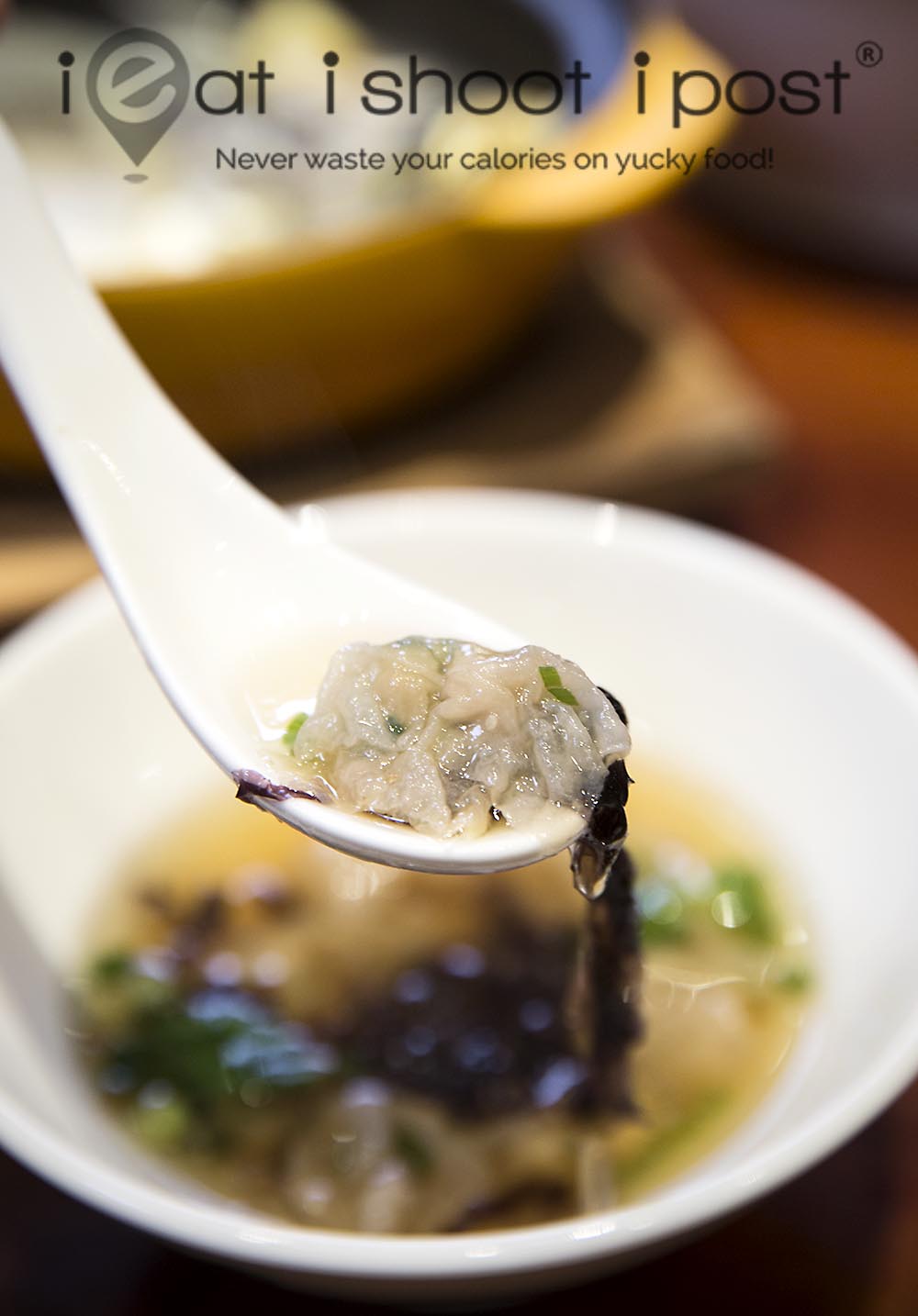 Another signature dish is their bian rou soup which is like a tiny wonton soup but with a big difference.  The skin is made of pork meat which has been pounded 12,000 times to become tissue thin.  But this particular skin isn't just made a any old factory, it is actually procured from Master Chef Wen Biao, a Fujian native who has been making the skin by hand for over four decades!
In a sense it is very much like Teochew her giao where there skin is made from fish paste, but the wrapper here is much thinner and has a whole different texture.  The dumplings are excellent!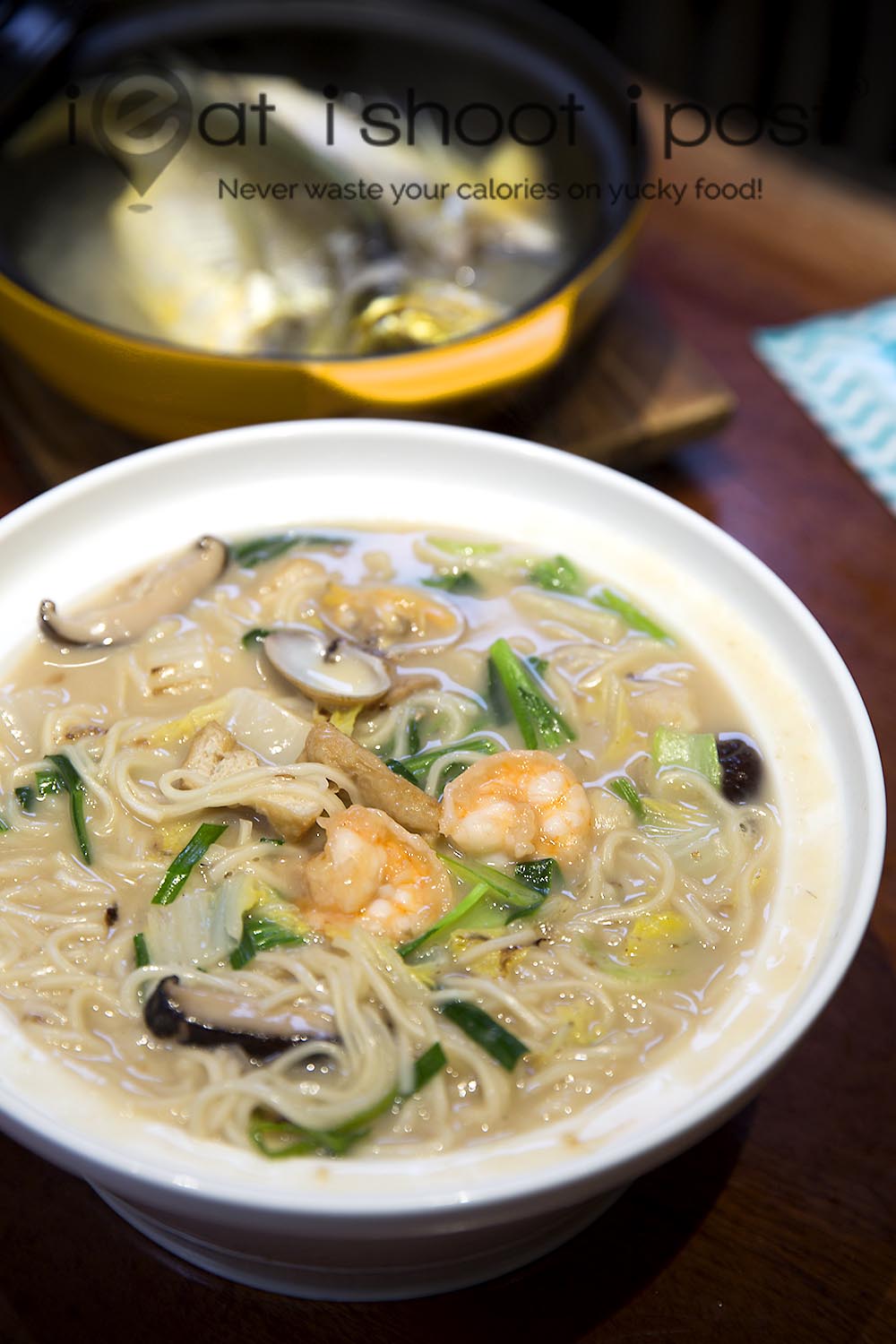 Heng Hwa lor mee (lu mian) is one of the defining dishes of the Putian region.  This is the ultimate comfort food where the specially made noodles are braised in a rich pork broth together with fresh seafood such as clams and prawns.  This can really be a dish by itself and the perfect remedy for a rainy day!  PUTIEN's version of the lor mee is one of the best around!
Conclusion
PUTIEN's emphasis on sourcing quality produce direct from the Putian region and staying true to the philosophy of its cuisine is what sets it apart from other eateries.  From now till end October, you get the chance to experience Putian style live eels, so don't miss the opportunity!
Disclosure
This article was done in partnership with PUTIEN.