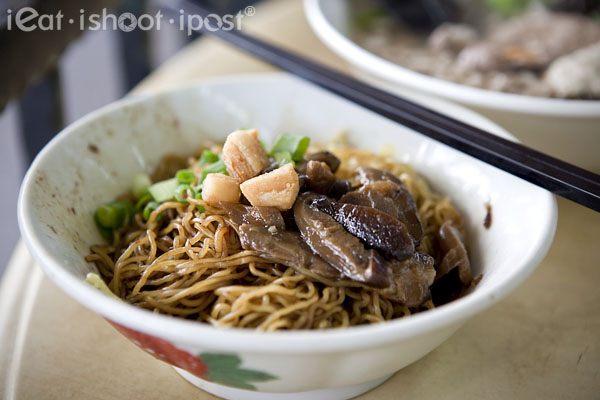 Fans of Punggol noodles might be wondering where they relocated too after the re-opening of Kovan Food Centre. Well, they have just moved to the coffeeshop down the road……. in case you are really wondering.
With so many good Bak Chor Mee around, it is getting harder and harder for me to say something interesting about Bak Chor Mee since I have probably already said it in an earlier post, and I am not old enough to come across as a person who keeps repeating the same story again and again, either because I have simply forgotten that I have already said it or that I really have nothing new to say and so I have to do re-runs.
But thankfully there are some interesting new things that I can talk about Punggol Noodles, so you don't have to hear the same story again and again, either because I have simply forgotten that I have already said it or….
Well, there are actually three things that make Punggol Noodles stand out from the rest. The first is that the hawker is a really nice guy who literally cooks single handed. Having lost his right hand in an industrial accident, this hawker uncle never let his handicap get in the way of making a great bowl of bak chor mee. It is hard not to mention this since it is his distinguishing feature, much like the legend of the crippled Hokkien Mee man of Serangoon.
The highlight of this bowl of noodle for me is the meatballs. So technically, you should not call this Bak Chor (Minced Meat) Mee, but Bak Yee (Meatball) Mee. Whatever you call it, the balls are excellent. They are soft, tender and yet has that bounciness about it that makes it different from the ones you might eat at home. They are reminiscent of the Teochew Style Bak Yee (Meat Balls) which you can order at Teochew Muay stalls. Hidden within each ball is savoury goodness that stems from the generous use of Ti Poh (deep fried sole fish). I have yet to taste anything with enough Ti Poh in it that is mediocre. Like parmesan cheese and truffle oil, it seems to be able to lift the taste of whatever you add it to.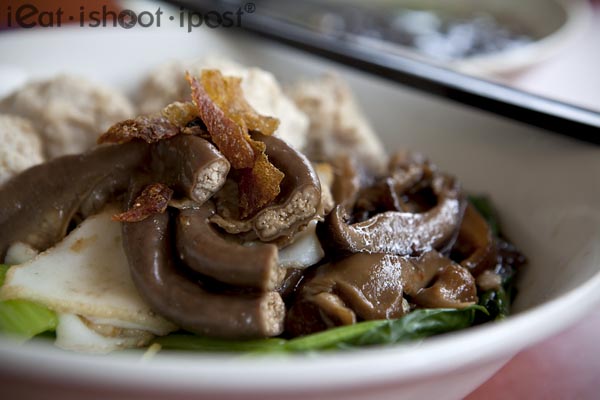 Anyone with a fetish for fallopian tubes?
The other item that they serve here which is supposed to be good is the Seh Tng (Fallopian tubes). These are braised in a slow cooker together with the mushrooms and forms the sauce base for the noodles. I am not a big fan of Fallopian tubes. Most of the time whenever I come across Fallopian tubes, I would refer to the Gynaecologist. But my friend Cactuskit, who loves Fallopian tubes (he has four kids) tell me that the Seh Tng here is very good. Chewy on the outside and sort of powdery pastey on the inside, it is not something I look forward to eating.
I would love to tell you that the noodles and the sauce were also excellent, but they aren't. I have eaten there on three separate occasions and each time I left feeling that the limp noodles where just a one off. Even after my last visit, I still left feeling that he must be able to do better. How else could they have gotten six chopsticks on the Makansutra guide?
Conclusion
I have a niggling feeling that the noodles must be better given the amount of passion the hawker uncle puts into his craft. If the noodles were as good as his meatballs, he would have scored a "really must try" from me. But as such I can only give him a 4/5.
Update 4 October 2011
Stall shifting to Hougang 105 Hainanese Village Food Centre, #02-24, 105 Hougang Avenue 1 Singapore 530105. Business to resume in Mid November.