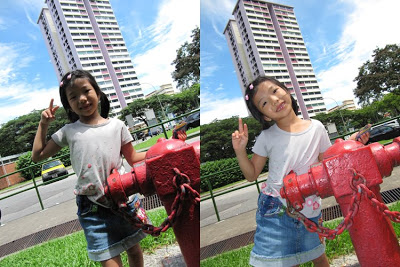 You CAN take better photos with your compact camera!
Are you the type of person who buys stuff but never read the manual from cover to cover? Well, if you are, then don't always blame your camera if your photos don't come out the way you like. The problem might be because you still don't know all the functions of your camera.

This is even more so if you own a Canon Powershot camera since these cameras actually have lots of functions which you can make use of to take better photos. Just take the photos above for example. When shooting under bright sunlight, quite often harsh shadows are cast, making the subject look quite dark. By putting the camera to manual mode and turning on the built in flash, you can have a much better photo!
This Saturday, I will be sharing some other useful tips on how you can get the most out of your compact camera. There are lots of new "intelligent" functions in the latest Canon Powershot cameras which can literally make the photo look better than the real thing. So if you are interested, please come join Thomas Ong, Mary Bukoh and myself at the "Power in your hands" seminar at the Raffles City Convention Centre from 2pm to 5pm. You can register by emailing to radiopromo@mediacorp.com.sg or call 63597716. It only costs $10 to attend.
More info can be found at www.mediacorpradio.sg/power
Hope to see you there!
BTW, I promised Jems I would try to get Thomas Ong's Hp numb… er… autograph if she came to the seminar. So if you are also after his autograph and the queue is too long, do let me know and I'll see what I can do. ; )