This stall has moved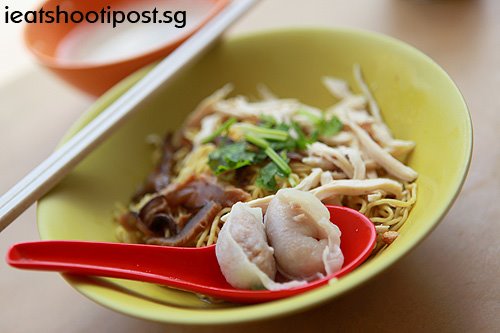 Shredded Chicken Noodles with Fish Dumplings (Her Giao)
There is a popular saying amongst the Hokkiens that Teochews are very "Hao Lian" (Proud). Well, when you meet a hawker like the Mr Sim, you can't help but agree that there is some element of truth in it. Having blogged so many hawker stalls, it is inevitable that when I chance upon a hawker that is a bit of a Food Nazi, there is a very big chance that he would turn out to be a Teochew.

But it is good to take pride in the food that you serve, because it is only that pride that keeps you from taking short cuts in the preparation process. The Teochew "Her Giao", which is a dumpling made with minced pork and dried sole wrapped in a skin made almost entirely of fish meat, is a labour intensive dish which many hawkers have decided to outsource to a supplier. You can't blame them really. In order to make the skin, you have to debone the yellowtail, take all the meat and knead it till it can be rolled out as a paper thin sheet. It is not something one would do unless he is a little "Hao Lian" about his food.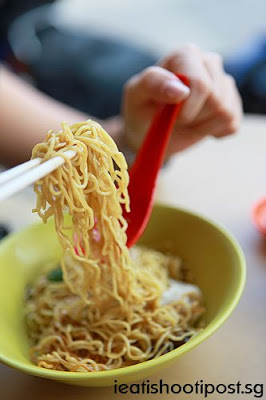 This stall is the kind of stall which I get very excited about blogging. SCS Butter has been telling me about this place for months, but he never mentioned about how the owner does business here. Situated in an old style coffeeshop with that classic old black and gold wooden signboard, you would be likely to give it a pass unless someone had told you about the stall. And even if you had just stumbled upon the stall and ordered a bowl of noodles, you probably wouldn't make the effort to return there again. That is because the chicken noodles are pretty ordinary and it is only the Her Giao and the Fish Balls which are exceptional. But if you just went up to the uncle and asked for a bowl of noodles you are not going to get any Her Giao. He only gives it to the regulars and for those people who actually ask for it.
That is not all, he imposes a restriction on how many Her Giao you can actually buy! So here are his rules:
You only get 2 Her Giao if you order a bowl of noodles
You cannot order just Her Giao without buying the noodles
If you buy a bowl of noodles with 2 Her Giao, you then have the option of buying a bowl of Her Giao soup. It is $3.50 and comes with 5 Her Giao
Each person is only allotted 7 Her Giao maximum. So if you want more, you have to bring friends along so you can eat their share
Now, he is not mean about it or anything like that. He just feels that he can only make so many Her Giao per week and he needs to make sure that customers that come to eat his Her Giao gets to eat something when they come to the stall. And he also feels that if you eat 7 Her Giao you probably reach the point of diminishing returns so you would get less enjoyment from the Her Giao as you start getting too full.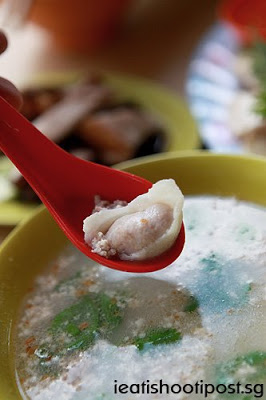 Special Her Giao 70cents each
So just how special is this Her Giao? Well, it is quite a different style of Her Giao from what I have been eating all along. The skin is rather chewy but somehow increased masticatory work you have to do brings out that extra "pangness" of the fish. Unlike other Her Giao, this one is packed full of the meat filling which has lots of "Ti Poh" (fried sole fish) in it. So if you love Ti Poh, you are going to love this. The soup here is very special too. It is almost milky white because of all the pork bones used to cook the soup. He does use a bit of msg in the soup but he has a money back guarantee should you feel thirsty within 3 hours of drinking the soup. 4.5/5
The chicken noodle as I have already alluded to is really quite ordinary. 3.75/5. But you need to order a bowl in order to order the Her Giao, so really, you have no choice but to eat it. SCS Butter was telling me that the Fish Balls at this shop is really quite special as well. They are only available on Fridays to Sundays and usually get sold out by lunch time. According to Mr Sim, the best time to eat the fish balls is at around 10.30am. If you come too early, the fishball would be a little more salty as they have not been soaked long enough and the texture is not as good. At 10.30am, the fish balls are just right.
Conclusion
This Her Giao is really quite special and coupled with a friendly Food Nazi, it was a really great eating experience.
Update 21 Dec 2009
Our readers report that Lau Sim has moved to a coffeeshop several stalls to the right near the teak shop. They are taking a holiday till 5th Jan 2010.